June 12, 2015

Students celebrate a Badger football score at Camp Randall. Photo by Lauren Watkins
"It is pretty ridiculous for the [UW] Athletic Department to offer discounted season packages to students [who have] no intention of going. It raises the price for students that could not get season tickets or may only want to go to one game."
In just a couple of days, thousands of University of Wisconsin-Madison students will wake up early to go online and buy tickets for the upcoming Badger football season.
But not all of them will be going to the games.
Some will instead sell their tickets and pocket the cash.
And for those using social media and other online sites, selling their specially-designated student tickets for football, basketball and hockey couldn't be easier.
Given these tickets are such a hot commodity, it's a seller's market and many budding capitalists take full advantage of that fact.
It's not uncommon in the days following the release of these season tickets to see sets of them being resold on Facebook exchange pages, Craigslist or other well-known ticket exchange sites such as StubHub! for $200-$400.
That's a considerable markup considering those who were lucky enough to snag a set of football season tickets at release paid just $180 last season, including any taxes, fees, or charges.
And students don't even need to sell entire sets of tickets to still turn a substantial profit.
One student, who asked that his name not be used, made a fair amount from re-selling his tickets last year.
"I made $43 on the Western Illinois game last year, but for the 2013 Penn State football game (during Thanksgiving break), I bought and sold about 10 tickets and turned a $120 profit," he said. "It was almost too easy."
"People were dumping their tickets for $10-$15 and other people were looking for tickets for friends coming into town," he continued. "[So,] I would offer to sell [each ticket for] $25-$30 and they would accept because that was a good deal relative to the going rate for the other games," which was upwards of $50 or more per ticket.
Other students feel those reselling tickets solely for profit don't deserve to have the tickets in the first place.
Nick Stefani, whose girlfriend started the UW Badger Student Ticket Exchange Facebook page, which has almost 12,000 members, is frustrated by students who are only in it for profit, rather than the love of the game.
"It is pretty ridiculous for the [UW] Athletic Department to offer discounted season packages to students [who have] no intention of going. It raises the price for students that could not get season tickets or may only want to go to one game," he said.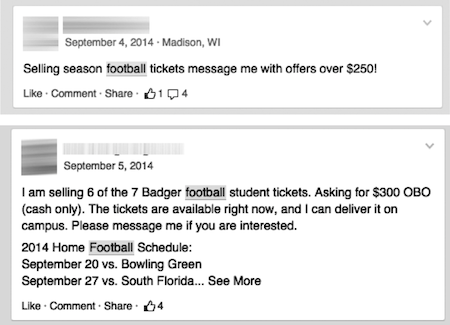 Many students question the legality of these sales, arguing that what these students are doing is illegal, not to mention immoral.
Wisconsin State Statute as well as the University of Wisconsin System rules both state that it is illegal to sell tickets for more than the printed ticket price.
That makes it a pretty open-and-shut case for those who scalp general admission, non-student tickets as they have a price printed on them.
Student tickets, however, do not have a price printed on the ticket, which can lead some to think there's a gray area of legality for secondhand sales.
But that's not the case. "The bottom line is that the scalping of tickets is illegal," said UW Police Dept. Public Information Officer Marc Lovicott.
This applies to both student and non-student tickets, he continued, adding that those who sell tickets can be cited not only for scalping but also for selling or peddling without a permit.
Lovicott also noted that while there is no price explicitly labeled on student tickets, the department uses the $42 "face value" of football tickets found by dividing what students pay the university for their tickets by the number of games as the standard to determine if the tickets are being scalped for profit.
That said, campus police aren't out to get students.
"We're more concerned with the ticket brokers — the guys who are out there trying to make a living selling these tickets," he said. "We're less concerned about a student who sells their ticket because they cannot go to a game."
UW Police issued only three citations last year for scalping and five the year before.
Aside from the fine from police, students who get caught selling their tickets face "revocation of their tickets as well as the revocation of their privilege to purchase season tickets from the university," said Director of Athletic Communications Brian Lucas.
The resale of these tickets has been met with both acceptance and resistance by UW students.
Many students feel that those who resell tickets are ripping off the buyers.
"I understand why students don't like it, but at the same time the buyers create the market," said the student who asked to remain anonymous. "I wouldn't be able to sell Western Illinois [tickets] for $80 [each], if people didn't freak out about not getting season football tickets and then spend whatever on the secondary market to get in."
Another student, Brad, who asked that his last name not be used, thinks that scalping in general can be beneficial to the sport. "Scalping in general can be a great thing," he said. "I've brought 20-plus friends to football and basketball games. [It's a] great way to spread the love of the game. And [it] allows people who couldn't or didn't buy season tickets to go."