June 12, 2015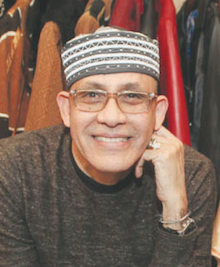 Nigerian fashion designer Alphadi calls for development of textile industry and fashion in Africa. (Courtesy of Afrikan Spot)
Barrington M. Salmon is Special to the NNPA from the Washington Informer.
Supporters of the Africa Growth and Opportunity Act (AGOA) are elated that the U.S. Senate has reauthorized AGOA for 10 more years.
The long-term extension means that the U.S. and member countries can take advantage of the stability a longer period of time provides; expand the trade and investment ties between America and countries in sub-Saharan Africa; and lay the groundwork for greater regional cooperation on the continent.
Some of AGOA's strongest supporters met at the Corporate Council for Africa offices in Northwest on May 22 to discuss AGOA's future prospects and ways to overcome shortcomings. Introduced by President Bill Clinton in 2000, AGOA allows 6,000 products from sub-Saharan Africa to enter the United States duty-free.
Participants on two panels and other speakers at the Africa Trade Forum at the Corporate Council for Africa offices in downtown Washington, D.C., detailed how Africa — through its artists and designers — can leverage the continent's fashion, textiles and the creative arts to advance trade and economic development.
The embodiment of that is noted fashion designer Alphadi who was honored by the forum hosts. Alphadi, a Malian, has for the past 30 years produced a fashion show in Niger where he's invited the best and the brightest African models and designers to showcase their apparel.
"We've had Africans from every walk of life here, but we've never had a fashion designer," said Bernadette Paolo, president and CEO of the Africa Society of the National Summit on Africa.
Alphadi said business collaborations between Africa and the U.S. are key to helping grow Africa's creative arts communities.
"We try to make African fashion true," said Alphadi, president of the Federation of African Fashion Designers. "Alone we can't do it. We need to come together and make partnerships. AGOA gives African designers a chance to show and sell fashions here."
"There are big people from the White House here. We should have a salon between buyers and sellers and have 100 designers from Senegal, Mali and Ethiopia show their work. Jewelry, fabric and textiles for us is very important. In the fashion industry, we can employ as many as two million people. Africa is the new continent. We do everything here. We're a very rich continent with different cultures, nice food and fabrics but we need help — partners, education and good schools."
Ambassadors from Niger, Cote D'Ivoire, Guinea, the African Union, members of the diplomatic corps, business people and representatives of civil society organizations packed the 10th floor auditorium where they enjoyed the music of Cheick Hamal Diabate on the ngoni and a video presentation on the Alphadi Project, the brainchild of Alphadi, also founder and president of the International Festival of African Fashion (FIMA).
Africa, a number of speakers said, is a diamond in the rough with limitless potential.
"Africa accounts for only three percent of world trade and a small amount of US trade. Yet Africa is a place where everyone wants to establish trade and economic relationships," said Assistant U.S. Trade Representative for Africa Florie Liser. "Africa is growing faster than anybody. It has youth, the fastest-rising middle class and a huge market."
---
Barrington M. Salmon is Special to the NNPA from the Washington Informer.
---