June 26, 2015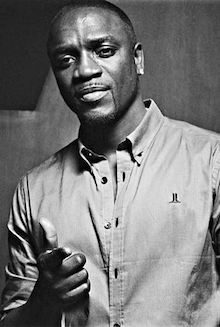 This article is Special to the NNPA from the New York Amsterdam News.
Senegalese-American R&B singer, Akon, has been lighting up Africa with solar energy even while the solar industry in the U.S. struggles to catch fire. The Missouri-born artist has become a rising star in the movement to bring electricity from the sun to rural communities.
Launched in February 2014, "Akon Lighting Africa" describes its aims as "bringing electricity to African villages by a clean and affordable solar energy solution." The company uses a micro-lending model to provide solar-powered micro-grids and street lighting systems.
Akon unveiled his latest plan to launch a solar energy job-training program in Bamako, Mali, during a presentation this past week at the U.N.'s second Sustainable Energy for All forum.
The venture joins a relatively crowded field of entrepreneurs and investors—and governments— looking to establish off-grid solar projects across the continent, but ALA is growing at warp speed.
In an interview with the Wall Street Journal, Akon described how his company funds initial projects to demonstrate the technology and benefits to potential buyers. An average investment per village is $75,000, and the firm has invested almost $400 million so far, he said.
"We invest our own money to get things started," Akon says. "We go in, plead our case to the country, put up pilots with our own dollars using sophisticated equipment and we make sure we do the installation right. It shows people that we're not coming in to pull money out of the country. We're there to provide jobs for the locals and to enable them to feed their families."
In Guinea-Conakry, for example, Akon says the company is employing 5,000 people to install its systems.
A $1 billion credit line with the Chinese provider of its solar systems helps ensure rapid growth. "It means anyone who installs our systems can make payments over [several] years," says Samba Baithily, an ALA partner. "Most of these countries couldn't allocate the money to pay for a big project up front, but they can afford if they pay by installments."
Since launching a year ago, Akon's group has operations in 11 nations, including Guinea-Conakry, Senegal, Mali, Niger, Benin and Sierra Leone.
"In any emerging market there will be a lot of difficulties," Akon said in the WSJ interview. "The countries are not necessarily stable and infrastructure isn't there, but if you understand that, it's not difficult. The hardest part is getting people to believe."
---
This article is Special to the NNPA from the New York Amsterdam News.
---