June 26, 2015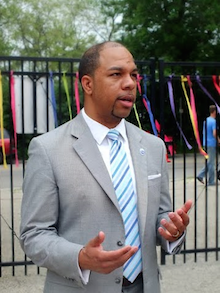 "We have an increasingly diverse body of individuals bringing really unique perspectives to the table… We're seeing our elected representation mark the trends in our population. It would be a mistake to see this as just a coincidence," he said.
Among other accomplishments, Maurice "Mo" Cheeks is a City Alderman, the newest President Pro Tem of the Madison City Council, Director of the Wisconsin Innovation Network and co-chair of the New Leaders Council of Madison.
He has a passion for technology and a drive to succeed that reverberates throughout his career and sits at the heart of his role as a city leader.
Though his more recent accomplishments could easily overshadow his past, Cheeks points to some of his earliest experiences as being his most influential. When he was a senior business major at Eastern Illinois University, he and a friend created a company aggregating consumer electronic reviews from across the web. The goal was to make it easier for people looking to buy products online. While the business did not last, Cheeks credits the experience with informing him about his passion for business and entrepreneurship and his ability to problem-solve.
"I would say that the risk-taking that I did in college was extremely influential in opening doors afterwards. I would absolutely do it again," he said.
After closing the business down, his relationship with entrepreneurship and technology would continue to blossom. Cheeks worked for Apple selling educational technology to K-12 schools in both Wisconsin and the upper peninsula of Michigan. He did so at a time when the iPad was a new release, the iPod was becoming popular and schools, both big and small, were trying to match laptops one-to-one with students.
He also landed a job working as Director of Sales and Outreach for Filament Games, a software production company focused on educational learning products.
While he admires the capabilities of technology, he does not see it as a fix-all solution. "Technology isn't a silver bullet for the airlines, for the job market or for education. Obviously it's an important tool in our modern lives and it's a great resource to empower our students. With Apple, we ended up seeing great results and smart roll-out. It was helpful for the teachers and led to highly engaged learning," he said.
In June 2014, Cheeks was appointed Director of the Wisconsin Innovation Network (WIN), a program overseen by the nonprofit Wisconsin Technology Council, which advises the Governor and Legislature in the areas of science and technology.
WIN is the branch of the council tasked with fostering innovation, entrepreneurship and tech-based economic growth, areas where Cheeks is right at home.
"We maintain a network of hundreds of entrepreneurs, executives and investors from all over the state. I see tremendous opportunity to help other people spur growth of [the] high tech economy in Wisconsin," Cheeks said.
From small banks, law firms and businesses to large corporations like Google, WIN is a community meant to foster connection and allow for members to voice opinions at the state and national level.
Cheeks also lends his entrepreneurial and leadership experience to the New Leader Council, where he is a founding member of Madison's local chapter. The Council offers training for young, progressive leaders and an outlet to both explore their leadership capacity and make an impact on the Madison community.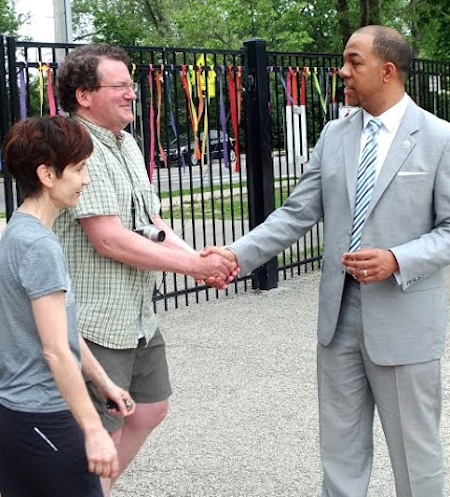 Perhaps Cheek's most well-known accomplishment, though, has been his appointment to Madison City Council. He was first elected alder of District 10 in 2013, which includes Allied Drive, one of Madison's most troubled neighborhoods. This last spring when he was re-elected to the council, he was subsequently honored with election by his peers to the position of President Pro Tem, which bestows upon Cheeks a greater amount of responsibility to think about the city as a whole.
"There's a natural tendency for alders, especially new alders, to be focused on their own district. This is part of the reason I was excited for this. It's really important that the council be mindful and be able to do two things at once," Cheeks said.
He joins colleague, class member and City Council President Denise DeMarb as a leader of one of the most diverse city councils in Madison's history. In winning re-election, Cheeks was joined by three other alders of color and a number of alders who were considerably younger in age. "We have an increasingly diverse body of individuals bringing really unique perspectives to the table. Not only do we now have four African Americans on the council but four millennials. We're seeing our elected representation mark the trends in our population. It would be a mistake to see this as just a coincidence," he said.
The two will together confront persistent, yet increasingly important issues in Madison relating to opportunity, income and achievement gaps as well as the disproportionate rate of unemployment, arrest and incarceration of minorities.
"Maurice and I joined the council at the same time two years ago, so we got to know each other pretty well. We saw that our vision for the city lined up and we had a plan to try and move forward and implement that vision," said DeMarb.
The alder praises Cheeks as thoughtful, articulate and collaborative. "I like working with him very much," she said. As the two move forward, they will continuously address these issues and look for ways to define their generation.
"I'm hoping to be a servant to my colleagues as well as uphold my responsibilities to the state and to the greater city. We're in a moment right now where we're prepared to ask ourselves the right questions and lay the foundation for the next generation of our legacy. It's exciting," said Cheeks.
Cheeks will be up for reelection in the spring of 2017.