May 15, 2015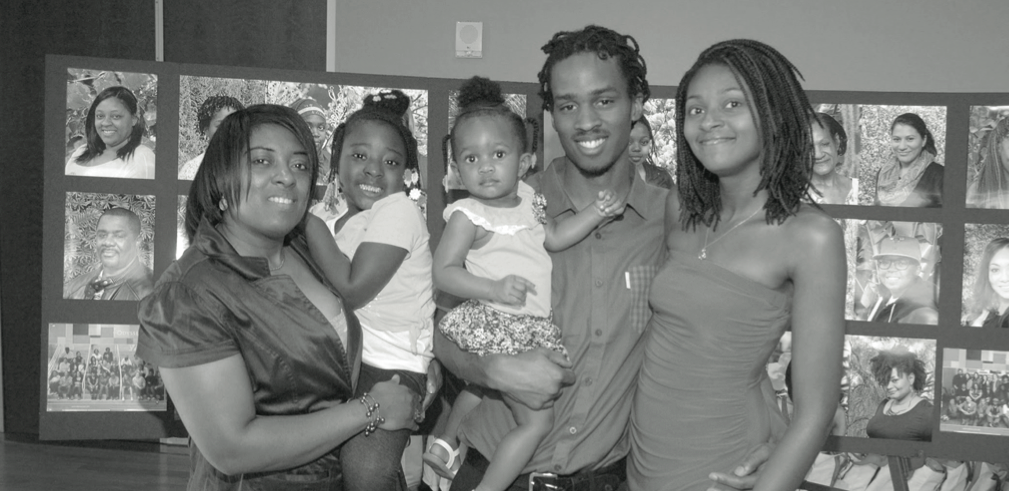 Nitia Johnson and her family at graduation
When Nitia Johnson and her boyfriend moved to Madison, she didn't know a soul. But she knew she wanted a better life.
Two years later, her family has grown to include an 18-month-old daughter and she has a solid support network of friends thanks to the University of Wisconsin Odyssey Project.
The project works with residents who are near the poverty level to give them a head start toward higher education by enrolling them in UW-Madison humanities courses that use classic literature to explore history, philosophy and art. Each of the students earns six introductory credits in English from UW-Madison. Many continue their education at community and technical schools or transfer to UW-Madison.
The project just celebrated its 12th graduation earlier this month.
For Johnson, it's been a motivation not only toward education but community involvement as well. She now sits on the Dane County Parent Council.
She feels she has become the kind of real role model her daughter needs and is looking forward to all learning experiences that will come her way. "I want to try everything!" she said.
At the Odyssey graduation, each of the 30 students in this year's class made a brief presentation. Graduate Kelly Hayes made clear the deep value of the Odyssey Project in a lucky student's life: "I, too, like Martin Luther King, Jr., have a dream. (My dream is) that a girl born in the projects and raised on welfare would be able to get an education and someday a college degree," she said. "Before I joined Odyssey, I thought I was stupid and because of that I was destined to hold dead-end jobs."
"Although I faced many adversities in my education, I was passed along through high school and it wasn't until just a couple of weeks ago – at 29 years old – that I found out that I have severe dyslexia," she continued. "My whole school experience could have been much different. I had dreams of going to college after high school, but I didn't think I would be accepted, so I never applied. Odyssey has shown me that I want a career, and not just a job.
Every Odyssey teacher has helped me, and now I know I can do this – it just takes me more time. The difficulties I faced when I was in grade school were haunting me at the beginning, but I'm not scared anymore. Mrs. Emily is brilliant, bringing together 30 people from all walks of life and somehow, we share a common bond."
Dr. Emily Auerbach, a UW-Madison professor of English, started the project. Her inspiration for starting the Odyssey Project was her mother's experience escaping poverty through education. Emily's mother, Wanda Auerbach, grew up poor in Appalachia and attended Berea College, which is known as "the only college where you have to be poor to go there," her daughter remembers.
Dr. Auerbach and Jean Feraca of Wisconsin Public Radio co-founded the Odyssey Project together 12 years ago. For each of those 12 years, the project has been empowered adults to overcome obstacles and achieve dreams through access to higher education.
Each year, 30 students join the project. These students meet with a team of instructors for three hours every week in the Villager Mall from September to May to discuss and write about the works of Plato, Aristotle, Shakespeare, Lincoln, Walt Whitman, Emily Dickinson, Langston Hughes, Frederick Douglass, and many others. Students range in age from their early 20s to 70s. They share common needs like financial assistance and personal support.
Auerbach completed her introduction of the class by promising them Odyssey's "commitment to help support you as best we can as you continue on in college. If you are motivated and hardworking and want an education, money shouldn't shut you down," she told the students. "We will do our very best to empower you to go all the way to your dreams."
There was much talk of dreams as the students gave their presentations at the recent graduation. Lakoye Buford compared herself to "a work of art, still gluing together pieces that were broken, wrapping myself back to be reopened."
Heydy Pichardo's poem showed the program's spirit and intent:
Odyssey is that open door that for many of us was closed.
Odyssey is that place where a group of different people, different nationalities, come together to learn.
Little did we know that we were wise beyond our years, not because we have read books,
but because life has taught us and keeps teaching us every day.
Prodajae Huntley showed another aspect of the program's spirit in her poem, which ended: "Odyssey, Odyssey … why have you chosen me? Because I choose to change myself."
What are the changes these graduates relish now and anticipate in the future? As Dr. Auerbach stated in her introduction, "Over 300 students have come through the doors of our project. We now have students with bachelor's and master's degrees, working as nurses, police officers, counselors, community leaders, and teachers or taking classes toward undergraduate and graduate degrees and meaningful careers. And they are changing the world."
For more information or to donate, visit the project's website at
www.odyssey.wisc.edu
or by phone at 608-263-4545. To apply, you need to be at least 18, have a high school diploma, GED or HSED, have income near the federal poverty level, be able to read challenging books in English and commit to attending class regularly. Applications are available at the Goodman South Madison Library or apply online at the project's website.