June 26, 2015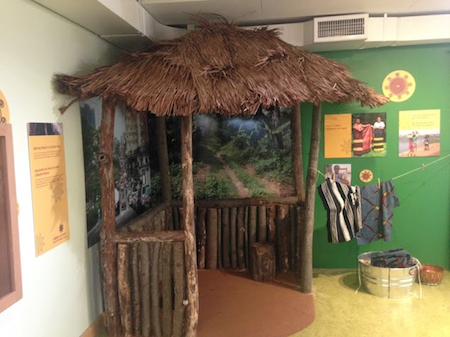 "In contrast to assumptions about Liberia following the Ebola crisis, Niggli said this exhibit offers children an opportunity to see how kids really live and play in Liberia today."
The Madison Children's Museum features a new educational exhibit this summer called Liberia at Play, where kids can find themselves immersed in modern day West African culture.
After a successful opening celebration on June 3 featuring Liberian cuisine and crafts, this exhibit will continue its run until August 31. The exhibit offers children a chance to compare and contrast their own lives with children who live in Liberia today.
The idea for this exhibit came after a donation from Madison residents and friends of the museum Don and Suzanne Granger. The couple donated a collection of artifacts including toys, games, instruments, clothing and everyday utensils.
According to Nadia Niggli, Exhibit and Graphic Designer for Madison Children's Museum, this donation came at the perfect time.
"We were excited to make a counterpoint to all the bad news in the media about Ebola. Instead, this exhibit is about the kids and about play," Niggli said.
In contrast to assumptions about Liberia following the Ebola crisis, Niggli said this exhibit offers children an opportunity to see how kids really live and play in Liberia today.
To help update the artifacts, Madison Children's Museum infused the exhibit with modern day photographs of children in Liberia. After consulting the Liberian community in Madison, the Madison Children's Museum chose to use photographs showcasing both the urban and rural cultures from throughout the African country.
Unlike some of the exhibits usually seen at children's museums, this exhibit seems to be pleasantly unexpected, Communications Coordinator Corinne Burgermeister said.
"People don't expect us to have artwork and artifacts," she said. "I think it's really cool that we can be a place that does [have artwork and artifacts]. We have a giant gerbil wheel and [we can be] fun and silly too while also showing kids the more serious things and teaching kids."
While the exhibit focuses on spreading education about Liberia and Western Africa, children seem to enjoy playing with the games and instruments or sitting in the traditional Palava hut after trying on the assortment of Lapa garments.
The most popular piece in the exhibit is the Mancala board, Niggli said. This five-foot long wooden board is hand carved and features river rocks as playing pieces.
"The little kids love the Mancala game because it's a game that we play both in America and Liberia," Burgermeister said.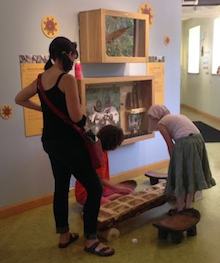 At the end of the summer, the exhibit will most likely go into storage, Niggli said. However, this does not mean an end for the more popular pieces from the exhibit.
"[After] the exhibit goes into storage, the Mancala board will likely be pulled out many times. It will come out on the floor for something, like Adult Swims or other events," Jonathan Zarov, Director of Marketing & Communications for Madison Children's Museum, said. "We're really good at recontextualizing things."
This idea of recontextualizing is something in which the Madison Children's Museum prides itself. The nonprofit Madison entity looks for ways to reuse exhibit parts, like this Mancala board, so it can continue to keep its contemporary edge, Zarov said.
While the exhibit may come to an end in August, the collection's artifacts will resurface in one way or another as the museum looks to further educate children about Liberia and Western Africa.
---
---