March 13, 2015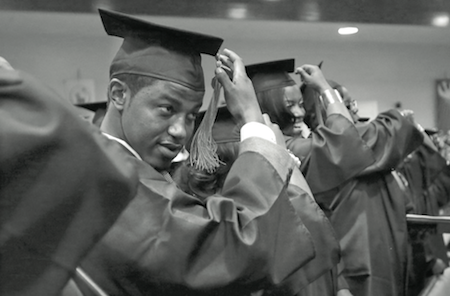 In this May 5, 2014 photo, Krishaun Branch, left, moves the tassel on his mortarboard to the left side after graduating from Fisk University in Nashville, Tenn. (AP Photo/Mark Humphrey)
WASHINGTON, D.C. (NNPA) — After 30 years of little to no progress, Black youth are completing high school at the highest rates in history.
This is the finding in a new issue brief titled, "Young Black America Part One: High School Completion Rates are at their Highest Ever," published by the Center for Economic Policy Research, a Washington-based think-tank. The report examines Census Bureau data for 20 to 24 year-olds, and compares high school completion rates around the country over the past 30 to 40 years.
"All in all, young blacks have experienced significant gains in high school completion rates during the past 13 years," the report reads.
"Given the importance of educational attainment in determining future wages, higher completion rates should, in theory, translate to higher wages."
In 1975, Black Americans finished high school at a 75 percent rate, compared to 88 percent for Whites and the overall 86 percent rate. In 2000, Blacks completed high school at a 14 percent lower rate than their White counterparts. However, by 2013, the Black completion rate rose to 86 percent, its highest-ever level, shrinking the Black-White gap to less than 7 percent.
"I'm a young Black woman and I wanted to answer the question of what's going on with young Blacks in America," says Cherrie Bucknor, a Center for Economic Policy Research assistant and author of the paper.
"Sometimes there are too many negative portrayals and negative stereotypes on young Blacks, and I like the fact this was something positive to focus on."
The gender break down also shows a noteworthy trajectory. In addition to slightly outpacing the rate for Black boys (a trend that holds for all girls, across race), the completion rate for Black girls is 89 percent, only five points lower than the rate for White girls.
While the gains of Black girls were more gradual, Black boys have experienced a rocky road to improvement in helping close the Black-White high school completion gap.
"The completion rate for black males followed the same trajectory, but 3 to 8 percentage points lower. Although black males experienced noticeable gains in completion rates during this century (an increase of 18.1 percent since 2000), their gains were not enough to offset the gains of other groups, leaving noticeable gaps in completion rates between black males and other groups," the report stated.
"In 2013, the completion rate for black males (83.5 percent) was 5.9 percentage points lower than black females and 8.8 percentage points lower than white males."
Regional analysis also shows a different trend. At 10 percent higher than the national rate for Black students, the West has held the most promise for Black students since 1975. But the other regions have caught up in recent years. As of 2013, Black students in both the Northeast and the West have the highest completion rates (88.2 and 88.1 percent, respectively). Further, all of the regions now have comparable rates for Black students, all within three percentage points of one another.
Although the report does not examine or speculate on causes for this breaks in these trends, Bucknor has a few theories.
"One factor that might be in play is increasing the graduation requirements for students in general, which makes the decision to drop out or stay in school a little bit different than before then," Bucknor explains, adding that test scores for entering freshmen also been improving. "And since 2000, some of the plausible factors that I've read about include declining teenage birth rates…[which] makes them more likely to be in school."
The teenage birth rate is also at a historic low, particularly for Black teens. According to 2012 data from the National Center for Health Statistics, the maternity rate for Black girls age 15 to 17 has dropped 45 percent since 2000; for 18 and 19-year olds it has dropped 30 percent.
This report is the first part in a series that explores measures of success (or lack thereof) among Black people under 40.
"I feel like there's a lot of attention on Blacks in general, but I wanted to focus on young Blacks like me," Bucknor says. "So I'm hoping to look at several issues related to education, jobs, and inequality as a way to answer that question."
---
Jazelle Hunt, a Washington correspondent for the National Newspaper Publishers Association News Service, recently completed week-long training at the University of Southern California as one of 14 journalists awarded a 2014 National Health Fellowship. Hunt is a Howard University graduate.
---