March 13, 2015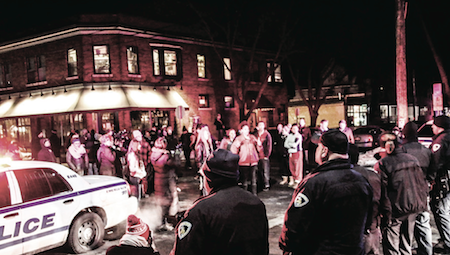 Photo: Hedi Rudd.
Tragic. Heart-wrenching. Difficult to fathom. Those are just a few of the emotions that arise when attempting to understand the shooting death of 19-year-old Tony Robinson by a Madison police officer. The death of Robinson has triggered protests by hundreds of people and has brought national attention on Madison as it deals with a story line that has made headlines in other cities around the country.
Robinson was black – and unarmed. The officer who shot him is white. The scenario evokes an immediate flashback to Ferguson, Mo., and other cities where similar chains of events spurned protests amid allegations that white-dominated police departments are unjustly targeting young men.
The comparison between Robinson's death and those of similar circumstances in other cities is understandable, as is the outpouring of sadness from family, friends and supporters. The peaceful protests of Robinson's death are to be expected as an extension of people's rights to free speech and freedom of expression.
We want to underscore one word – peaceful. It is important that protesters maintain civility as they demonstrate in Robinson's memory. And we would like to add one word for everyone to embrace – patience. The investigation into Robinson's death – which is being conducted by the Wisconsin Department of Justice – will take time. We encourage everyone in the greater Madison community not to rush to judgment before all of the facts of the case have been presented.
No one knows what happened during those fateful 20 seconds or so when the officer entered a house on Madison's east side in pursuit of Robinson last Friday night. We only know the outcome – that an unarmed young man was shot and killed. To make an assumption at this point that the shooting was unjustified – or justified – would indeed be a rush to judgment.