March 13, 2015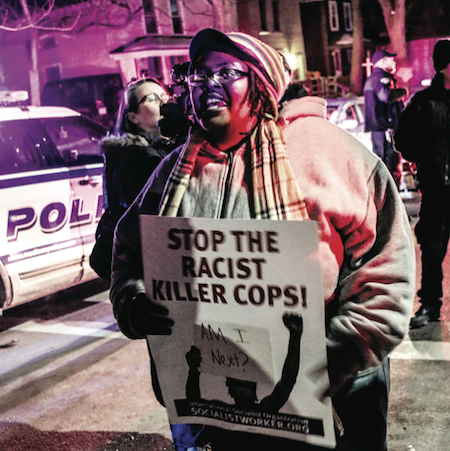 Photo: Hedi Rudd.
A veteran Madison police officer shot and killed a 19-year-old African-American man around 6:30 p.m. on Friday, March 6, 2015. The unarmed teenager is identified as Anthony "Tony" Robinson Jr., a 2014 graduate from Sun Prairie High School.
According to police, Robinson was dodging cars in traffic after assaulting a victim when the police received a 911 call. Officer Matt Kenny responded to the call and fatally shot Robinson after following him into a nearby apartment where the teenager allegedly attacked him. Kenny performed CPR on Robinson, who later died at the hospital.
The shooting occurred on Williamson Street, where dozens of people immediately gathered to protest with signs reading "Black Lives Matter." Members of Robinson's family were in attendance. Videos posted to social media show the protestors chanting "Who can you trust? Not the police." Madison Police Chief Mike Koval said in a news conference Saturday that Kenny has been put on paid administrative leave while the state Department of Justice's Division of Criminal Investigation conduct an independent examination into the shooting.
On Monday, the fourth straight day of protesting commenced with over 1500 high school and college-aged students filling the Wisconsin State Capitol rotunda. Demonstrators have continued to carry signs and chant "Black Lives Matter."
Governor Scott Walker's press secretary Laurel Patrick sent this statement to The Madison Times on Monday in regards to the shooting:
"Our thoughts and prayers are with all those involved. An overwhelming majority of police officers follow procedures and do a good job of protecting and serving the public. Last spring, Governor Walker signed legislation that adds another layer of transparency in the investigation process by requiring an independent review of officer-involved deaths. The Wisconsin Department of Justice will conduct the independent investigation."
Mayor Paul Soglin stated in a press release that the Madison Police Department has a well-earned reputation and that the public must be patient with outside investigators as they do their job.
"We all deserve to know the facts in this case. Tony Robinson's family deserves that, our community deserves that, and the Madison Police deserve that. When the answers come, we will be open and transparent in communicating them," the mayor said.
According to court records, Robinson received a felony conviction in armed robbery last April after a concerned citizen spotted him and several others entering an apartment building with weapons. As stated in a Madison Police report, officers detained Robinson along with two other men after they fled the scene with electronics and other property. The police recovered some of the property along with a shotgun and a handgun. Robinson was serving his first year of a three-year probation term in regards to this incident.
Robinson was also involved in a paternity action filed last year by a 24-year-old Madison woman, which resolved in both parties having joint legal custody of the one-year-old child. A family spokesman, Michael Johnson, posted on Facebook that Robinson was planning to attend Milwaukee Area Technical College to pursue a degree in business.
Posts on Robinson's Facebook page this past year reflect a troubled disposition. In a post from January 19, Robinson said "My soul is dying" and a couple weeks later the teen posted "You aren't [expletive] to your family when you grow up." In December, Robinson additionally wrote "The only thing cops are getting trained for is to shoot first and ask questions later."
Two days before the Robinson shooting, the Department of Justice released a report regarding their decision not to pursue civil rights charges against Darren Wilson, the former Ferguson Police Officer who shot and killed Michael Brown last August. The shooting led to months of nationwide protests and drew attention to the issue of police misconduct and racial profiling. In a broader investigation of the Ferguson Police Department, the Department of Justice did find evidence of racial bias and bigotry. Several members of the department have resigned in response to the report.
On the heels of the Tony Robinson shooting, the 50th anniversary of the Bloody Sunday March from Selma to Montgomery has grabbed the attention of a nation already divided by the recent deaths of Michael Brown and Eric Garner, both of whom died in police-involved incidents. The commemoration ceremony took place on Saturday in front of the Edmund Pettus Bridge in Selma, Alabama, where President Barack Obama spoke on both the March's achievements as well as on what has yet to be done to a crowd that included, among others, civil rights leaders Reverend Al Sharpton and Reverend Jesse Jackson as well as former President George W. Bush and former First Lady Laura Bush.
"Fifty years from Bloody Sunday, our march is not yet finished, but we're getting closer. Two hundred and thirty-nine years after this nation's founding our union is not yet perfect, but we are getting closer. Our job's easier because somebody already got us through that first mile. Somebody already got us over that bridge. When it feels the road is too hard, when the torch we've been passed feels too heavy, we will remember these early travelers, and draw strength from their example, and hold firmly the words of the prophet Isaiah: 'Those who hope in the Lord will renew their strength. They will soar on [the] wings like eagles. They will run and not grow weary. They will walk and not be faint,'" Obama said.