March 13, 2015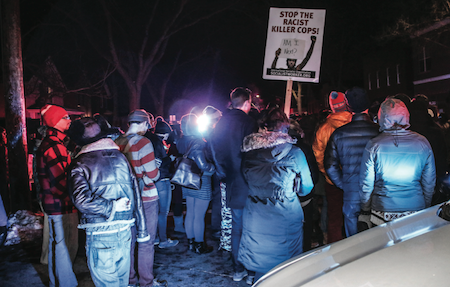 ---
Addtional ON THE SCENE photos are provided at the end of this article.
---
MADISON, WI — In response to the tragic shooting that took place Friday, the Madison community voices a broad spectrum of opinions and concerns surrounding the death of Tony Robinson. Here are some highlights of what the community has to say:
Initial reactions, emotions and thoughts
"Horrible… Disgusting… Saddening." – UW-Madison junior, Ruby Blau
"The underlying truth comes out, here in Madison." – Madison College student, Pierce Doyle
"Numb." – UW-Madison Assistant Vice Chancellor, Patrick Sims.
"Violence and police is just so ridiculous…. This basically tells me that they don't like me, they don't want me here." – Darrel Culverson, 23, Madison
The scope of the issue: past and present
"The underlying questions aren't new, but require new ways of dealing with them." – Vice Chancellor Sims
"It's unbelievable to me that this has been happening for as long as America was established and somehow we can't grow." – UW-Madison senior, Haley Arenson
"I guess the worst feeling was being dreadfully unsurprised that something like this would happen in Madison as well." – Ruby Blau
"It seems so new, I didn't realize the national scope initially." – UW-Madison sophomore, Alexander Birkholz
Thoughts on character depictions and media bias
"A lot of people on Facebook want the racial part to be taken out of it… about him being a black teen. A lot of racists come out of the woodworks on social media." – Pierce Doyle
"I don't know what happened on that night, but I don't believe police officers wake up hoping to kill people. Some news agencies have been incredibly irresponsible in their reporting… Most agencies have failed to mention Officer Kenny performed CPR on Robinson in an attempt to keep him alive." – UW-Madison senior, David Hookstead
"Five shots, that's shoot to kill, but then CPR… The stories don't add up." – UW-Madison senior, Vincent Burger
Thoughts on institutional/organizational ethics
"It's the death sentence without trial." – UW-Madison senior, Brian Ip
"It's so complex; it's like a Monopoly game, except you get killed instead of going to jail. That's all it is, a Monopoly." – Culverson
"The D.A.'s job is to find the truth, not necessarily find justice. Law is not a place for emotion, people can be upset but we cant let that spill over into the justice system, which makes me concerned for the police officer." – Birkholz
"We need to debate the philosophical distinctions… We never question the philosophy behind 5-6 shots as the product of training and discipline." – Vice Chancellor Sims
Thoughts on the protests
"It didn't seem like the protests were as large as past protests in Madison." – Ip
"We can stand 50 or 100 people strong, everyone seeing the same thing and nothing happens… my voice doesn't matter. My choice doesn't matter." – Culverson
"It was beautiful the way that the students streamed into the capitol and filled up the rotunda – every floor, first second and third, was full of students standing together. This movement is strong…I want to see these students register to vote, get involved and activate and create the change they were asking for on Monday." – UW-Madison alumnae, Jennifer Johnson