March 6, 2015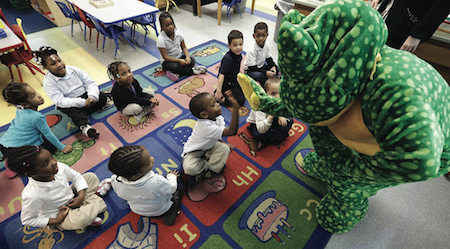 Ready Freddy visits prekindergarten students at a public school in Buffalo, N.Y. (David Duprey/AP Photo)
WASHINGTON, D.C. (NNPA) — Increased investment in early childhood education and care can eradicate many of the racial success gaps that persist throughout society, according to a new report from the Center for American Progress (CAP).
Early childhood encompasses birth through 3 years old, and children of color are already the majority in this as-yet-unnamed generation.
The report, titled, "Investing in Infants and Toddlers to Combat Inequality," shows that despite being the majority, children of color are generally faring poorly on a number of social and educational metrics. One -in-three toddlers of color lives in poverty. By 5 years old, children from low-income homes have heard millions of words fewer than their more affluent peers (a vocabulary deficit known as the word gap).
According to an earlier CAP report, even among middle- and upper-class families, 25 percent of all kindergarteners are not school-ready – they may not know any letters, numbers, or colors, for example.
"While the United States as a whole has become an increasingly educated country over time, very significant educational disparities exist between whites and people of color," the report states. "Since the majority of infants are children of color, improving the continuum of early childhood programs available to children under age 3 and their families provides an opportunity to stifle these disparities before they begin."
Data suggests that without intervention to beef up early education programs, this generation may not be able to meet economic demands to maintain the United States as a world leader. Among 25 to 29 year olds in 2012, only 37 percent of Whites, 17 percent of Blacks, and 13 percent of Hispanics held at least a bachelor's degree.
According to the report, if current educational attainment trends continue, 5 million jobs over the next decade will go unfilled or be outsourced for lack of skilled, educated American workers.
Further, if racial income gaps had been closed in 2011, national GDP would have increased by $1.2 trillion and an additional $192 billion in taxes would have been generated.
"If the heart doesn't get us – the importance of helping [the babies]…the other thing that should get us are the economic implications," said David Johns, executive director of the White House Initiative on Educational Excellence for African Americans, speaking as part of a panel event connected to the report release. "So many of our communities would be saved if we would just find the time to make intentional investments in children and families, early."
The foundation for today's early childhood programs were the result of largely successful social and educational experiments primarily tested with Black children and families. Generally, families of color now lack access to affordable, high quality programs. Part of it is cost. The report asserts that the cost of childcare is higher than the median rent in all 50 states. It also asserts that most of the nation's childcare options are poor or mediocre in quality, despite this high cost.
The federal government offers several provisions for the youngest among us, and their parents. Some are more effective than others. The Child Care Development Block Grant, for example, allows states to give low-income families childcare subsidies. But, the report points out, while the subsidies free up low-income parents to attend school, work, or technical training, the subsidies don't match the cost of high-quality programs; so such programs usually do not accept these vouchers.
There's also Early Head Start (EHS) and the very popular Head Start program. These programs, which have benefitted Black families in particular, provide a spread of pre- and post-natal health services, child development, and educational services to low-income infants and toddlers.
"Research on the effectiveness of EHS shows positive effects on development for infants and toddlers, including a wide range of cognitive and social-behavioral outcomes, and on child-rearing practices for mothers," the report explains. "These beneficial effects were markedly large for African American children, including an increase in parental support for early language and literacy, daily reading, and teaching activities through age 5."
But, Head Start is "severely underfunded," serving less than 5 percent of the nation's infants and toddlers.
During the CAP panel, the speakers explained that parents can bolster early childhood development by spending a lot of face time with their children: talking, reading, and making up stories. The simple activities can go along way toward academic success later in life.
"We spend a lot of time and a lot of resources attempting to catch up, and to close both opportunity and achievement gaps that would not exist if we were to start early – at the time that baby is in utero, and at the time in which the foundation upon which all future learning and development is taking place and is actually being formed," Johns said.
"There's so much more work to do to ensure that everyone understand the importance of [early childhood] and then that they're able to properly invest in it."
---
Jazelle Hunt, a Washington correspondent for the National Newspaper Publishers Association News Service, recently completed week-long training at the University of Southern California as one of 14 journalists awarded a 2014 National Health Fellowship. Hunt is a Howard University graduate.
---