June 5, 2015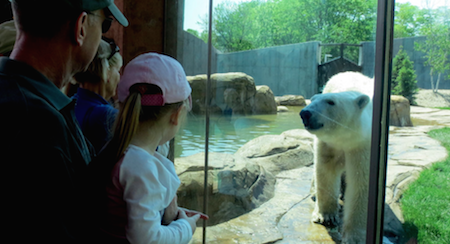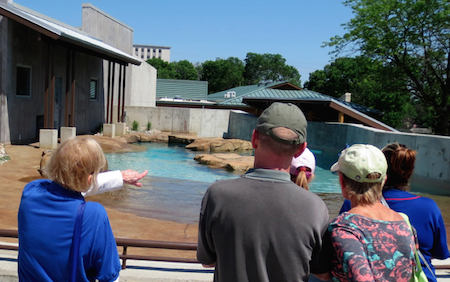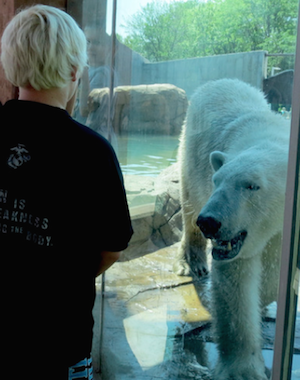 Zoo's New 'Arctic Passage' Exhibit Showcases Education and Sustainability
Despite the humid and rainy weather of Memorial Day weekend, the opening of the Henry Vilas Zoo's new Arctic Passage exhibit was a great success as zoo guests explored their curiosity about arctic animals and their environment.
For the past year and a half, the city zoo closed off 1.7 acres to build the Arctic Passage exhibit, which features polar bears, grizzly bears and harbor seals.
This addition, which is the largest in the zoo's history, succeeded in bringing bears back to the zoo while continuing to spread their message of education to the community.
Most zoos are not able to raise funds for a massive renovation while continuing to preserve a free entrance fee. Of course, most zoos aren't like Henry Vilas Zoo.
The Henry Vilas Zoo is a one of a kind park, boasting free access, free parking and a wide variety of animals in a location that's only minutes away from the loud sounds of downtown. Henry Vilas is one of very few Association of Zoos & Aquariums-accredited free zoos in the country.
Located in the heart of the Vilas neighborhood, the zoo centers itself on the idea of community, said Chuck Erickson, county supervisor for the district which encompasses the zoo.
The open and inviting atmosphere of the zoo is what makes it so important to the Madison community, he said.
"It's a huge community asset to have a zoo like this in Dane County. It's a huge opportunity for the community and for preserving species for future generations," said Erickson.
In total, Henry Vilas Zoo raised $4.6 million through private donors and fundraising from supportive neighbors and businesses along with another $4.5 million from Dane County for the Arctic Passage exhibit.
The opening celebration of Arctic Passage welcomed couples, families, children of all ages and college students during the long holiday weekend.
"[Opening weekend] was pretty packed, even more so than usual. I think that it was a nice launching point for the new exhibit. [The Arctic Passage is] focused on education and conservation. There's a conservation and sustainability component that's very Madison and fits right in with our city," said Sara Eskrich, city alderwoman for the area.
Eskrich, who also serves on the Zoo Commission, took a sneak peek several weeks prior to the big opening weekend. Even in its final stages, Eskrich said she could feel the excitement from the zoo staff and neighbors in anticipation of the opening.
The exhibit is a part of what Allison Prange, Executive Director for Friends of Henry Vilas Zoo, sees as a nationwide zoo evolution.
Instead of just housing animals, Arctic Passage sheds light on environmental issues that threaten animal extinction. The exhibit encourages guest to participate in discussions of conservation techniques like those put in place at the zoo.
The exhibit features rainwater catchment and solar panels. In the long run, these sustainable features will save the zoo 200 million gallons of water each year, said Prange.
According to Prange, these sustainable features help Arctic Passage encourage people of all ages to come together to learn, explore and play.
"We're trying to give not only a place for people to escape and play with the family but also to learn about animals and their natural habitats," she said.
Throughout the exhibit, guests can read informational panels or participate in activities about conservation.
Zoo guest Emma Whitford, a resident of Madison, said she was thrilled with the new exhibit.
"With modern zoos, it's becoming more about not just looking at animals and more about what you can do for them, the environment and the places they come from," she said.
With this in mind, the Henry Vilas Zoo aims to inform guests and preserve wildlife through exhibits like Arctic Passage.
And there could be even more added to this already popular exhibit in the future.
"I think that we're going to revisit the master plan and look forward to the future," said Prange. "Zoos are going through [this] evolution, as you can see with Arctic Passage. We're enjoying Arctic Passage for now, but we're always thinking ahead."