June 5, 2015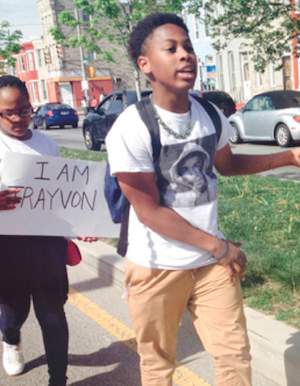 Jerome Lyles,15, wants effort for justice to keeping going. Photos: Richard B. Muhammad
Richard B. Muhammad is Special to the NNPA from The Final Call.
BALTIMORE, MD – Unrest in a city known yesterday for crab cakes, row houses, marble steps, downtown tourist spots and sports stadiums—alongside struggles with decay, violence and heroin—has captured global attention.
Powerful images of Black children hurling rocks at police officers in riot gear, crouched behind shields, captured an urban intifada inside America. It was a rebellion against oppressive police practices, stifling poverty, subpar education and frustration over bleak futures.
But the children some called thugs and lawbreakers, comments retracted by Mayor Stephanie Rawlings-Blake, are tired. They are tired of being pushed around and tired of having nothing.
"I just felt like it shouldn't end after a week of fighting, it should like go on. We shouldn't just look at this like a month later and everything be just completely gone," said 15-year-old Jerome Lyles. "We should use this and use Baltimore as an example for the nation and try to actually make some change."
The city resident was clad in a t-shirt with a photo of Trayvon Martin, the Black 17-year-old who died from bullets fired by neighborhood watchman George Zimmerman in Sanford, Fla., in 2012.
Jerome's stepfather brought him to "Bmore Youth Rise," a day devoted to young people and support for local organizations. The day started with a reverse town hall meeting at Baltimore City Community College, where panelists asked youth in the audience questions and for solutions. The day included a May 9 march past their new mural dedicated to Freddie Gray, the unarmed Black man whose death following an encounter with police sparked outrage and national protests, and other victims of police killings. His back was broken and spine nearly separated from his head in what police called an arrest without force. Six police officers have been charged in connection with his death.
Jerome would like to see continued protests and efforts to change living conditions and government in the city.
Whether in street organizations, official groups or simply joining rallies, marches and protests, young people are having experiences that are awakening them to injustice, racial oppression and social conditions. Many are asking questions, seeking and offering solutions and trying to have an impact.
Yo'Nas Da LoneWolf of National
StopTheKilling.com
organized B'More Youth Rise to connect the struggle in the city with youth voices and youth leadership.
In less than a week, she pulled together groups across 30 local communities for B'More Youth Rise to complete a mural in the Sandtown-Winchester neighborhood and offer young people a platform.
"It was an opportunity for the youth to talk, and talk about what really happened, their feelings on how police are dealing with them—and how they see change in their community," she said. "You can't do anything in the community without dealing with the people. You have to listen to the people first." In Harlem Park, the day closed with a rally that included national and local leaders and hip hop artists.
When rapper DBoi Da Dome, a popular local artist, called into The Glover Report, which aired over
www.wpbradio.com
, talk focused on youth and street level efforts for justice, peace and progress. The rapper wants to help promote change and open the eyes of young people. He wants youth to make better choices, enjoy better circumstances, better opportunities and services and he wants more access to young minds.
Young people are suffering and Freddie Grays' happen daily in Baltimore, said the hip hop artist. He created a song dedicated to the uprising and police wrongdoing and killings in Baltimore. His powerful anti-police murder song "F–k 12," may be raw in language but it captures, the pain, anger, fearlessness and daily pressures of life in an urban anthem. "F–k 12, f–k 12! We ain't about fear!" the song goes. "They killing us without justice!" "Twelve" refers to Baltimore police officers and the song's narrative expresses outrage over the killing of Mr. Gray and other Blacks across the country.
Hands up means don't shoot, but cops are killing Black people anyway, the song notes. The video includes protests, city officers in riot gear, unrest and scenes from the city's remaining public housing projects and marches through the streets. Some may not like the curse words, but the police killings and police abuses are real, said DBoi Da Dome. His song is one of several local artists produced in the wake of the Gray death.
"We have to make change happen as a unit and it doesn't matter who gets the credit," he said. And DBoi Da Dome added, those with resources and power should not keep those who can reach young people away because of past problems.
My life shows young people alternatives to street life, fast money and fast death, said the rapper. But powerful people are playing games, he said. "We are losing family members in the midst of their game," the rapper added.
There is great pain affecting youth, especially young Black Baltimore, said Faraji Muhammad of Peace By Piece Baltimore, a group of young activists committed to social justice and work in low-income communities.
Peace By Piece is just a few months old, but Faraji is an up and coming leader in the city. The organization plans to work with a high school in the community where Freddie Gray lived and died to develop leaders and community advocates. Peace By Piece also connects with gang members, those out of school and on the streets to help them with education, jobs and services, said Faraji.
The larger problems and patterns of police brutality are systemic and work with young people will range from neighborhood clean ups and clothes giveaways to community education and advocacy, like pressing state lawmakers to pass legislation that holds police officers accountable, he said.
Ronnae Cooper, a 16-year-old student at St. Francis Academy, felt the initial battles between police officers and students were "ridiculous." It started from Mondawmin Mall, where she stood after school.
The day the clashes erupted police shut down transportation at the major hub, closing a subway station and pulling young people off of buses without explanation, she said. That "just made things worse. They were trying to leave."
"This whole stereotype about us, African American kids in the city, of us being thugs, I just think it's unfair. Because it's not everybody, it was a small group of kids who decided to act idiotic," Ronnae said.
"It was just the whole cop thing that got me hyped," she continued. Ronnae feels the officers were wrong for not strapping Mr. Gray into the police vehicle for his safety and questioned why he was arrested.
Like other young people interviewed, some who were denied entry into the mall, she said the relationship between youth and police is non-existent. "The cops don't really acknowledge the young people anymore. They are more like, 'you just do this, you do that' and stuff like that. They're not really showing us the way. It's like authority, authority, authority. It's not really a friendliness atmosphere around them. That's why (young people) feel like they can't really be around them. They have to run every time they come around," said the high school sophomore.
"It's not like the cops really, like my sister said, acknowledge the young people. It's like the kids are more afraid of them than they are of each other—if one is more dangerous than the other," said Rodney Cooper, 16, standing next to his twin sister. "It's like if you see a cop run, that's why Freddie Gray made eye contact with that cop and he tried to get away. He got nervous."
"It just says he didn't want to be near that cop. He didn't want to be suspect for anything. He didn't do anything wrong," the high school student added.
Rodney doesn't really fear police but, he said, many young people do. He would like to see changes in the way police deal with people.
The word on social media April 27 was that students were going to protest, said Rodney, countering police reports that a violent purge was planned. His mother picked him up and he turned on the news at home to see "young people doing damage."
He doesn't approve of the destruction, but it had an impact. "They (youth) showed their feelings and I think the cops will listen. I think they will be like, 'Be careful.'"
If Rodney has an encounter with police he hopes officers won't prejudge him and draw their weapons. He has never been in trouble—but he still has that fear.
Destiny Broadham, 17, shared some thoughts while walking in Mondawmin Mall. "It was a terrible thing that happened, raiding the places you go every day," she said. The mall was looted during the uprising. She believes there are good and bad officers. But, she said, there is a problem. "Policemen take their jobs for granted because they have so much power and they think they can get away with stuff," she said. "Like killing people, you're not supposed to kill people."
---
Richard B. Muhammad is Special to the NNPA from The Final Call.
---