February 27, 2015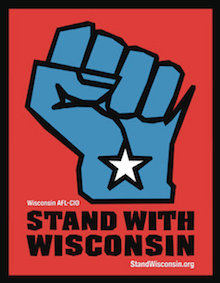 Stand With Wisconsin
The Union de Trabajadores Inmigrantes (UTI) or the Immigrant labor union is organizing a march on Friday May 1, from Brittingham Park in Madison to the state Capitol.
This Mayday march will be a show of solidarity and a protest aimed at giving a voice to issue important to laborers in the immigrant community.
May 1st, or May Day, is an important date for both the immigrant and working communities, according to UTI. "We need to rescue the traditions of the international working class in the struggle to improve our conditions." said a statement released by UTI.
According to UTI, May Day has become an important day of activism for immigration reform since 2006; as well as being the date most countries celebrate International Workers Day. A celebration which began in honor of the Chicago Haymarket affair, which in 1886 began as a labor protest and ended in a riot after a dynamite explosive was thrown at police.
According to UTI, this year's march will be focused on protesting the recent Right-to-Work legislation, which prohibits private sector companies from obligating its employees to pay union dues in order to secure their job. UTI representatives were unable to be reached for comment.
Wisconsin State Senator Scott Fitzgerald (R-Juneau) said in a January 29, press release, "Today's poll results underscored the fact that the legislature will not be able to complete this session without a vibrant debate on the issue of workplace freedom, which has received overwhelming support from Wisconsin's voters and garnered widespread media attention."
On February 24, 2015 Senator Fitzgerald released a statement detailing his testimony given to the state committee on labor and government reform in which Fitzgerald likened the "Freedom" extended to private sector workers in Senate bill 44, or right-to-work legislation, to that which he believes was given to public sector employees with the passage of Act 10 in 2011. They also plan to protest deportations. They wrote in a list of this year's demands, "Stop ALL deportations."
In a November 20, 2014 press release, UTI President Jorge Carrera said, ""Immigration reform is above all a humanitarian issue that should be beyond partisan or electoral fights."
The organization also plans to protest the inability for un-documented students to receive in state tuition. In 2011, Wisconsin got rid of a 2009 law which allowed un-documented students to receive in state tuition.
UTI also plans to protest Governor Walker's proposed $300 million dollar budget cut to the UW-system.
"The recent massive cuts proposed to the UW System show the real face of corporate America and their politicians." said a statement released by UTI.
Last year during the May Day March organized by UTI they were calling for the passage of two Wisconsin Assembly bills. The first, AB 784, would have provided a means or undocumented immigrants to apply for and receive a driver's license in the state of Wisconsin. While the second, AB 785, would have allowed for undocumented students whom met certain requirements to apply for and receive in-state tuition at UW-System schools. However, both failed to pass last year on April 4, 2014.
During last year's May Day protesters were seen carrying signs that read: "Immigrants Carry the Economy" and "Comprehensive Immigration Reform for All".