March 20, 2015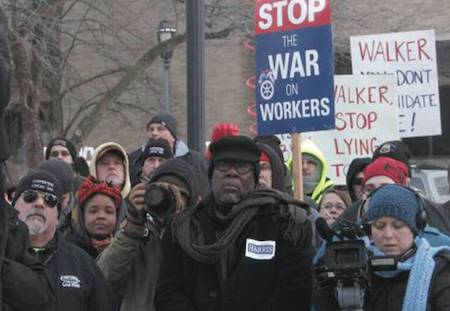 A crowd of about 200 people and union members gather in frigid temperatures in downtown Milwaukee, Wisconsin February 23, 2015. (Photo by Reuters/Brendan O'brien)
Gov. Scott Walker signed a right-to-work law last week at an invitation-only ceremony at Badger Meter north of Milwaukee, effectively ending mandatory union dues and membership fees for private-sector workers. Wisconsin is officially the 25th state to pass such a measure, which has resulted in mixed reactions.
The law is a victory for manufacturers throughout the state who claim that the measure will bring big businesses to Wisconsin, but a blow for unions who claim that the law will restrict collective bargaining ability and ultimately lower wages.
Walker, highly probable to be the 2016 Republican presidential candidate, previously said in 2012 that right-to-work legislation was not on his agenda.
"We're not going to pursue that in the remainder of our term, and we're not going to pursue it in the future. The reason is private-sector unions are my partner in economic development," Walker stated.
However, Republican lawmakers passed the right-to-work measure through Legislature in less than two weeks, causing Walker to be more receptive to change.
The passage of the right-to-work law comes four years after an intense battle over Act 10, Walker's 2011 law that repealed most abilities for organized bodies of public workers to negotiate wages and other conditions of employment. The decision sparked a failed attempt to recall the governor from office. Walker repeated over the course of this decision that legislation would not affect unions of the private sector.
President Obama said in a statement released by the White House that he is "deeply disappointed" in the new law.
"Wisconsin is a state built by labor, with a proud pro-worker past. So even as its governor claims victory over working Americans, I'd encourage him to try and score a victory for working Americans – by taking meaningful action to raise their wages and offer them the security of paid leave. That's how you give hardworking middle-class families a fair shot in the new economy – not by stripping their rights in the workplace, but by offering them all the tools they need to get ahead."
The Senate voted 17 to 15 in favor of the proposal, which quickly led to assembly approval. Over 3,000 union members and other individuals gathered at the Capitol before the governor's signing on Monday, March 9th to protest the law's passage.
Republican lawmakers who helped guide the measure through the Legislature joined the governor during the signing, including Assembly Speaker Robin Vos and Senate Majority Leader Scott Fitzgerald. Representatives from the state chamber of commerce were also in attendance.
"Worker freedom is now a reality in Wisconsin," Vos said in a statement.
Walker claimed before the signing that the new law would help places like Badger Meter attract new jobs.
"This sends a powerful message across the country and around the world," Walker said. "'Wisconsin is Open For Business' now is more than just a slogan."
The new law will take effect immediately.