February 27, 2015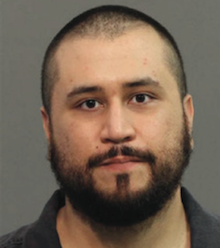 This image provided by the Seminole County Sheriff's Office shows former neighborhood watch volunteer George Zimmerman after he was arrested Monday, Nov. 18, 2013, in Apopka, Fla. Authorities said they responded to a disturbance call at a house earlier in the day. (AP Photo/Seminole County Sheriff's Office)
MIAMI, FLORIDA (ASSOCIATED PRESS) — George Zimmerman, the former neighborhood watch volunteer who fatally shot Trayvon Martin in a 2012 confrontation with the teenager, will not face federal charges, the Justice Department said Tuesday.
The decision, announced in the waning days of Attorney General Eric Holder's tenure, resolves a case that focused public attention on self-defense laws and became a flashpoint in the national conversation about race two years before the Ferguson, Missouri, police shooting.
"We, as a nation, must take concrete steps to ensure that such incidents do not occur in the future."
Zimmerman has maintained that he acted in self-defense when he shot the 17-year-old Martin during a confrontation inside a gated community in Sanford, Florida, just outside Orlando. Martin, who was black, was unarmed when he was killed. Zimmerman identifies himself as Hispanic.
Once Zimmerman was acquitted of second-degree murder by a state jury in July 2013, Martin's family turned to the federal investigation in final hopes that he would be held accountable for the shooting.
That probe focused on whether Zimmerman could be charged with a federal hate crime in the killing and whether he willfully deprived Martin of his civil rights, a difficult legal standard to meet. Federal investigators, who independently conducted dozens of interviews, ultimately determined there was insufficient evidence to prove Zimmerman killed the teenager on account of his race.
"Our decision not to pursue federal charges does not condone the shooting that resulted in the death of Trayvon Martin and is based solely on the high legal standard applicable to these cases," Vanita Gupta, the Justice Department's top civil rights lawyer, said in a statement announcing the decision.
Zimmerman's attorney, Don West, was on a flight and couldn't immediately comment on the decision. A call to Zimmerman's cell phone went directly to voicemail.
Martin's parents were too distraught after their meeting in Miami with Justice Department officials to speak with reporters, said their attorney Ben Crump, who called the decision a "bitter pill to swallow" even though it was expected.
"What they told his family and I was that because Trayvon wasn't able to tell us his version of events, there was a lack of evidence to bring the charges. That's the tragedy," Crump said.
The February 2012 confrontation began after Zimmerman observed Martin while driving in his neighborhood. Zimmerman called police and got out of his car and approached Martin, who was returning from a store while visiting his father and his father's fiancée at the same townhome complex where Zimmerman lived.
Prosecutors contended that Zimmerman was profiling Martin and perceived him as someone suspicious in the neighborhood; Zimmerman did not testify at his trial, but he earlier told investigators that he feared for his life as Martin straddled him and punched him during the fight.
Federal investigators said they examined the case under multiple civil-rights provisions, including ones that make it illegal to use force against someone based on their race and another that criminalizes race-based interference with a person's federally protected housing rights. They said they conducted roughly 75 witness interviews, examined police reports and reviewed all of the evidence gathered during the state prosecution.
Tamara Rice Lave, a professor of the University of Miami's School of Law, said the Justice Department conclusion was not surprising because there was no direct or circumstantial evidence that Zimmerman's actions were motivated by race.
In a 911 call, as he followed Martin through their Sanford neighborhood, Zimmerman said the teenager "looks black."
"But he doesn't say the things that would make you think it was motivated by race," Lave said. "He doesn't call him the N-word."
Black leaders in Sanford, where Martin was shot, also said they weren't surprised by the decision.
"I was expecting this to happen," said Turner Clayton, a former local leader of the NAACP.
The conclusion in the Zimmerman case comes even though Holder has made civil rights a cornerstone of his tenure. The Justice Department is moving to resolve a separate high-profile civil rights case: the August shooting by a Ferguson police officer of Michael Brown, an unarmed black 18-year-old. Holder has indicated that he plans to announce a decision in that case, which prompted weeks of protests, before he leaves the Justice Department in the coming weeks. In the Ferguson case, the Justice Department has been investigating whether the officer deprived Brown of his civil rights by using excessive force.
Days after Zimmerman was acquitted, Holder said he considered Martin's death an "unnecessary shooting." In a statement Tuesday, Holder echoed remarks he made in the shooting's aftermath.
"Though a comprehensive investigation found that the high standard for a federal hate crime prosecution cannot be met under the circumstances here, this young man's premature death necessitates that we continue the dialogue and be unafraid of confronting the issues and tensions his passing brought to the surface," Holder said. "We, as a nation, must take concrete steps to ensure that such incidents do not occur in the future."
---
Associated Press Writer Mike Schneider contributed to this report from Orlando, Fla.
---