February 27, 2015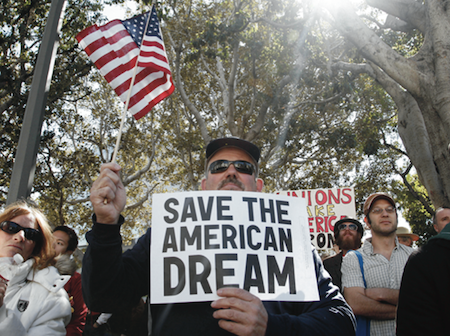 (Photo credit, Karen Stokes)
This week, Republican lawmakers called an extraordinary session to officially introduce and debate the right-to-work bill. An extraordinary session limits debate and could fast track passage of the bill.
The right-to-work law secures the right of an employee to decide for themselves whether or not to join or financially support a union by paying union dues. Wisconsin would be joining 24 other states that currently have the law, if passed.
The right-to-work debate comes four years after the ACT 10 law was introduced that ended collective bargaining rights for most public employees. The labor rallies protesting the law lasted for weeks and grew as large as 100,000 people.
"This is a fight we thought we would eventually be in," said Sheila Cochran, chief operating officer of United Auto Workers Local 438, in an interview. "We always had a plan and we have been getting members in place."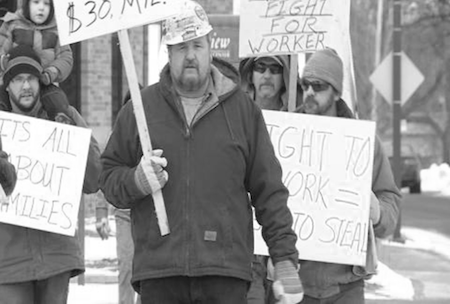 A press conference was held Monday at the Wisconsin State Capitol by union leaders and rallies were held this week in Madison and Milwaukee to show solidarity against the right-to-work bill.
Approximately 2000 enthusiastic protesters gathered at the state capitol in Madison on Tuesday afternoon ready and willing to let their voices be heard. On Monday evening, a few hundred protesters braved the frigid temperatures at Zeidler Union Square in Milwaukee to demonstrate their commitment to stopping right-to work from becoming law.
"If right-to-work was any good for this state, we wouldn't see it being tried to pass so quickly, with limited debate, in an attempt to circumvent democracy," said Phil Neuenfeldt, president of Wisconsin AFL-CIO at the press conference on Monday.
"Its a worthy fight," said Cochran. "This is an effort by the Republicans to drive down union membership."
According to the U.S. Bureau of Labor Statistics, labor unions in Wisconsin experienced a decline in membership from 12.3 percent in 2013 to 11.7 percent in 2014.
The bureau additionally found that average wages across all industries in the right-to-work states were $4 per hour lower than those in non-right-to-work states.
The Republican controlled Senate could pass the bill this week which would then move it to the Republican controlled State Assembly in March.
"If this bill makes it to his desk, Governor Walker will sign it," said Walker spokesperson Laurel Patrick.
"Governor Walker continues to focus on budget priorities to grow our economy and to streamline state government," Patrick said. "Governor Walker co-sponsored right-to-work legislation as a lawmaker and supports the policy."
Walker proposed right-to-work in 1993 as a member of the Wisconsin Assembly.
This differs from a statement the governor previously made which was that the right-to-work bill would be a "distraction" for his agenda and for the state.
On February 24, the NFL Players Association weighed in on the debate. In a statement, DeMaurice Smith, executive director said, "the NFL Players Association stands together with the working families of Wisconsin and organized labor in their fight against current attacks against their right to stand together as a team."
"We understand how devastating it would be if they lost the ability to have their workplace conditions and wages guaranteed through collective bargaining," Smith said.
A Rasmussen Reports survey, in January 2015 found that 35 percent of likely voters believe right-to-work laws are good for the states economy. Another 26 percent say right-to-work laws are bad for the economy, 11 percent think the laws have no impact and 28 percent are not sure.
The lack of knowledge on what unions do or what the right-to-work law actually is may be the reason for the uncertainty surrounding this issue. In a 2014 Gallup poll, 45 percent of respondents have never heard of right-to-work laws.
"People need to know what unions really do," Cochran said. "Right-to-work will have an effect and it will take people time to realize it. It will hurt the economy."