April 10, 2015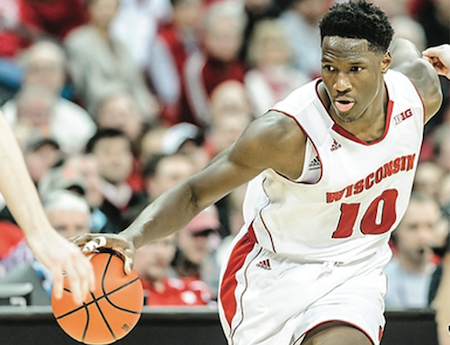 After an incredible season, the Wisconsin Badger's journey came to a disappointing end Monday night in the NCAA Men's Basketball Championship game as the UW men's team fell to the Duke Blue Devils 68-63.
Despite the loss, the Badgers still have an impressive season behind them. Not only was this the first Badger appearance in the championship game since 1941, the team triumphed over an undefeated Kentucky to get there. That win tasted especially sweet given that Kentucky beat the Badgers in last year's Final Four match-up.
Of their competitors this year, the Badgers faced every one of the highest-seeded opponents to reach the championship game, a feat not to be taken lightly.
UW head coach Bo Ryan led his players to a win in this year's Battle 4 Atlantis tournament, a competition which showcased the strength and versatility of his senior players, many of whom were honored this year with awards and recognitions for their accomplishments on the court. Star senior Frank Kaminsky received the coveted Naismith College Player of the Year award for the 2014-15 season and teammate Josh Gasser was one of only two Badger players to surpass 1000 points, 500 rebounds and 250 assists.
Throughout the season, the team was praised for its ability to work in unison both on and off the court. After a foot injury benched senior Traevon Jackson, Bronson Koenig stepped in to fill his place. Both he and junior Sam Dekker played key roles in leading the team to the championship game.
Unfortunately, all of this was not enough to defeat the Blue Devils, a team which claimed its fifth national title Monday night. Bo Ryan reaffirmed his pride in the team at a post-game press conference Monday, a sentiment well-founded in the many number of accomplishments the Badger's have made this season: "These guys have been fantastic … my guys made me extremely proud."