April 10, 2015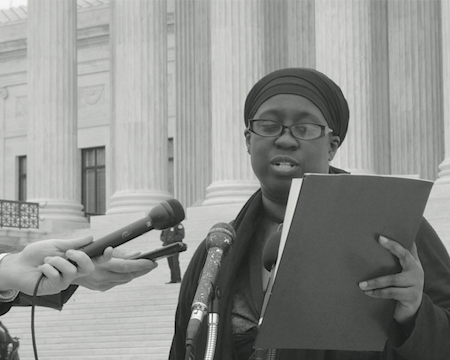 Jacqui Patterson, director of the NAACP Environmental and Climate Justice Program, speaks to press outside the Supreme Court. (Jazelle Hunt/NNPA News Wire Service)
"Interestingly, no one is saying, 'don't build it.' Everyone is basically saying, 'we can do this better.' So you can operate and make your profits, but we can also do it in a healthier way that protects communities."
WASHINGTON, D.C. (NNPA) — As fossil fuel companies and environmental groups fight over the future of American energy, people of color suffer the casualties.
The latest battle is occurring in the Supreme Court with National Mining Association v. Environmental Protection Agency and its accompanying cases, in which coal mining companies and coal-fired power plants have sued the EPA over new regulations on the air pollution that overwhelmingly settles on communities of color.
The suit focuses on the Mercury and Air Toxics Standards (MATS) the EPA issued to coal- and oil-fueled power plants in 2011.
It's the first-ever federal rule to limit toxic air pollution from coal- and oil-fired power plants, which would be required to reduce emissions by upgrading their facilities to more public health-friendly systems.
Very few power plants run on oil, but the United States relies on coal for nearly half of its electricity.
Leading coal mining corporations assert that the EPA should not be allowed to issue such regulations without first considering the upgrade and compliance costs they impose. In other words, the plaintiffs want to continue manufacturing without the available community health safeguards, arguing that these regulations present an unfair financial burden and infringe on their ability to make profits.
Coal-powered facilities spew literal tons of pollutants into the air each day. This cocktail of toxins causes cancer, chronic heart conditions, ADD/ADHD, and respiratory diseases ranging from asthma to lung cancer in the surrounding communities. Mercury, in particular, is a neurotoxin—long-term exposure is known to cause fetal birth defects, brain damage or delayed development, emotional disturbances and psychotic reactions, and more.
"Sixty-eight percent of African Americans live within 30 miles of these coal-fire power plants," said Jacqui Patterson, director of the NAACP Environmental and Climate Justice Program. She said that African American children are two to three times as likely to miss school, be hospitalized, or die from asthma attacks than White children.
She said, "For us, it's very much a civil rights issue if certain communities are being disproportionately impacted by the pollutants that come from these coal plants." The NAACP is one of several groups backing the EPA in the suit.
The NAACP's accompanying report titled, "Coal Blooded: Putting Profits Before People," grades and ranks nearly 400 coal plants around the nation. It also documents the 75 worst-offending facilities, the worst-offending companies, the toll on local communities, and the national and global implications if the emissions from these plants are not improved.
"A total of four million people live within three miles of these 75 failing plants…out of these four million people, nearly 53 percent are people of color," the report reads. "Living in such close proximity to coal plants has serious consequences for those communities. Coal plants are single-handedly responsible for a large proportion of toxic emissions that directly poison local communities in the United States."
According to the report, the top five plants with the worst environmental justice performance were: Crawford Gen. Station and Fisk Gen. Station in Chicago; Hudson Gen. Station in Jersey City, N.J.; Valley Power Plant in Milwaukee, Wis.; and State Line Plant in Hammond, Ind.
Most of the top offenders are in the Midwest, which houses 32 percent of all of the nation's coal-powered energy plants. Illinois, Indiana, Michigan, Virginia, and Colorado are home to the most failing plants.
In addition to severe health problems, the Black communities will bear the worst of the effects of climate change that result from unchecked air pollution.
"Indeed, Hurricane Katrina and the tornadoes in Pratt City, AL have already vividly demonstrated that the shifts in weather patterns caused by climate change disproportionately affect African Americans and other communities of color in the United States—which is a particularly bitter irony, given that the average African American household emits 20 percent less [carbon dioxide] per year than the average white American household," the report states.
"The six states with the largest proportion of African-Americans are all in the Atlantic hurricane zone, and all are expected to experience more severe storms as a consequence of global warming."
EarthJustice
, a nonprofit environmental justice organization, estimates that the MATS regulation would reduce mercury emissions by 75 percent, preventing up to 11,000 premature deaths, nearly 5,000 heart attacks, 130,000 asthma attacks, and more than 540,000 missed work days each year. Some power plants have already adopted the latest methods for reducing impact on human health; the MATS regulation would require all power plants to match the best-practicing plants' emission levels by a certain date.
The Supreme Court heard arguments for the case last week in a 90-minute hearing. A decision is expected by summer.
"Fifty percent of all coal-fired power plants are 40 years old or older. The coal industry is trying to protect its old clunkers," said Lisa Garcia, vice president of Litigation for Healthy Communities for EarthJustice, and chief advisor to the EPA on the creation of the mercury standards. "Interestingly, no one is saying, 'don't build it.' Everyone is basically saying, 'we can do this better.' So you can operate and make your profits, but we can also do it in a healthier way that protects communities."
---
Jazelle Hunt, a Washington correspondent for the National Newspaper Publishers Association News Service, recently completed week-long training at the University of Southern California as one of 14 journalists awarded a 2014 National Health Fellowship. Hunt is a Howard University graduate.
---