May 15, 2015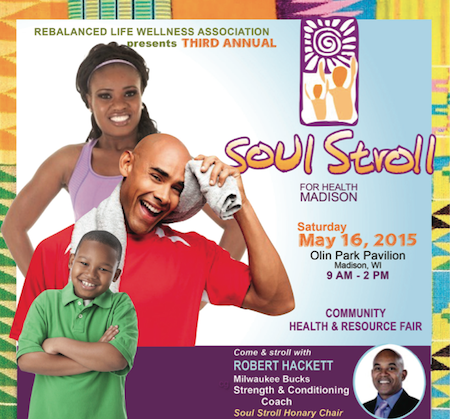 The 3rd Annual Soul Stroll, Madison's largest outdoor event focused on health issues specifically for communities of color, will take place Saturday, May 16 at Olin Park. The community health and resource fair begins at 9 a.m. and costs $10 per adult (children 17 and under are free).
The event features one-, three- and five-mile walks along John Nolen Drive, health screenings, food and music by DJ Chill. It is presented as part of the series of outreach efforts of the Rebalanced-Life Wellness Association. This year's Honorary Health Champion is Robert Hackett, strength and conditioning coach for the Milwaukee Bucks.
The Rebalanced-Life Wellness Association was founded in 2007 with the mission to reduce health disparities that adversely affect African American men in Dane County. It stresses the importance of education and early detection.
African American men are especially at risk for diabetes, obesity, high blood pressure and prostate cancer, among other conditions and illnesses.
According to the organization's health advisory board, diabetes is the fifth leading cause of death in African Americans, with the highest incidence rate of prostate cancer in the world. Black men die earlier and at higher rates from preventable illnesses than any ethnic group, have only limited contact with physicians and the health care system overall, and fail to get routine checkups or preventative care, and often ignore symptoms or delay seeking medical attention until a serious health crisis occurs.