February 27, 2015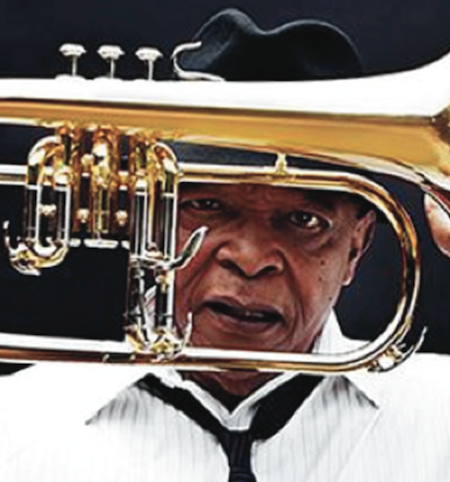 Year: 1950. Place: South Africa. Setting: Apartheid.
It was a legal act that split the South African population into three classifications: white, colored or native, according to a study by The Library of Congress.
In the nearly 45 years of strife, non-whites in South Africa faced multiple facets of psychological and physical oppression. Yet even in the midst of conflict, the anti-apartheid movement harnessed music as one of many means of opposition.
The Wisconsin Union Theater, at the University of Wisconsin-Madison, will host a performance celebrating twenty years since the official end of apartheid with South African musicians and freedom fighters Hugh Masekela and Vusi Mahlasela.
Masekela's five decades of flugelhorn and trumpet performance include more than 40 albums and collaborations with the likes of Harry Belafonte, Dizzy Gillespie and Marvin Gaye, among others. His 'Bring Him Back Home (Nelson Mandela)' grew into the anti apartheid anthem calling for Nelson Mandela's release from imprisonment.
Anti-Apartheid leader Mandela was sentenced to life imprisonment in 1964 after being convicted for sabotage. He initially faced the death penalty, delivering his 'Speech from the Dock' in April 1964 as part of the trial.
"I have fought against white domination, and I have fought against black domination. I have cherished the idea of a democratic and free society in which all persons live together in harmony and with equal opportunities. It is an ideal, which I hope to live for and to achieve. But if needs be, it is an ideal for which I am prepared to die," he said.
Mandela would not be released from prison until 1990. He would go on to receive a Nobel Peace Prize in 1993 and become South Africa's first black President as a result of democratic elections in 1994.
Guitarist Mahlasela is remembered for responding with music to the murder of more than 200 black South Africans in the 1976 Soweto Uprising. Eventually becoming known as "The Voice" of the anti-apartheid movement, he maintains that legacy twenty years after the apartheid met its end.
Mahlasela, like Masekela, used music to lift the spirits of those crushed under the heavy suppression of apartheid.
Year: 2015. Place: Madison, Wis. Setting: The Wisconsin Union Theater.
Twenty Years of Freedom is the concert, scheduled for Friday, March 6, 2015 at 8 p.m., featuring music from the anti-apartheid movement and celebrating two decades of democracy with Masekela and Mahlasela. Don't miss it.