February 13, 2015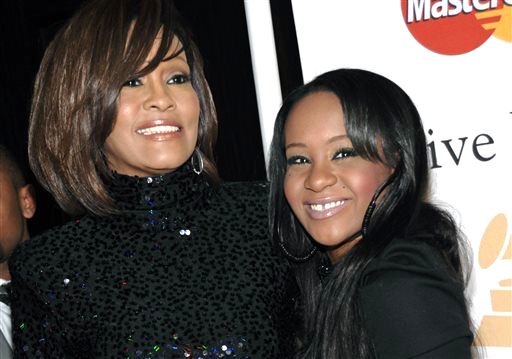 In this Feb. 12, 2011, file photo, singer Whitney Houston, left, and daughter Bobbi Kristina Brown arrive at an event in Beverly Hills, Calif. Messages of support were being offered Monday, Feb. 2, 2015, as people awaited word on Brown, who authorities say was found face down and unresponsive in a bathtub over the weekend in a suburban Atlanta home. (AP Photo/Dan Steinberg, File)
(DAILY MAIL) — Relatives of Bobbi Kristina Brown, who has been in a medically induced coma for more than 10 days, have reportedly agreed to let her die tomorrow – the same date as her mother.
The daughter of the late Whitney Houston, and singer Bobby Brown, was found face down in a bathtub and was later discovered with bruises over her body and face.
She has been in a medically induced coma ever since and relatives are now thought to be discussing allowing her to die tomorrow, Page Six reported.
Cissy Houston, grandmother to Miss Brown, suggested the family turn off the machine so that the 21-year-old could be allowed to die on Wednesday, which will be the same date as her late mother.
Whitney Houston died on February 11, 2012, after being found in a bath at the Beverly Hilton Hotel.