April 17, 2015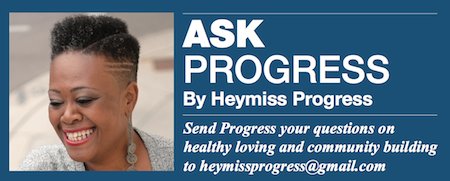 Dear Progress:
What does it really mean to practice self-love?
Dear Love:
I can best describe practicing self-love as granting oneself permission to live fully. For me, it's meant moving from a place of allowing others to bring me into miserable situations to actively protecting my peace. You won't find self-love by purchasing the latest clothing trends. It's not about finding a new relationship to give you self-love or getting it by pretending to be someone else. It's more than that temporary feeling of happiness we receive when given a compliment or material gifts. It's a much deeper and healthier relationship with yourself.
It took time but I've learned to be okay giving myself the kind of love that has allowed me to be more fulfilled. When we love ourselves correctly we begin to let go of people who are not good for us. We stop the negative self-talks that keep us feeling bad about ourselves. Our purpose becomes much clearer and I'd say we even become more kind to others.
Here's what continues to work for me and may work for you too: Removing myself from toxic relationships. I began to pay attention to how I felt when certain people were in my space. I learned that some people found joy in my pain and struggles. They added nothing but negative energy to my day. These toxic relationships weren't just relegated to friends, but intimate partners, family members and even coworkers. I simply said enough was enough and removed myself from each of those unhealthy relationships. You deserve to be surrounded by people who want the best for you. Protect your space, love!
Doing more of what I love. We often put so much of what we want to do on hold to please others. I did it for more years than I can remember. I was basically putting who I wanted to be on hold for reasons that didn't even belong to me. It caused me to feel suffocated and not living life to its fullest. When I began to practice self-love I began to say yes to myself more often. No one else gets to live my life, so I figured that I am going to get the best out of it while I have it! Even if it means having to say no to others more often (of which I surely do).
Being more aware of who I am. I've never been one to compare myself to others. Yet, I struggled with who I aspired to be and who I thought I should be for the betterment of my immediate family.
I began to pay closer attention to my own thoughts. I'd focus quietly on my own dreams and passions. Learning how to be more mindful about what I want for myself has been a peaceful blessing. I know myself more so because I actually take the time now to listen to my own voice.
Forgiving myself. Forgiveness is powerful. Forgiving myself for the mistakes I've made over the years allowed me the room to heal and move on fully from the past. If we are to move on, then we cannot continue to beat ourselves up over what has already happened. Learn from it yes, but don't continue to live in it day in and day out.
While this isn't all of what I've done to have a more loving relationship with myself, it's definitely been the most important of all that I've done. Some people are going to be uncomfortable with the love you are giving yourself. They may even make negative comments about your positive changes. That's their problem and not yours to carry!
The simplest way to begin practicing self-love is to give yourself permission to do so!
Peace
"Do not expect to receive the love from someone else you do not give yourself."
– Bell Hooks, author of All About Love: New Visions
---
Named one of BRAVA Magazine's 2015 Women to Watch, Sabrina Madison or as you may know her "Heymiss Progress" is a poet, motivational speaker, entrepreneur and change agent. She can be reached through her website, About Sabrina "Heymiss Progress" Madison, at www.heymissprogress.com.
---