February 6, 2015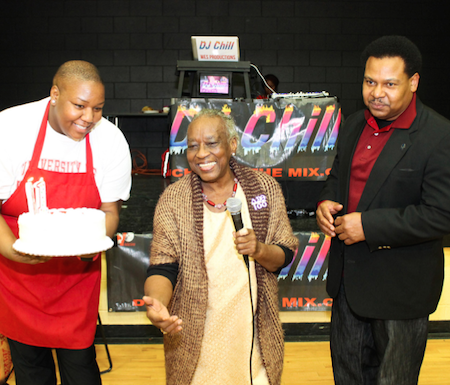 Community members gathered at the Boys and Girls Club, Saturday Jan 31st, to celebrate the 81st birthday of UMOJA publisher, Ms. Milele Chikasa Anana and to acknowledge the 25th anniversary of UMOJA Magazine. Friends and family were treated to a taco bar, music by DJ Chill and a performance by youth dance group Exclusive Movement. The dancers paid tribute to the guest of honor and to those involved in the Civil Rights Movement, including Dr. Martin Luther King, Jr.
Ms. Milele asked that in lieu of gifts, donations containing the number five be made to local scholarship funds.
While everyone enjoyed the party atmosphere, they were also reminded of the importance of education for future generations.
It was a fun filled evening and the birthday girl received many hugs and words of appreciation for her contributions to Madison. Her monthly publication, UMOJA, celebrates the positive news in the Black community with an art attitude. A collection of UMOJA covers and artwork can be seen on display during Black History Month at the Madison Municipal Building. If you missed the party and would like to donate, please call 242-1400.