MADISON — The 25th annual Juneteenth Day Celebration titled "Juneteenth 2014…Harambee…Let's Pull Together," will take place at Penn Park on Fisher Street in the heart of South Madison on Saturday, June 21.
The Juneteenth Celebration is the largest family oriented African American celebration in Dane County. The festival promotes empowerment and self-actualization for children, young adults, and families by exposing them to visual, spoken, and dramatized information and other mediums that showcase the vast contributions of Black people in America.
There will be local entertainers and professionals performing including Rob Dz, Rick Flowers, Miss Progress, Denise Jackson,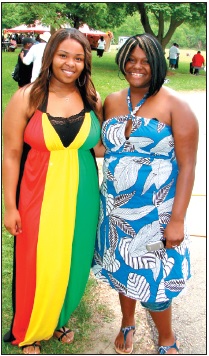 spoken-word artists, and much more.
Juneteenth is a wonderful opportunity to experience the rich history of black Americans through various forms entertainment, lectures, visual presentation, food, and other activities.
Juneteenth, celebrated on June 19, is the name given to emancipation day by African Americans in Texas. On that day in 1865, Union Major General Gordon Granger read General Order number three to the people of Galveston, which states
"The people of Texas are informed that, in accordance with a proclamation from the Executive of the United States, all slaves are free. This involves an absolute equality of personal rights and rights of property between former masters and slaves, and the connection heretofore existing between them becomes that between employer and hired labor. The freedmen are advised to remain quietly at their present homes and work for wages. They are informed that they will not be allowed to collect at military posts and that they will not be supported in idleness either there or elsewhere." — Texas State Library & Archives Commission
Juneteenth will be celebrated Saturday, June 21, 10 a.m.-6 p.m. at Penn Park.
The parade will start at 11 a.m. at the Fountain of Life parking lot, 633 W. Badger Road
This year's Juneteenth will be put on by Kujichagulia-Madison Center for Self-Determination, Inc.
For more information about the event, please call (608)284-8931 or e-mail kujichaguliajuneteenth@gmail.com