Office of Multicultural Arts Initiatives presents 8th annual Line Breaks
by A. David Dahmer
The Office of Multicultural Arts Initiatives (OMAI) will present its 8th annual Line Breaks Festival, the largest hip hop festival in the Midwest, on Wednesday, April 16 through Friday, April 25. It will be the third year the festival will take place at the Overture Center for the Arts, but the first time under the Overture Community Arts Access Program.
"The core of the festival are theatrical shows written by our [OMAI] First Wave students and those shows are solo shows, duet shows, and ensemble pieces," Rain Wilson, the creative director for First Wave, tells The Madison Times. "There will be 'talk-backs' after many of the shows where attendees can have correspondence with the actors and where people can ask questions and the actors can share information about process. In addition to that, there are guest artists that are coming that are just wonderful."
This year's headliners include guest artists Rennie Harris and Michael Sakamoto [see sidebar] performing "Flash," on Thursday, April 24 and Friday, April 25. This dance theater duet is a "public conversation" between the artists' respective aesthetics — butoh and hip-hop — cultural backgrounds — Japanese-American and African-American — and personalities. The two artists perform together on stage, combining their dual approaches to address the intersection of urban and environmental crisis, social resistance, and corporeal identity.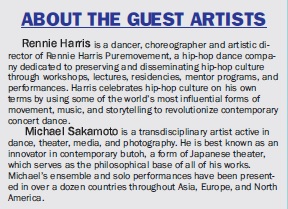 "The guest artists' and student works presented in Line Breaks 2014 features strongly on the body as sites for exploration, discovery, and healing," said Chris Walker, the festival's curator and artistic director of OMAI. "Unique collaborations produce diverse narratives that intersect at questions of presence, ownership, value, cultural fusions, inclusions, and contradictions."
Line Breaks is produced annually by the OMAI and is curated by Chris Walker, artistic director of First Wave and assistant professor of dance at the UW-Madison. The festival is designed to bring the top new aesthetics in contemporary performance art to the UW-Madison campus and the surrounding community. It has evolved into a space for the investigation of contemporary American culture through the lens of hip-hop performance.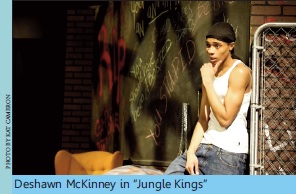 Wilson's performances will take place on Tuesday, April 22 and Wednesday, April 23. Her "Jungle Kings" follows the growth and descent of Baby Cockroach, an African-American youth taken under the wings of an OG (original gangster) named Cockroach. Wilson, a visual artist and playwright, also serves as OMAI's creative and academic adviser.
"'Jungle Kings' deals with the processing of black and brown men into a world of gangs and prison culture," Wilson says. "It was really a highlighted feature for the last festival as well as this one because there is so much right now going on regarding what is happening in Dane County with the incarceration of black men. There will be a talk-back afterward where people will get a chance to speak out and voice their concerns about what is happening in Madison."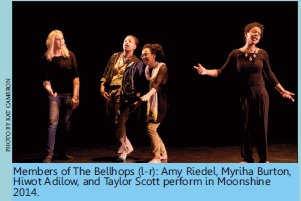 Beginning Wednesday, April 16, through Thursday, April 24, First Wave student artists will perform solo and ensemble works, including: "Fire Under the Skin," the 7th Cohort's collaborative large ensemble production of reflection, discovery and the reach to evolve; "Loud and Unchained" of schizophrenia and the struggle to function in everyday life by T. Banks; "The Mis-Education of Mil Chet" explores the intersecting narratives of Milwaukee women, by Ashley Street and Nakila Robinson; "Flounder" an immigrant narrative of assimilation and in-betweenity by Elton Ferdinand III; "Cult of Blk Bodies" challenges contradictions to the blk female body narrative through the story of a young blk feminist's return to her baptist roots, by Erika Dickerson; "Honey in My Tea" a musical theater narrative of survival and womanhood by The Bellhops a student ensemble of musicians, writers and singers led by Taylor Scott.
"We will be tackling many important and deep issues at Line Breaks this year," Wilson says. "In my piece, we will be dealing with incarceration and street violence. Some of the other pieces will be dealing with difficult conversations, the transition young people face in coming from home to Madison, feminism, assimilation, bridging different cultures on campus, women's issues and women's bodies in the world… there will be a huge piece done on mental illness talking about a student fighting through schizophrenia."
As creative director, Wilson has been working extremely hard the past few weeks advising and directing the students as they work on their pieces. "The students in Line Breaks don't get an extremely intensive and long rehearsal process like there would be in theatrical world outside of school," Wilson says. "So, it is definitely very intense and they meet several times a week and they bring their writing and get our guidance. They put these things on stage rather quickly and it's pretty phenomenal what they do in such a short period of time."
Wilson is responsible for a lot of the creative direction and is directing several of the shows that will be in the festival. "One of my favorite parts has been working with the freshman group the 7th Cohort's show called "Fire Under the Skin," Wilson says. "It's been a real joy because I've been with them from the very beginning of the school year and worked really intensely with them as they have been developing and growing as new college students and helping them formulate what this show will look like. That's been one of the most exciting things for me."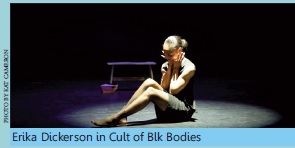 Wilson says she really enjoys helping young people tap into their voice and figure out what they want to say on stage. "It's been highs and lows because it is really intensive hours for all of us involved," she says. "With those hours comes a lot of responsibility and a lot of work. It's all been rather interesting."
All of the Line Breaks Festival events are free and open to the public. Audiences are invited to join the artists for a 30-minute discussion following each performance to continue the conversation about these powerful personal narratives.
"It's a great opportunity people will have to speak with the performers," Wilson says. "That's not always the norm where people can have time with the actors after the show. That doesn't happen a lot. In Line Breaks, that will be happening each day where we'll have talk-backs after the show."
Wilson stresses that Line Breaks will not only be a week of great entertainment but also great education.
"One of the greatest things about the process is that the young men doing my show [Jungle Kings] had to do a lot of research. They had to learn about what is happening in Madison, Wisconsin. They had to research what is happening in other states with that particular issue and theme," Wilson says. "In the mental illness piece, that young lady is educating people about what schizophrenia really is and what that experience is like. There's a lot of teaching about culture, about race issues, and about female issues. It's a great educational experience."
A lot of people have never been to Line Breaks for the seven previous years. What would be a good reason to come on out for the first time this year?
"I think it's a wonderful opportunity for the Madison community and the university community to support young writers as they continue to tap into their voice and stimulate dialog around really important issues that come up in the academic settings but are also consistently stir in the community and society," Wilson says. "These young people are talking about it and building around it and creating shows around things that even adults have a hard time talking about. We will have some amazing talent on display. It will a great experience."

For a complete rundown of the festival's schedule and information about the events, go to www.linebreaks.wisc.edu.
Line Breaks is presented and made possible by the Office of Multicultural Arts Initiatives (OMAI), a unit in the Division of Diversity, Equity and Educational Achievement at the University of Wisconsin-Madison and the Overture Center Community Arts Access Program.