July 3, 2015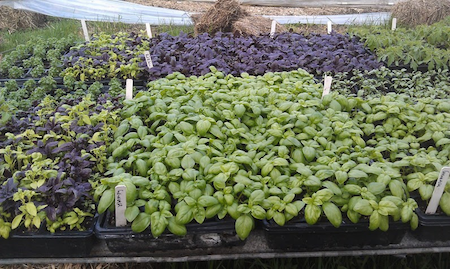 Photos provided by Eagle Heights Community Garden
It's the transition between seasons in Madison, and gardening is on the rise. Although private gardening continues to be a viable option during these months, Madison is home to many community gardens, like Eagle Heights, that encourage healthy and sustainable lifestyles.
Community gardens are far from new to the Madison area. The popularity of this community resource, however, is on the rise. Specifically, the community garden at Eagle Heights continues to hold a wait list for plots in their garden given the high demand from families and students in downtown Madison.
Eagle Heights Community Garden, a subset of the University of Wisconsin-Madison and UW housing, is the largest community garden in Madison with around 800 plots and has been a resource for Madison since 1962.
"[Community gardens] are community oriented," Jennifer Mirrielees, co-chair of Eagle Heights Community Garden, said. "If you go out [into the gardens], you will meet people, a lot of young student[s], young professionals, or families. There are people from all over the world, too."
Mirrielees said that the garden is currently home to over 60 languages from gardeners of every walk of life. This sense of community brings gardeners together to share knowledge about farming techniques and new plants.
This idea of harboring a welcoming community, though, is not the only thing that makes community gardens successful in Madison.
"We're a very educated city here, and along with that comes an appreciation for spending time outside and doing conscientious things you can do," Mirrielees said.
She said that Eagle Heights and many other community gardens in the area strive to make healthy choices for the environment they garden on, like dedicating a section of the garden to only organic produce.
Maija Inveiss, communications intern with the UW Office of Sustainability, said she believes that community gardening is one of the best ways to care for the environment as well as the health of individuals.
"With a community garden, people are growing their food themselves which is found to be healthier, increase happiness and build community," she said. "Looking at it from a sustainable perspective, community gardening adds green space in cities, increases the amount of local food and usually there are less chemicals involved."
Inveiss, a UW-Madison student herself, said that having community gardens like that of Eagle Heights so close to downtown is a precious resource for university students.
"Spending time outside is a great stress reliever, so having a way to get a little bit out of the campus bubble is great," she said.
With nearly 60 community gardens throughout Dane County, Madison residents, like these university students, are living in the prime city for celebrating sustainability. Add in the abundance of farmer's markets, outdoor activities and the "buy local" mindset of many area restaurants, Madison is one of very few cities that continues to go green with a conscious look to the future.