July 3, 2015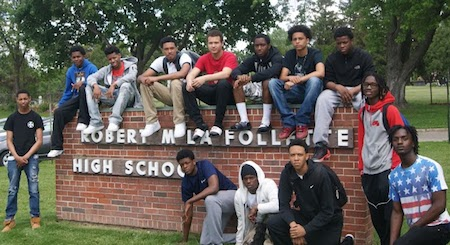 Photo by Elizabeth Stephens
"'These young men want to be a part of something so bad, they're thirsty for some type of knowledge. They want to see an adult follow up and support them… This is not an enablement program, but an empowerment program,' Milton said."
About 7 months ago, James Monroe was asked to speak with at-risk male students at La Follette High School. Many were experiencing serious behavioral issues and the school was looking for a better way to address the problems.
Monroe, a Pastor, an entrepreneur and a mentor, as well as several other members of his church, began to teach the concept of spirituality.
"We wanted the students to discern what they see and take that information and interpret it in a way that allows them to process negative events through a system of heart and mind," Monroe said.
Working in coordination with John Milton, the school's Multicultural Services Coordinator, Monroe set up a plan to correct some of the underlying adversity faced by students, most of whom were minorities. This included disparity in education, gang-related activity and domestic and financial hardships. With the approval of the school's principal, Chad Wiese, the program was set in place. There has not been a fight in six months and attendance has shot up.
"It became a place of self-correction and self-examination. They began to understand why they feel like they feel and what makes them angry," Monroe said. He and his colleagues have visited faithfully every week.
Despite their work, Milton and Monroe credit the young men rather than themselves.
"The main point here is the students. They've really stepped up to the plate," Monroe said. He points to one individual who just three years ago was on his way to jail. Now, a model for other students in the program, he's scheduled to graduate and attend college.
Milton credits Pastor Monroe's mentorship for the change. "He's on track to do great things… it's amazing to hear him. I would challenge anyone to come into the school and he will talk on all levels with you about business, social and economic issues and you'll be like 'wow'."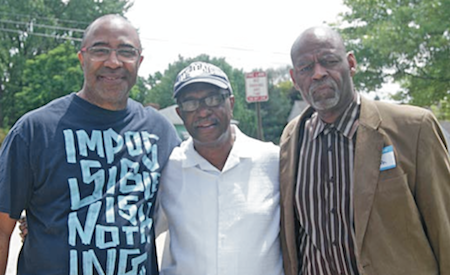 Left: John Milton, Middle: Minister Ronald Smith of New Covenant Church of Christ, Right: Pastor James E. Monroe also of the New Covenant Church of Christ. Photo by Elizabeth Stephens.
The group's leaders hope programs like theirs with a focus on positive corrective path expand to other schools in the area. They hope to show community members how much of a difference they can make in a student's life.
"I never really cared if there was a story. I just want people to see the need to step in and help. People need to realize there's an absence of male input, especially in the African-American community. Men end up in penitentiaries with negative role models. Us as men need to step back into the community and know that even if that's not my child, I need to help raise them," said Monroe.
The program helps the young men focus on alternatives to education and the power of positive self-image. "These young men want to be a part of something so bad … they're thirsty for some type of knowledge. They want to see an adult follow up and support them. Once their voices are heard, we are leaders. This is not an enablement program, but an empowerment program," Milton said.