July 3, 2015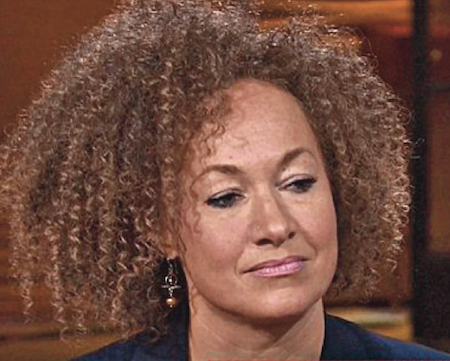 WASHINGTON, D.C. (NNPA) – If Rachel Dolezal had looked around, she would have discovered that a White person does not have to pretend to be Black in order to lead an NAACP chapter. In fact, she would have to look no farther than several states south, to Arizona, to see that a White man, Donald Harris, is president of the Maricopa County NAACP.
Dolezal served as president of the Spokane, Wash. NAACP branch of the NAACP until her parents disclosed that their estranged White daughter was passing as Black. The shocking disclosure created a national uproar – not about her being White, but her living a lie – and led to her resignation.
As president of the Phoenix-based NAACP branch, Donald Harris was not amused.
"I think there may be some mental health issues," he said. "[Dolezal] has done some good things, and she'­s also done some bad things. But she did them knowingly. [She's become] a joke, and that's a shame. But that reflects more on her than it does on the NAACP."
Paul Krissel, a White man who has served as treasurer of the Salem-Keizer NAACP chapter in Oregon, agrees.
"[A] commentator said, 'It's like a car crash. We love a car crash. Why don't we spend this much time looking at the work of the NAACP? All of a sudden you want to have a conversation about racial identity because a White woman converted herself over to Black?' These conversations have been going on for years, and all of a sudden the mainstream is interested in them because there's a car crash."
The NAACP, the nation's largest surviving civil rights organization, was founded in 1909 by 60 people, most of them White liberals. Seven of the founders were Black, including W.E. B. DuBois, Ida B. Wells-Barnett and Mary Church Terrell.
William Monroe Trotter, the crusading editor of the Boston Guardian, helped form the NAACP but quit because he thought it was being controlled by Whites. Trotter focused on reviving the National Equal Rights League, an all-Black civil rights organization started in 1864 by Frederick Douglass, Henry Highland Garnett, and John Mercer Langston, among others.
The NAACP did not have its first African American executive secretary (now called president) until James Weldon Johnson assumed the post in 1920.
In December, Donald Harris, a White, 77-year-old lawyer and Vietnam veteran, was elected to succeed Oscar Tillman, who had headed the Maricopa County, Arizona NAACP branch almost three decades. Born in Brooklyn, N.Y. to Jewish parents who were also members of the NAACP, Harris has been a member and volunteer of the Maricopa County chapter over the past 50 years.
Even so, Harris' race matters. Someone made that clear at the very first chapter he joined while working at Camp Pendleton in California, after returning from the war.
"In the beginning…I joined the [North San Diego County] branch of the NAACP. I used to go on Wednesday nights and I was the legal adviser," he recounted. "One night I stood up and said, 'I think this is what we ought to do.' And a woman who was a member said, 'I'm tired of White people telling us what we need to do.' And I just said, 'Thank you very much ma'am, you just freed up my Wednesday nights.' And I took off."
Harris' race came up again when he was elected the new branch president in Arizona by a 19-to-0 vote (with four abstentions). By then, he had spent many years as volunteer and nearly 15 as a board member. Still, there was an "unpleasant meeting" in which Black leaders, elders, and pastors, who were not members but had a lot of influence in the community, proposed ways to undermine or recall his presidency.
"There was a hunt for a new president but nobody…wanted to do the work. I did not want to be president…but it was such an embarrassment [for the chapter]. So I said, 'I nominate myself,' waiting for somebody to say, 'How about me.' But nobody did," Harris said. "Then a couple of people, after the fact, started saying, 'Gee, we wanted to be president.' And therein lies the rub."
There were also death threats, both at the time of his election, and recently, as he has made a few national media appearances regarding the Dolezal saga.
But his race has also mattered in a positive way, which writer and commentator, Michaela Angela Davis pointed out last week when she and Harris appeared on CNN's Anderson Cooper 360 together.
"What [Harris] said is it – using his White male privilege to help the American project. That's what [Dolezal] could have done," she said.
For Harris, that truth was hard to hear.
"It is unpleasant, but true. I can use my leverage in the White community to push civil rights," he said. "Cindy McCain lives here, she owns Anheuser-Busch – I can go to her and say, 'I need $70,000.' I can hit up my fat-cat friends. I can ask $25,000 from the Fiesta Bowl, and we've never gotten that much from them. I could go places where African Americans couldn't go."
Paul Krissel, a former treasurer of the Salem-Keizer NAACP chapter in Oregon, has had similar experience as a White executive member and volunteer. He's spent approximately 40 years working and fighting for social justice with local and national labor unions and other organizing groups. Now "semi-retired," he's been volunteering heavily with the NAACP for the past five or six years, planning events and serving in general.
"The challenge is always to help well-meaning people get beyond, 'I want to do good for somebody else,' to, here's the social construct that creates these patterns of discrimination and oppression in society. This has to be the work of White people challenging White people. I have the credibility to challenge White people in a way a person of color wouldn't be able to," Krissel stated.
"If I just go hang out with people of color, hang out at these organizations, and feel good about myself for being involved in that work, but I'm not going back out to my peers…then I'm really not doing the work."
---
Jazelle Hunt is a Washington correspondent for the National Newspaper Publishers Association News Service.
---