Peacemakers making a grassroots difference
Earlier this year, Today Not Tomorrow-Club TNT, in collaboration with the Madison Police Department and local community members, launched The Peacemakers initiative at a press conference at the Neighborhood House. Peacemakers is a grassroots effort to really get to the heart of community-based problem solving and trust initiatives.
"After our initial press conference, they asked [Madison] Interim Police Chief Randy Gaber what he hoped to get out of this initiative and how would he know whether this will be effective," says Jeanne Erickson, director of public relations at Club TNT. "He said, 'If at the end of each session, one person's image or perception is changed or we have one young person or adult who feels more comfortable with a police officer when we meet them on the street, than the outcome is a positive outcome.'
"I think it's really safe to say that in every one of our forums so far, there have been positive outcomes," Erickson adds. "People don't leave after our forums. When we get done, people stick around and we just keep talking."
Police officers are often used to being reactive to a situation. With the Peacemakers initiative, it's a great chance to be proactive in the communities.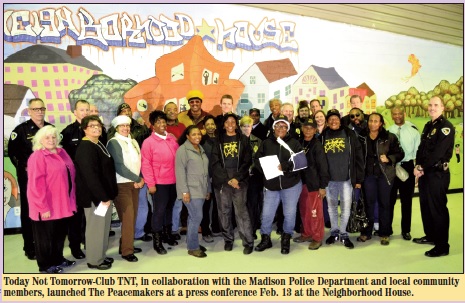 "They don't often get a chance to hear the stories straight from the people — especially the young people they meet at these forums," Erickson says. "And they do get challenged at these events. At Darbo [Community Center], we had a group of strong men who asked some serious questions like: Why does it appear that the officers are really targeting young black males on the street? Why do you stop me?"
A vast number of Madison citizens, youth, and adults do not understand how law enforcement works nor what their individual rights and responsibilities are. The Peacemakers assist in forging and strengthening the relationship between law enforcement and neighborhoods.
"It started off as video vignettes — a short, informational piece — showing [topics like] the proper way to react when you get stopped by a police officer, child safety, what can happen when you have issues in the school. That was way back in the day with the first generation of Club TNT," Erickson remembers. "This round of the Peacemakers came because we wanted to expand all of those educational pieces. We did 19 different vignettes while Noble Wray was Chief of Police."
With the way the community has changed, with increased issues in the city, and with the police department's strong emphasis on community policing, it was necessary to expand Peacemakers Forums, which is funded in part by the Emerging Opportunities Grant of the city of Madison.
"What is so significant about what's happening with these forums is that we meet with the higher ranking people of the police department but they made the purposeful decision that they would not be the ones attending the forums," Erickson says. "They really want it to be the boots on the ground. And that's been the really powerfulness of these forums."
The first Peacemakers Forum was held at Falk Elementary School for the Theresa Terrace-Hammersley Road area in September. The second one was held at South Madison Branch Library for Brams Addition and Burr Oaks neighborhoods. The most recent one was held at the Darbo Community Center in late October.
"The officers have done a great job at all three forums. Both sides have been extremely respectful," Erickson says.
The next Peacemakers Community Forum will be held Thursday, Nov. 13, 6:30-8 p.m. at the Boys & Girls Club on Allied Drive.
"[Allied Neighborhood Association leaders] Sina Davis and Selena Pettigrew joined TNT in the development of these forums," says Club TNT's Senior Executive Producer Betty Banks. "They know that the participation of residents in their neighborhoods is critical as solutions are created that benefit individuals and families. For 'trust-based policing' to be successful, their leadership is important."
The Allied Drive forum is free and open to all and will focus on issues of the neighborhood — police contacts; tenant issues; and neighborhood policing, for example.
"We will continue to run these forums. I'm working on getting one set up in the downtown area and in the Bayview area," Erickson says. "We will be working with the Hmong populations and the Hispanic populations. We want to include all of the communities. There will be more coming."
There is much potential for the Peacemakers initiative as they attempt to create a firm bridge of cooperation between the police officers and the citizens they serve.
"We're going to keep trying to connect with as many of the communities across Madison as we can to start with," Erickson says. "We want to keep this dialog going. There are so many people out there who really, really have things that they want to talk about. So, we hope to expand it beyond Madison, too."
The next Peacemakers Community Forum will be held Thursday, Nov. 13, 6:30-8 p.m. at the Boys & Girls Club, 4619 Jenewein Rd.
For more information on The Peacemakers, contact Jeanne at jeanne.erickson@clubtnt.org or 608-770-2049.