CUNA Mutual Group announced it is committing $1.2 million to the Madison Metropolitan School District's (MMSD) efforts to improve student success at a press conference at James C. Wright Middle School June 26.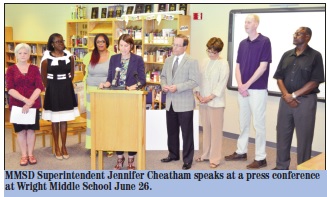 "I'm really excited at the opportunity to have comprehensive support for myself, my peers, and especially new teachers as I take on this new challenge at Falk Elementary School," said Grace Okoli, principal at Falk Elementary School. "I'm excited at the opportunity to improve the diversity in our district's workforce by increasing the number of educators that mirror the demographics of our district."
The largest grant in the CUNA Mutual Foundation's history will help fund Forward Madison, a new program that strengthens the relationships between the school district and UW-Madison's School of Education by supporting new educators, improving the diversity of MMSD's workforce, and providing continued professional learning for educators. The grant will fund the entire new educator mentoring portion of Forward Madison, which will begin this fall.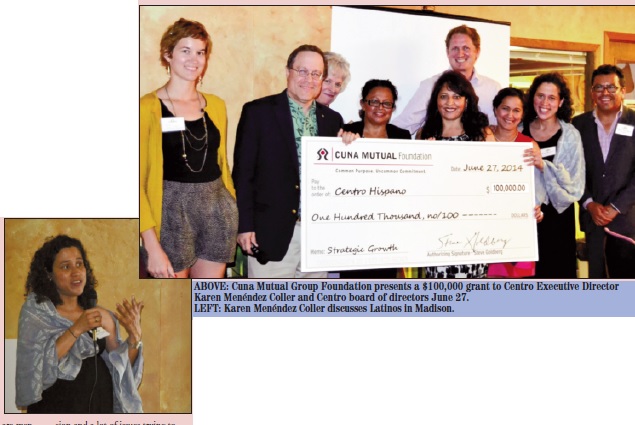 "We know that the single most important factor for improving student achievement that is in our control is the quality of the teacher," said MMSD Superintendent Jennifer Cheatham. "And for that reason we must have the very best educators with the very best support in each of our schools.
"Last year, only half of our new teachers reported getting the support that they needed," she added. "Through this partnership with the UW School of Education, we will be able to serve approximately 150 new educators as part of the program this fall."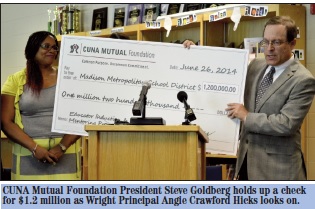 Forward Madison includes three strands: comprehensive support for educators in the first five years, efforts to improve the diversity of the district's workforce and providing continued professional growth for district employees. New educator support will begin this fall. The School of Education's faculty leads for this project are Gloria Ladson-Billings, UW-Madison's Kellner Family Professor of Urban Education, and John Diamond, the university's Hoefs-Bascom Associate Professor of Education.
"For two public institutions to come together to support one another… we do that naturally, but to have additional resources to be able to do that is a game changer," School of Education Dean Julie Underwood said. "This is a wonderful gift from CUNA Mutual. It provides that financial support but it also provides that community support that you need emotionally."
"When we saw the amount of money needed to fund the educator induction and mentoring component of Forward Madison, we took a look at the plan around it and the dollars needed and we said, 'We can do that. We can help make that kind of long-term, sustainable capacity-building impact on our communities most important assets — our young people,'" said Steve Goldberg, president of the CUNA Mutual Foundation.
Forward Madison is a pilot initiative that could be used as a model for other districts and university partners in the future.
"Thanks again to CUNA Mutual," Cheatham said. "It's an enormous help to us to have that stable funding as we launch this really important one-of-a-kind partnership. It is really special for all of us. This is the kind of partnership many of us have dreamed about for years and we're going to be able to make it a reality."