April 3, 2015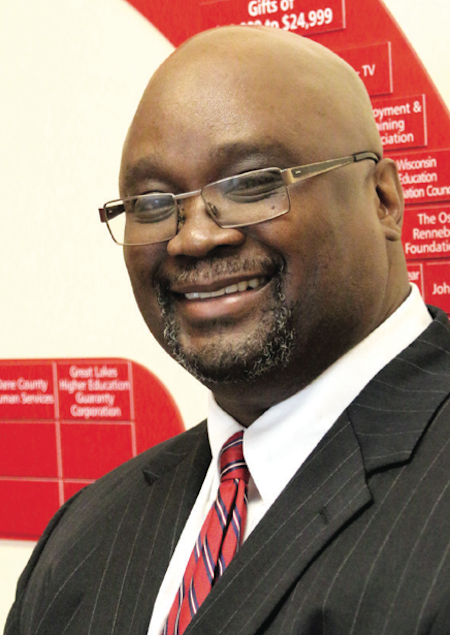 Dr. Ruben Anthony
The National Urban League of Greater Madison, whose vision is "to make Greater Madison the 'best in the Midwest' for everyone to live, learn and work by 2020," announced Friday that Dr. Ruben Anthony will be the new Chief Executive Officer.
According to a press release from the ULGM, Anthony has 27 years of experience in business, transportation managing and applying his knowledge towards greater civil rights. Nia Trammell, the chairwoman of the Urban League's executive board, had this to say of Anthony:
"We have reviewed applications from across the U.S., but have found the perfect fit right here in our backyard in Dr. Anthony. Ruben has strong ties to the Madison community and understands completely its cultural strengths and the challenges that lie ahead."
Anthony, 52, will be replacing Interim CEO Edward Lee, who held the position since September 2014. Lee replaced former Madison police chief Noble Wray, the Interim CEO since Kaleem Caire resigned from the position in March 2014. Anthony's duties will begin on April 6.
The mission of the ULGM is to "ensure that African-Americans and other community members are educated, employed and empowered to live well, advance professionally and contribute to the common good in the 21st century."
According to the press release, Anthony displayed his credibility for accomplishing this mission by founding RowJAC Consulting in 2013, a firm that specializes in civil rights compliance related to government contracting. In addition, Anthony has served as a disadvantaged business enterprise adviser to Milwaukee County, Milwaukee Sewerage District, the Minnesota Department of Transportation and Dulles Airport near Washington, D.C.
Before achieving these accomplishments, Anthony served 19 years as a manger with the Wisconsin Department of Transportation. He ended this career as the Deputy Secretary, with responsibilities to oversee 3,600 employees and a budget of more than $3.25 billion.
Anthony's objective as the new CEO of ULGM is to make Madison the "best city for all."
"The Madison community has consistently won 'Best City' awards over the years and now it is incumbent on us to ensure we are the best city we can be for all of Madison's residents," Anthony said. "We have so much to celebrate here, but our challenges have been laid bare recently and we have to act on behalf of our younger generations."
Anthony is coming into his new position in lieu of recent protests that followed the death of 19-year-old Tony Robinson, a Madison teenager who was shot and killed by a Madison police officer on March 6. In reference to this event, Anthony said that the community is at a critical crossroads:
"We have a lot of work to do to restore the trust in this community, and I know this community is up to the challenge."
Anthony said he immediately plans to meet with community leaders who already work to decrease the disparity in unemployment rates, school test scores and arrest and incarceration rates. These leaders include Madison Police Chief Mike Koval and United Way of Dane County president Leslie Ann Howard, among others.