The Madison Latino community came together for a press conference Nov. 21 at Centro Hispano of Dane County to applaud President Barack Obama's executive action on immigration delivered in a speech the night before.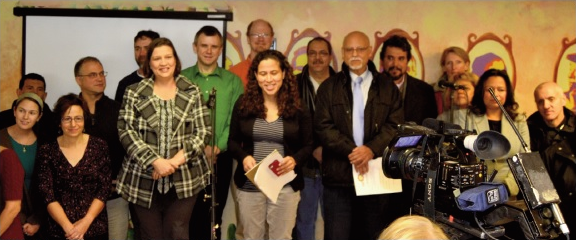 Above: At the press conference, Centro Hispano Executive Director Karen Menendez Coller was surrounded by members from the City of Madison's mayor's office, the Madison Common Council, people from Congressman Mark Pocan's office, the Latino Support Network, the Latino Education Council, the Latino Children and Families Council, LUCES, SEIU, Madison-area Urban Ministry, the Workers' Rights Center, Interfaith Coalition for Workers Justice, UNIDOS, South Central Federation of Labor, Madison College HEP Program, the Literacy Network, the Madison Police Department, Jewish Social Services, and the Catholic Multicultural Center
On Nov. 20, President Barack Obama laid out his plans for executive action on immigration including a new program that will provide temporary administrative relief and work permits to undocumented immigrants who pass a background check, have lived in the United States for a minimum of five years, and have a child who is a U.S. citizen or legal permanent resident. The president's actions mean that law-abiding immigrants with strong ties to the United States will no longer live under the threat of deportation. This program would apply to about 5 million people. They would have to pass background checks and pay taxes.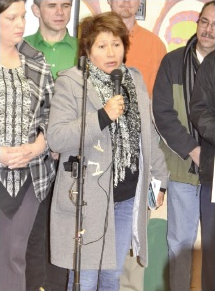 Above: Karen Menendez Coller, Centro Hispano Executive Director
"We're standing here as a coalition of supporters as people who are empowered by what happened last night," Coller told the crowd. "We stand here supporting President Obama's actions to finally provide some kind of legalization [for] undocumented people in this community. It is temporary, and we understand that there's more work that needs to be done, but it's a step in the right direction."
The new program is modeled after the Deferred Action for Childhood Arrivals (DACA) program that benefits young people who came to the United States as children. The new executive action also broadens the DACA program by expanding coverage to children who entered the country before January 1, 2010, regardless of their age today.
Salvador Carranza, senior academic planner at the University of Wisconsin System, president of the Latino Education Council, and president of Latinos United for Change and Advancement (LUCHA), said that this is a very important time for the Latino community.
"It was long overdue," Carranza said. "We know that Congress has refused to do something to provide relief for our families and our children and our community. We stand here to applaud and support President Obama for having the courage to say, 'Finally, I have to do something for these families.'"
Carranza said that it's good for our economy and good for our nation.
"This is who we are as a nation, a nation of immigrants … a nation that welcomes everybody regardless of how they came here," Carranza said, "We all come here to work, we all come here to contribute to the great nation of ours. I applaud President Obama. This is a good thing and it's the right thing to do. It's the honorable thing to do. It's the humane thing to do.
"I urge Congress to finally stop playing politics with the lives of our families and get together and pass comprehensive immigration reform so that this temporary relief is made permanent," he added.