MADISON — The Madison Marimba Quartet (MMQ) will play the 18th annual OUR GIFT TO YOU free concert on Saturday, Dec. 28, 1 p.m. in the afternoon at Mills Concert Hall (455 N. Park Street) on the UW-Madison campus.
To quote from the program… "this free concert is our (MMQ's) way to give back to the community." "Finally and at last" says quartet founder, Jim Latimer, "through the medium of electronics and one heck-of-a smart engineer (he didn't mention his name), you will hear the wood that sings." He is referring to the sounds of four marimbas played together with enhanced amplification that augments (blends) and but does not exaggerate the sound.
Latimer says he has been in pursuit of this balance for a "lifetime" or at least ever since he first put the quartet combination together in 1980. If you have ever been to one of these concerts, you know that the transfer of sound between four like instruments is smooth in the transitions. If you closed your eyes, you'd think it was continuously one player. Unlike a group of different instruments where one's listening can determine which instrument is playing, this unique percussion ensemble demonstrates just how the wood sings from player to player. You really have to see it to believe the harmonious and smooth exchange of sound among players. This is easily demonstrated in the opening piece which has become MMQ's statement since the beginning. In "Amazing Grace" you hear first one marimba played by Laura Guse. She is then joined as a duet by Tom Shaver. Together they are the first and second violin lines in a string quartet. The duet quickly becomes a trio with Tim Gruber adding the equivalent of the viola in a string quartet. Latimer adds the bass line (cello) completing the "wood that sings" as a full quartet. Suddenly it becomes "a cathedral in sound" Latimer says with the same enthusiasm he's had all his life playing the marimba.
Other selections on the little-over-an-hour afternoon concert are selections of jazz, blues, and the classical quartet with some "fun pieces in the mix to spice it up" according to quartet members, each of whom has a favorite piece or two on the program. The program will be selected from the following: selected movements from the string quartet literature by Smetana, Mozart and Stamitz, Blue Bossa (Dorham), So What (Davis), Spanish Dance (Granadas), Tango in D (Albeniz, There Will Never Be Another You (Warren/Gordon), Well, You Needn't (Monk), Clare de Lune (Debussy), Flight of the Bumble Bee (Rimsky-Korsakov), Czardas (Monti) and Take Five (Desmond). We ask the audience (the child in all of us) to bring and ring jingle bells during the annual "Sleigh Ride" by LeRoy Anderson. Children who bring bells may join the quartet on stage to ring the bells during Sleigh Ride. Parents are asked to secure the bells until the appropriate
There's music for everyone, says Latimer who founded the quartet in 1980. MMQ regrouped in 1987 and has played throughout the state and from Rockford to Bethesda, Maryland and Washington D.C. The December 28 GIFT TO YOU concert promises to be a "cathedral of sound" said a MMQ spokesperson.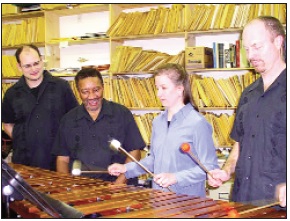 Suggested parking is at the Grainger Lot, enter from Brooks Street, or the Southeast Area Lot or Lake Street Ramp (enter both from Lake Street) from University Avenue or West Johnson Street. For more information, visit mmqccb.org or call 608 835-9861.For more information, visit www.madison.com/communities/marimba, or call 835-9861.