Roller derby is hectic, exciting, fast-paced, and exhilarating. Among women, it is a fast-growing sport both nationally and internationally. There are now approximately 1,250 amateur leagues worldwide, nearly half of them outside the U.S.
Here in Madison, a lively crowd packs the Alliant Energy Center's Veterans Memorial Coliseum once a month on Saturday nights, ready for a derby doubleheader and a full night of entertainment. Madison was lucky to be one of the first cities in the country to start-up a roller derby league and over the years the Mad Rollin' Dolls have become one of our city's most important institutions.
Roller derby can be very invigorating and empowering for women. Regardless of body type, women realize their potential to play a full-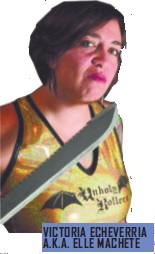 contact sport that requires endurance, agility, strength, and balance.
As Madison becomes more diverse, the Mad Rollin' Dolls are also looking to become more diverse. That diversity that you see in big-city roller derby is lacking in Madison, but hopefully that will be changing. "Roller derby has a reputation for being 'for white girls'… I think it might have even been on that website 'Things White People Like,'" says Victoria Echeverria, whose roller derby handle is 'Elle Machete' for the Unholy Rollers team. "It might be a matter of access and a matter of role models. But there are a lot of poor white girls who are waitresses doing roller derby without health insurance. Regardless, I would love to see it become more diverse."
Echeverria represents a bit of the diversity that the Mad Rollin' Dolls would like to see more of in the future. She is one of the few Latina ro
llers and her helmet has "Si se puede" inscribed on it for all of the Alliant Energy crowd to see. Her nickname — Elle Machete — has Latino roots, too.
"My father is Guatemalan and I wanted to choose a name that reflects who I am and something that reflects my Hispanic heritage," Echeverria tells The Madison Times. "The machete is the tool of the farmer but it also has a a not-so-nice history as a symbol of peasant revolt and government oppression.
Does she carry the machete around all the time?
"I don't bring the machete to the bouts! That's just for the photo shoot," Echeverria laughs. "Also, I picked that name before the movie 'Machete' came out, too. I was first!"
Echeverria's been with the league almost since its inception in 2004, skating for the last six.
"Roller derby is something not like anything most people have ever seen. It's a really beautiful display of strong, smart, hard-working women from all walks of life," Echeverria says. "It's amazing how diverse our league is in terms of education level and sociological class. We'd like it to be more diverse in terms of people of color and I think we will get there. It's something I think about. I have 'si se puede' written on my helmet by the off chance there are Hispanic people at the bout. I want the
m to know that they are welcome and that they can be part of this."
Arvina "Donna Stunner" Martin is Ho-Chunk Indian and skates for the Vaudeville Vixens of the Mad Rollin' Dolls.
"I've always felt because I was the only Native American skater in the league that I was going to show my friends and relatives and my community how awesome this is and that this is good, healthy way to work out," Martin tells The Madison Times. "I invited family. I invited a reporter from our tribal newspaper and asked them to write about roller derby. We got him a press pass and tickets for his family and he brought his daughter who is a fan now. I hope to see her on the track some day.
"I'm not sure why the league is not more diverse than it is, but I know that roller derby is kind of word of mouth and grassroots a
nd we do all the promotion all ourselves," Martin adds. "So, we kind of have to take that initiative to go out to communities and areas where we haven't been previously in order for it to keep growing and to open up the floor for women of color."
Roller derby can be a pretty fierce contact sport. It's a series of races between two teams of five members roller skating in the same direction around a track. Game play consists of a series of short match-ups ("jams") in which both teams designate a scoring player (the "jammer") who sc
ores points by lapping members of the opposing team. The teams attempt to assist their own jammer whilst hindering the opposing jammer — in effect, playing both offense and defense simultaneously.
As a blocker, Echeverria's job is to stop the other team's jammer from coming through and to help her own team's jammer get through to score points. "We're playing offense and defense at the same time," she says. "There's probably a heavier weight on defensive play. Jammers have gotten really good and they don't need your help as much as they used to to get through. Because jammers are that good, you have to have all hands on deck on defense."
With multiple women flying around a ring on skates trying to dislodge each other from their feet, roller derby can be dangerous.
"My family was really against me doing roller derby because they thought I was going to hurt myself, but it didn't take long for them to change their mind," Martin remembers. "They saw quickly that I got my confidence back [doing roller derby] and they saw the sisterhood that we had as skaters. They saw the encouragement I received from others.
"It was a change of mindset, really," she adds. "Whenever we would fall in the beginning we would be really self-conscious about it — but people would cheer and yell and clap for you because you were trying something you didn't know how to do and you were pushing yourself out of your comfort zone. It was a cool experience for us. We really grew and we really pushed ourselves."
For both ladies, the sisterhood that they developed in their roller derby families has been nothing short of amazing and they want to share that with more women.
"Roller derby can be uniquely accessible. There are women in our league with children … single mothers … and they get a lot of support because we are like a family," Echeverria says. "We do go through tough times and we all chip in together. There's that support network that we have — that sisterhood. I can see that sisterhood becoming more diverse."
Echeverria adds that there are literally hundreds of little stories of roller derby ladies helping each other out in times of trouble. "We are always together and we do things for each other all the time. We are like an extended family," Echeverria says.
For Echeverria, her love of the sport started in 2005, when a friend of hers invited her to see Arizona's Tent City Terrors play against Madison's Dairyland Dolls, the all-star team from the Mad Rollin' Dolls roller derby league. "That was my first exposure to roller derby and I just fell in love with it," she remembers. "It was the most amazing thing I've ever seen. I loved to see tough ladies that were also sexy all in their unique and original ways. They were like a bunch of rock stars on skates."
One of the highlights in Echeverria's roller derby career was playing with an all-Latina team in the Rice vs. Beans bout at the East Coast Derby Extravaganza in Philadelphia in 2009. "That's one of the most talked about and one of the most exciting tournaments for roller derby," Echeverria says. "It's wild. I played for team Beans. It was really cool even though Team Rice really smoked us. They were really good."
Likewise, it didn't take long for Martin, for her part, to quickly get hooked on roller derby, too.
"Roller derby was something that I've always been interested in. I went to a bout and the warm-ups weren't even done and I was like, 'Oh, yes! I need to do this.'" she says. "I was watching all of these women do really great things — being agile and fast and tough. I saw so many different body types out there all being valued for what they could do for their team. It was so cool. I was like, 'I have to do this!'"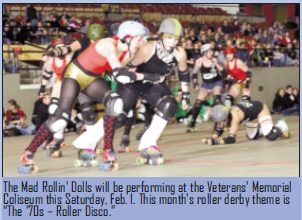 Now Martin's young daughter is part of her roller derby family.
"I have a five-year-old daughter and I see how she looks at all of us," Martin says. "I have her refer to all of the skaters as "Auntie So-and-So" … I want her to see that there are all these women who have been there for their mom and do so many amazing things on and off the track."
Martin's goal, like Echeverria's, is to help roller derby continue to grow and to diversify.
"If I'm at a bout and I see fans that I don't normally see there and if I see people of color, I'm always sure to go up to them and make them feel welcome," Martin says. "I really like to be an ambassador of this sport because it's given me so much. I want to make sure I can help it keep it going.
"Sometimes if you go to something that you wouldn't necessarily go to, you just need someone there to make you feel comfortable," she adds. "I think once people experience roller derby that they will be hooked like me. They just need to give it a chance."
Come see the Mad Rollin' Dolls this Saturday, Feb. 1 at the Veterans' Memorial Coliseum. This month's theme is "The '70s – Roller Disco."
Bout 1: Reservoir Dolls vs. Unholy Rollers
Bout 2: Quad Squad vs. Rockits, Minnesota Roller Girls
For more information about the Mad Rollin' Dolls, visit www.madrollindolls.com