Never underestimate the power of jazz music.
"There are days where I am in such incredibly severe pain and have gone into the radio station and I said to myself, 'I don't know how I'm going to do this,'" says Steve Braunginn, host of "Strictly Jazz Sounds" on WORT-FM. "And then my body gets wrapped up in the music and then my adrenaline picks up and I have my headset on … I get locked into a moment and, man, I am just in it, Jack. I immediately feel better. I just simply feel better. Jazz music fills me up with something that I drastically need —a feeling of worth and a feeling of excitement amidst a life of chronic pain."
For many jazz enthusiasts, including Braunginn, how jazz music hits home can be hard to describe but it is undeniably powerful.
Regularly hailed as America's principal contribution to world culture, jazz music started in the early 20th century within the African-American communities of the Southern United States and became the popular music form of this country in early-to-mid 1930's and beyond.
Braunginn, one of the top promoters and ambassadors for jazz in Madison, has spent more than 50 years listening to, absorbing, and studying jazz in a variety of ways and in a variety of settings. He fondly remembers those days growing up when jazz was so extremely popular.
"We don't see jazz on televisiomore. We used to," Braunginn tells The Madison Times in an interview at his home on Madison's west side. "Growing up, we'd see Nat King Cole or you'd see it in the lounge music of Perry Como or Dean Martin and Frank Sinatra and the Rat Pack. You'd see Ella Fitzgerald and Duke Ellington. You would see jazz on television on a regular basis. That does not happen today. You really have to look for it."
Braunginn's parents were a huge reason why he got into jazz. "I grew up listening to jazz. My parents had jazz on all of the time," remembers Braunginn, who grew up in Columbus, Ohio and then later in Nashville, Tenn. "I think I bought my first jazz album — [jazz guitarist] Wes Montgomery — when I was 14. It was that start where I understood and learned about jazz … just the feeling of jazz and its influence on other music genres. I was heavy into R&B, too. Gosh, who didn't have Aretha [Franklin] on their turntable? Who didn't have the Temptations, the Supremes, Otis Redding, or Stevie Wonder? Yeah, we loved all of those cats …. but I also loved jazz."
For many people, the meteoric rise of rock 'n' roll in the '50s and '60s eclipsed jazz. Branuginn saw it as an opportunity for jazz to grow and diversify.
"In the '60s and '70s we had the fusion of R&B into jazz. Then we had the funk fusion with Herbie Hancock. There were two different kinds of jazz fusions going on at that time and what it did was draw in a lot more of the African American community because we were losing the African American community to R&B," Braunginn says. "Today, there is another fusion going on and it is being done with people like Robert Glasper and Terri Lyne Carrington who just won a Grammy for jazz instrumental album with 'Money Jungle: Provocative in Blue.' She has a funk-jazz fusion that she has been doing but she also does avant garde [stuff]. She is extremely versatile. It gets to the point [where you ask] what is jazz? Today, it is including Hip Hop [and] the black urban contemporary sound."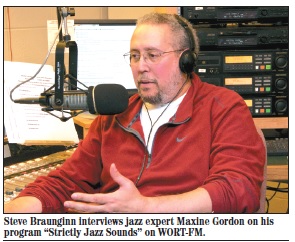 n any
For the past 10 years, Braunginn has chronicled that continual evolution of jazz on "Strictly Jazz Sounds," the show he co-hosts on WORT-FM where he plays avant garde, adventurous jazz and an eclectic mix of other styles. Together with his co-host, talented jazz pianist and composer Jane Reynolds, they've conducted and broadcasted interviews with jazz giants such as Sonny Rollins, McCoy Tyner, Sonny Fortune, Roscoe Mitchell, Myra Melford, Richard Davis, and more. Braunginn also hosted the show for three years in the '80s.
"The most exciting part for me now is that I get to learn who is taking jazz and advancing it. I really enjoy interviewing some of the great jazz artists on the show," Braunginn says. "Everybody who is into jazz and doing something with jazz has been on the show. And we talk and talk. The radio show fulfilled a passion for me that I've had for so many years. I don't listen to jazz; I feel jazz. Jazz is a feeling. That's the only way I can put it.
"I can remember the first time I heard [John] Coltrane's "A Love Supreme' and it hit me wrong. I wasn't ready for it," Braunginn adds. "But then, the next time that I heard it a few years later I felt every single note in that album. And I was truly blown away. To this date, I will use 'A Love Supreme' to put myself to sleep. And I always hear something new in it. There's always something different in 'A Love Supreme."
Jazz music has soothed Braunginn as well as help him get through a lot of pain in his life. In 2004, Braunginn stepped down as president and CEO of the Urban League of Greater Madison, where he led that organization to great heights. Health problems, including multiple pulmonary emboli and persistent, severe back pain, put an end to his career as a politician and community activist. However, it opened a door to new form of expression … to a new life.
"Leaving the Urban League was catastrophic for me," Braunginn remembers. "It took me out of an element that I worked so hard over so many years to do — and that was to be a difference maker in civil rights and social and economic justice. But my body rejected what I was doing after a while and it just got too difficult."
At the time, Braunginn, who had served for three terms on the Dane County Board of Supervisors, had big political ambitions. "That was the plan. I even was floating trial balloons. One of those that I did float was for mayor — and it was floating very well," Braunginn says. "But then I got really sick and ended up with blood clots in my lungs and I went downhill from there.
"What do do now? I had to create a new future," he continues. "I felt I needed to return to the creative component of myself. I needed to get into the arts again. There was a point in my life when I had the decision — go to jazz or go to community organizing. I had chosen the latter."

I
On top of being a jazz radio host, Braunginn is also a partner in Paradise-Madtown of Madison, LLC; a subsidiary of The Paradies Shops of Atlanta. He is co-founder and president of J.E.M.S. Enterprises of Madison LLC , too. Braunginn has become an excellent photographer specializing in minimalist structures, jazz musicians, landscapes and wildlife. He is also a published writer, a poet, and has been a teacher for learning disabled students.
"I have been involved in many, many things over the years but I've always had a leaning towards civil rights and social and economic justice," he says. "Those were the compass marks for me."
Braunginn has been a strong advocate for African American jazz musicians whose numbers, he says, are dwindling substantially. "That bothers me a great deal because that is our indigenous music," Braunginn says. "It's our art form that we've contributed not only to this country but to the world."
If you listen to Braunginn's radio shows he does a tremendous job promoting African-American performers. "I believe that when the magazines and other media when they show jazz musicians … they will often be white jazz musicians," Braunginn laments. "I ask them to put more African American jazz musicians out front because that is the African-American art form."
Recently, Braunginn attended the Jazz Connect Conference at the Hilton Hotel in New York City. This is one of the largest gatherings of the professional jazz community in the world.
"The director of programs for the Doris Duke Foundation [Ben Cameron] was the keynoter," Braunginn says. "He is a very charismatic white guy about my age and he thoroughly understand the necessity to have jazz identified with the black community and to help the African-American community understand jazz and to pick it back up and reclaim it."
Braunginn says that there is a special effort being made for jazz education whether it be at the National Jazz Connect Conference or back home at the Greater Madison Jazz Consortium.
"There has been work done not only to educate young people, but to re-educate adults about jazz," says Braunginn, who is a board member for the Greater Madison Jazz Consortium. "We plan to be in schools talking about jazz. We're going through a process of — I'm not going to say keeping jazz alive — we're keeping jazz flourishing and capturing a larger audience."
Braunginn sees a lot of potential in the Madison community for a jazz revitalization in the coming years.
"I think there is a lot of appreciation of jazz and I think it is getting revived here in Madison," Braunginn says. "There was a time when there was a lot more jazz going on in Madison and there was a lot more people paying to listen to jazz. I would like to see that again."
Right now, he says, there is a concern that people may only go to listen to jazz if it's free — Isthmus Jazz Festival, Jazz at 5, for examples. "That mindset needs to be changed. We need to help our jazz musicians get paid more," Braunginn says. "But I know that there are a lot of people in Madison who love jazz — young and old. I know there are musicians who are trying to make a living. There is an appreciation but it could be better. I've seen it stronger in this town. I'm hoping that within the next 5 to 10 years we'll see a substantial increase in audience participation. I'm hoping that we will have not just the Isthmus Jazz Festival but we'll have another jazz festival — perhaps even a bigger one.
I think that we can do better and I think that we will do better," he adds. "There's an energy that's happening here. I see it. I feel it."
Braunginn can sense some of that energy from jazz events he attends in the community and from the feedback he gets from doing "Strictly Jazz Sounds."
"It feels really good to hear from people in the community who love jazz. I had a woman call the station who said, 'I want to thank you so very much for what you are doing for our community with your music.' That's pretty cool. I like that. That response I love!" Braunginn says. "I'll get calls from local jazz artists asking about stuff I played. That's always fun. I got a call from [Madison jazz legend] Richard [Davis] once and he's like, 'Who was that on bass?' and I told him, 'You!'
"I want to see more jazz. I want to see more people at jazz performances. I want to see more young people at jazz performances. And I want to see more people of color at jazz performances. I want people to know who these jazz performers are … from whence they cometh," Braunginn continues. "What's the history of jazz? [Famous American jazz tenor saxophonist] Sonny Rollins once told me, 'I love going to Japan because everybody in Japan knows everything about me. They know everything — when I was born, where I was born, what my childhood was like. That's the appreciation we don't have in this country.' I want a lot of that to start happening here in the United States. I'm not expecting it to be like it once was because jazz was the popular music of the day. But I want to see more people who know about jazz who go to jazz and who pick up jazz music — well, they won't pick it up; they'll download it — and who listen to and appreciate the music."
Appreciation of music, Braunginn says, is the broader goal.
"Music is the international language," Braunginn says. "You could have four musicians who can't speak each other's country's languages gathered in a room. But the one that they can all speak together is music. Music needs to be supported. In many other countries, music is such an integral part of their culture. People are singing and dancing all the time. In our country people are embarrassed to sing or dance in public.
"Except for kids," Braunginn adds. "Kids really focus on that art form because they are feeling it. Take a look at a toddler listening to music. What's that kid doing? He's moving; he's dancing. That's because he feels the music and is responding physically to that music. That's what music is. It's a feeling. I love just closing my eyes and just embracing the music. Man, I love it."
Feel the music on Thursdays from 2-5 p.m. on "Strictly Jazz Sounds" on WORT 89.9 FM with Jane Reynolds and Steve Braunginn.