Warren C. Bowles wanted to create a compelling story of Dr. Martin Luther King Jr.'s life and work he used the activist's own words culled from speeches, sermons, letters, and other writings. Bowles compiled and authored "Dr. King's Dream," for Minneapolis' Mixed Blood Theatre.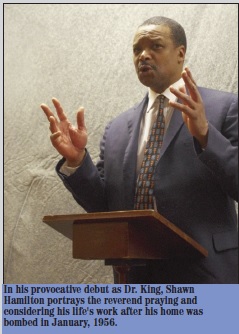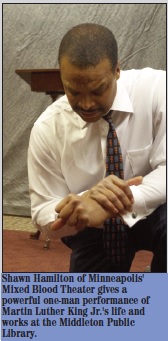 On Monday evening, Jan. 20, the Mixed Blood regional touring company brought the one-man, one-act play to Middleton Public Library with Shawn Hamilton portraying the thoughtful and passionate Dr. King. The play takes place on the evening of April 4, 1968, at the Lorraine Motel in Memphis, Tennessee. Dr. King talks to his compatriots, telling stories of marches, jails stints, Malcolm X and media coverage. Hamilton evocatively shows the quiet man, the firey preacher, and the leader who had seen the mountain top but knew his own mortality.
After the performance, Hamilton shared his insights on Dr. King's work and the juxtaposition of the brand-name icon Dr. King has become with the dedicated but conflicted preacher who believed that fighting for justice, of all kinds, was his calling.
"Dr. King's Dream" is performed every January by Mixed Blood Theater in honor of Dr. King, and will be performed again for the public the evening of Wednesday, January 22, at Edgewood College in the Anderson Auditorium as part of the college's Dream Week celebration.