Interview with Pedro Albiter
LUCES Banquet to benefit local students
by A. David Dahmer
Latinos United for College Education Scholarships (LUCES) will host its fourth annual scholarship banquet at the Madison Concourse Hotel on Friday, Aug. 15.
LUCES is a nonprofit organization that works to ensure bright futures for young Latinos in Wisconsin by providing several merit- and need-based scholarships. Their annual scholarship banquet is one of their signature events. At the banquet, LUCES will be recognizing Latino scholars for the academic achievement and community service through scholarships sponsored by local businesses.
"We'll gather all of the community leadership and all the LUCES supporters to recognize the students publically and also to invite the school district and college staff along with businesses and nonprofits to join us in this effort," says Pedro Albiter, founder and president of LUCES in an interview with The Madison Times at Jade Mountain Café on Madison's near east side. "We have one goal and that is bringing us together to support our Latino students. Our Latino population is growing fast. As the demographics show, in 20 years one in every four Americans are going to be of Latino descent."
While LUCES will be celebrating their fourth annual banquet, they also will be celebrating their ninth anniversary as an organization. In September of 2005, Albiter started a small group called Club Mexiquense and worked with small issues involving the Latino community in south-central Wisconsin. In 2011, they wanted the organization to be more visible in the community and they changed the name to LUCES and focused on academic scholarship for young people.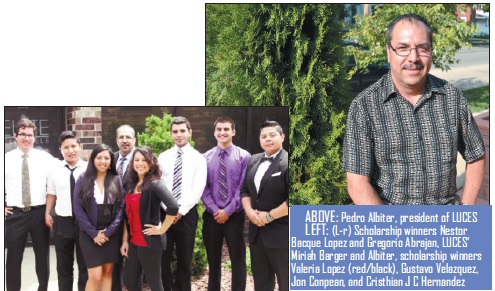 As the organization continues to grow, it's clear that LUCES is ready to move beyond just the academic scholarships for Latino students. "This year, we started our first scholarship-writing workshop in partnership with Madison College," Albiter says.
"This scholarship-writing workshop will be open to Latinos and to students of color. The second thing that we're doing this year is a mentoring program. We're going to start with a group of 20-25 students and we are in the process of securing mentors. I challenge the Latino leaders in our community — and our non-Latino leaders — to become a mentor and to make a difference in our students' lives. They need that support."
As LUCES continues to evolve it is indeed true that academic scholarships are what LUCES is known for. Albiter would love to be able to raise the money to do even more scholarships than what they are doing. Albiter remembers when LUCES hosted its first banquet at Edgewood College in 2011 with about 100 people. This year he's hoping for close to 300 attendees. "We're not necessarily looking for a great number of people; we are looking for the people that come [to the event] who will make a difference," Albiter says. "We want to all be working together for that one goal — supporting Latinos in education.
Six students will be recognized at the event and, for the first time, LUCES will recognize the Educator of the Year. "We want to recognize the teachers that are making a difference. Not just the teachers, but the bilingual resource specialists, counselors, administrators … someone who is making a difference in a student's life," Albiter says.
The special guest for the LUCES banquet will be Dr. Jack E. Daniels, III, president of Madison College. The guest speaker will be Dr. Enrique E. Figueroa, director of the Roberto Hernandez Center at the UW-Milwaukee. DJ Latin Fresh will be keeping people out on the dance floor for most of the night. Michael Johnson, CEO of the Boys & Girls Club, and Sara Alvarado, president of Alvarado Real Estate, will be the emcees.
"We have a great emcee — Michael Johnson — who is really engaged in the community," Albiter says. "He is also donating a bike for our silent auction. We have a lot of great items for our silent auction.
"Our goals for LUCES as we move beyond the banquet is to continue to expand our number of scholarships for the students and to build more partnerships with agencies and non-profits in our community," Albiter adds. "We see other groups doing amazing things and we feel like we can do that, too. It's time for our Latino community to show the impact that we can have when we work together. I think the more that we unite, the stronger we can be."
Albiter says that LUCES also wants to expand beyond just the Madison area to south-central Wisconsin. "We've been touching base with other communities. Latinos are everywhere and we want to expand our reach," he says.
"We need to show the rest of the community that [Latinos] are not just about cleaning, not just about working in the factory … We are the future of this community in so many different fields," Albiter adds. "We have a student in bio-technology. The six young people that we have selected [for scholarships] are amazing. They are going into education, engineering…. They are going to be the future leaders of this community."
You can see those future leaders of our community at the 2014 LUCES Fourth Annual Scholarship Banquet on Friday, Aug. 15, 6 p.m. at the Concourse Hotel, 1 W. Dayton St.
"If you want to know more about LUCES, this is the perfect event and the perfect time to come and see who we are, what we do, and how we are impacting the community," Albiter says.
For more information about the LUCES banquet, contact Pedro at (608) 469-0347 or pedro@luces-wisconsin.org or Sherry at (608) 225-3209 or sherry@luces-wisconsin.org