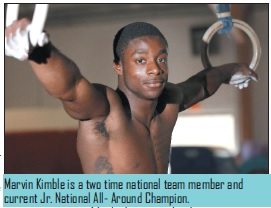 The January 17, 2013 posting of The Couch Gymnast shares that our feature this week is "one of the biggest hopes for USA Men's Gymnastic future."
The two time national team member and current Jr. National All- Around Champion is, in the writing, "one to watch" having to date demonstrated success on both the national and international stage.
He is young, gifted and Black.
Marvin Kimble is described by Gary D'Amoto in the August 13, 2013 Journal Sentinel as "the best young male gymnast in the United States, an athlete whose ability invites comparison to the 2004 Olympic all-around gold medalist Paul Hamm.
Hamm is a world champion gymnast and three-time Olympic medalist.
Born in Washburn, Wisconsin, he became the first American man to win the all-around title at the world championships in 2003. Marvin lives in Milwaukee and trains at Swiss Turner Gymnastics in West Allis under coaches Alex Belanovski and Andre Kan. Hamm and his twin brother Morgan also trained at Swiss Turner.
He finished first place as a junior on August 16 at the U.S. Gymnastics Championships at the XL Center in Hartford, Connecticut. This win earned him eligibility to compete on the 15-man senior national team on August 18.
As noted by D'Amoto, it was crucial for the young gymnast to place in the August meet as he turned 18 on his October 27 birthday and would no longer be eligible to compete internationally on the junior level.
Worded in the Sentinel as an "awe-inspiring performance," Marvin won five of the six events this past May in the Junior Olympic National Championships in Portland, Oregon where he posted 94.050 points which, according to D'Amoto, is the highest junior all-around score in history.
His coach Kan stated, "We are trying to get prepared for the 2016 Olympics. I believe he has a good chance."
His May and August competitive events included floor exercises, the pommel horse, still rings, vault, parallel bars and the high bar. D'Amato says of Marvin that he is special "because he has no weaknesses" and that he is strong in every event.
It is rare, he writes, for a gymnast to be good on both the pommel horse and rings, "but Kimble is an exception."
Adds Kan, "You don't find gymnasts who are good at both at the same time.
He's actually strong in both events and that's typically where USA is weak."
Kan says that he sees great potential for Marvin to make the world championship team in 2014.
It would be at the Visa Championships over the past two years in St. Louis and St. Paul, Minnesota respectively where he competed as a member of the Junior National Team.
He gained international experience competing at the 2012 Junior Pan American Championships in Medellin, Colombia where he won silver with Team USA, bronze on the still rings and finished forth on vault.
Marvin also competed at the 2012 Kellogg's Pacific Rim Championships in Everett, Washington in February where his participation was a key assistance toward Team USA winning gold.
In this event he also individually won silver on the vault and floor exercise, bronze on the still rings, fourth place on the pommel horse and numbered the seventh all around spot in the Junior Division.
The Coach Gymnast notes that he is a "great all around gymnast" who is a quick learner and is eager to reach his potential.
The writing adds: "Floor exercise is seen to be one of Marvin's stronger events.
With a great mixture of twisting and double salto skills, as well as great landings, this event can be another way to helping Team USA in future international competitions."
In a July 25, 2011 "StickItMedia" posted interview with Marvin, he said that his proudest achievement was making the National Team 2 years in a row.
"Another great achievement," he adds, "was getting first place on rings at the Nationals."
He was speaking specifically to the 2011 Men's Junior Olympic National Championships in Long Beach, California and the previous 2010 Men's Junior Olympic National Championships in Knoxville, Tennessee.
Marvin's mother, Carolyn Crenshaw says that she knew her baby was going to be an athlete before he was born: "The kicking never seemed to stop.
It is as if her womb was a trampoline."
She reveals that as a toddler, he was so full of energy.
He was walking at 7 months and climbing out of his playpen before he was 2.
"He was always pulling himself up on things and jumping off things," she said.
"I could never enjoy myself because he would never sit still."
Crenshaw recalls when Marvin was 7, she looked out the window and saw him doing flips in the yard.
"I said, 'That's it! He's a gymnast!'
But I didn't know anything about how to get him involved in gymnastics.
One day, I went to a Bucks game with my coworkers and came out and saw a sign on a building across the street:
Milwaukee Turners Gymnastics." Milwaukee Turners was a girls' gym but took in Marvin for six weeks and trained him in the basics.
Turners gave her a list of gyms that would be better suited for his talents.
She picked Swiss Turners because it would be the shortest drive from her residence.
Mother Crenshaw, as cited in the Sentinel, saw gymnastics as a way for her son to gain confidence and self-respect.
"I want him to get a good education and do better than me and his dad.
I don't want him to get involved with the wrong people.
I don't want him gangbanging or selling drugs."
Stacy Maloney, head coach of the boys' and girls' programs and director of operations at Swiss Turners instantly saw potential in Marvin and observed that he was a "one-in-a-million talent.
"He learned very quickly once we got him into a program.
And he's a very good competitor.
He really knows how to turn it on in a meet.
That's something some people have and some don't" In his words, he says that, "I'm very competitive.
I don't like to lose.
I guess that's how everyone is, but I think my drive is at a higher standard than everyone else's.
I just don't like to lose at all."
Kan shares that, "He has great style.
He looks good.
He looks clean.
He has a very good line and he can be a high class gymnast."
Maloney says that virtually every major college and university with a men's gymnastics program is recruiting the 5-foot-5, 140 pound gymnast, but he has his eyes on the University of Michigan.
In his heart, Marvin wants to be the best.
D'Amato writes that his vision is to lead Team USA into Rio in 2016 and become the second American to win all-around Olympic gold in men's gymnastics.
"I feel blessed that I have the qualities to be as good as Paul Hamm and hopefully one day I will win the Olympics.
That's my goal."