February 27, 2015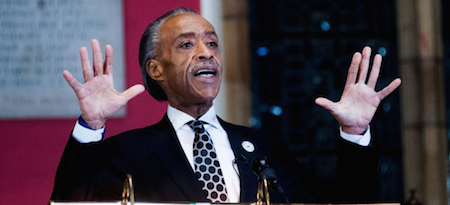 Rev. Al Sharpton (Roger Askew photo)
Even though the FCC hasn't yet ruled on the proposed merger between Comcast and Time Warner Cable, one group has already filed a lawsuit claiming at least $20 billion in damages from the way the two giants allegedly discriminate against black-owned media.
The complaint, filed in California on Friday, comes from the National Association of African-American Owned Media, which also filed a similar suit against AT&T and DirecTV in December.
This time, the plaintiff is not only targeting both Comcast and TWC — on the eve of the two companies merging to become what would be the largest pay television distributor in the United States — but also various African-American advocacy groups and MSNBC host Al Sharpton for allegedly facilitating discrimination.
Comcast is one of the biggest companies to employ a chief diversity officer, and its practices have been lauded by many including Black Enterprise magazine, which recently named it as one of the 40 best companies for diversity. The lawsuit figures to face many hurdles, from the sufficiency of its allegations to possibly the First Amendment, but for now it presents a larger portrait of a media company that isn't carrying many fully owned black channels and the dangers of allowing it to grow bigger.
"We do not generally comment on pending litigation, but this complaint represents nothing more than a string of inflammatory, inaccurate, and unsupported allegations," responds Comcast in a statement to The Hollywood Reporter.
Sharpton tells us that he "welcomes the opportunity to answer the frivolous allegations" and says he will be bringing counterclaims for defamation.
According to the lawsuit, Comcast and TWC "collectively spend approximately $25 billion annually for the licensing of pay-television channel for their products and services, yet 100% African American– owned media receives less than $3 million per year."
At the time of Comcast's 2010 acquisition of NBCUniversal, Comcast entered into memoranda of understanding with the NAACP, the National Urban League and the National Action Network, but the lawsuit says the voluntary diversity agreements are "a sham, undertaken to whitewash Comcast's discriminatory business practices."
The plaintiff objects that the only fully black-owned channel picked up by Comcast is the Africa Channel, and that entity is owned by former Comcast/NBCU exec Paula Madison, who "was directly involved in putting together the sham MOUs and obtaining government approval for the Comcast acquisition of NBC Universal, thus creating a serious conflict of interest." Other black channels are said to be "window dressing," with black celebrities as "fronts" when they are "white-owned businesses" that are run by friends or family of Comcast executives.
The lawsuit goes on to say that Comcast made large cash "donations" to obtain support for its acquisition. The money includes $3.8 million to Sharpton and his Nationalls and advertising of Action Network. The money, it's charged, was meant to pay Sharpton to endorse the NBCU deal and divert attention away from discrimination. As for Sharpton's MSNBC gig, the complaint says, "Despite the notoriously low ratings that Sharpton's show generates, Comcast has allowed Sharpton to maintain his hosting position for more than three years in exchange for Sharpton's continued public support for Comcast on issues of diversity."
Sharpton objects that the budget for National Action Network is not even $4 million, and as for his MSNBC show, he believes he has the most successful show in the 6 p.m. hour at MSNBC, that "the numbers speak for themselves." The lawsuit seems to count Sharpton's reported $750,000 annual salary at MSNBC as part of the $3.8 million and leverages past criticism of the noted civil rights leader that's rooted in him allegedly turning an eye and forgoing boycotts and protests on corporations upon receiving monetary contributions to the National Action Network.
As for support to the theory of discrimination in contracting, the lawsuit says Comcast has a "Jim Crow" process with respect to licensing black-owned channels, and that one Comcast exec stated, "We're not trying to create any more Bob Johnsons," referring to the founder of Black Entertainment Television.
The NAAAOM is suing along with Entertainment Studios Networks, which was founded by Byron Allen and now has a television operation with stations like Justice Central that reach 7.5 million consumers through deals with smaller pay TV distributors.
Representing the plaintiffs are Louis "Skip" Miller at Miller Barondess. The attorney has been a mainstay for many years on The Hollywood Reporter's list of the 100 most powerful lawyers in the entertainment industry. Besides representing clients including Rod Stewart, Steven Tyler, Elton John and Bob Dylan, he also defended the city of Los Angeles in the Rodney King civil rights case.
A Comcast spokesperson responds, "We are proud of our outstanding record supporting and fostering diverse programming, including programming from African-American–owned and –controlled cable channels. We currently carry more than 100 networks geared toward diverse audiences, including multiple networks owned or controlled by minorities."
She adds, "Comcast has engaged in good-faith negotiations with this programmer for many years. It is disappointing that they have decided to file a frivolous lawsuit. We will defend vigorously against the scurrilous allegations in this complaint and fully expect that the court will dismiss them."
The National Action Network also responds.
"National Action Network has not been served with any papers and considers this claim frivolous," says a spokesperson. "If in fact we were to be served, we would gladly defend our relationship with any company as well as to state on the record why we found these discriminatory accusations made by said party to be less than credible and beneath the standards that we engage in."
The group adds, "As for Rev. Sharpton's TV show ratings the numbers are clear. Rev. Sharpton's show has the highest ratings of any 6 p.m. show in the history of the network."