Now in the middle of momentous legal breakthroughs in the United States and beyond, the gay-rights movement has made significant strides over the last three decades. While there is still a ways to go, there is a lot of optimism for the future thanks to decades and decades of work by activists.
One of those activists is Callen Harty, well-known in the Madison community as an author, playwright, photographer, and fighter for social justice. He recently released his first book, "My Queer Life," a greatest hits collection of queer writing from one of Madison's most-interesting writers.
"I hope the book changes the world in some small way. My whole life I've been trying to improve the world a little bit," Harty says in an interview with The Madison Times. "I was reading something a couple weeks ago that of the hundreds of thousands of books that are out there, on average a book will sell 500 copies. That takes into account those that have sold a million and those that have sold none. I'm hoping to sell more than 500 and to have an impact on people and for it to really get people thinking. There's a lot of different things in the book and I think there's something for everybody."
"My Queer Life" moves through Harty's first tentative steps at coming out to speaking before 1,000 people at a gay rights rally to his reflections on same-sex marriage and other important topics of the day. The book is a literary collection of various essays, poems, pieces of plays, speeches, and more that Harty has written over the last 30-plus years around the topic of living an authentic life as a queer man in a straight society.
"I've been writing forever. I've accumulated so many essays and poems over the years," Harty says. "I approached the publisher with the idea and they were very excited about it. When I presented it, I had many disparate things but I had a common thread and when I put them in chronological order — not necessarily in the order they were written but in what they were written about —it shows a growth as a human being from my first tentative steps of coming out to being a very proud and open gay man in 2014."
Harty is the author of more than a thousand poems, dozens of published articles and essays, two dozen produced plays and 50 monologues, 150 blog posts, and more. One of Harty's favorite pieces in the book is from when he first came out in Platteville, Wisconsin in 1979.
"Small-town Wisconsin was not an easy place to come out in 1979," Harty remembers. "I almost immediately joined the campus gay organization which was one of the first two in the state. I became part of the speakers' bureau so I went into the classrooms to talk [about gay issues]."
One night, Harty was at a local bar where a young man approached him who he knew from the classes he had just spoken in. He was a big, jock-type fellow who Harty instictively felt, in small-town Wisconsin in 1979, was going to bash him for being gay. "I thought he was going to beat me up. But it turns out that he offered to buy me a drink," Harty remembers. "He told me, "I don't agree with who you are, but if you have the guts to come into the classroom and do that, I have to give you kudos for that.' And then he told me that if I ever needed any support or if anybody was giving me problems, that I should call him and that he would protect me."
It was an early life lesson for Harty. "I had made some presumptions about him that were wrong," he says. "He was a very big guy and he was there with all these jockish looking guys — I thought he was going to beat me up. That was a lesson to me. If I expect to earn respect from people and have people accept me for who I am, than I need to do it the other way. It was a really valuable life lesson."
Despite this touching anecdote, Harty said he did face some serious trials and tribulations as a gay man in small-town Wisconsin in the 80s. It was not an easy time to be gay. In 1983, he would become a co-founder of the University of Wisconsin's first queer student group, the 10% Society. He was also the co-founder of the powerful queer youth theater group, Proud Theater, in 1999. He served as the artistic director for its first five years and is still an adult mentor with the group.
Harty said that he had to "come out" numerous times in his life. But the decades of progress came about largely due to the individual choices of countless gays and lesbians to come out of the closet and get engaged..
"Coming out is a lifelong process. Every time you meet new people you make a decision on how you say who you are — depending on how they are asking," Harty says. "I've always been very open. I've never worked a job where people didn't know who I was. But there are people who are afraid to do that still today and part of the reason that I wrote the book was for people to see that there are people who are open and out there and that it is no big deal. And that they can do it, too. That they are not alone. They can step forward as well."
In 2003, Harty won OutReach LGBT Community Center's Man of the Year award for his queer community activism. However, Harty does not just limit his strong civil rights focus and community activism to the gay community. He often can be seen at other minority events around Madison — writing, photographing, or just showing his support.
"I really firmly believe that all of our struggles are tied together. If African American folks don't have rights, then none of us do. We're all in this together," Harty says. "When gay folks get the right to marry, it's not the last battle for gay people. The struggle continues. We need to join with other minorities so that we can all fight. We can't just fight all of our individual battles and expect to win them. We have to work together to do that.
"I've always had the understanding that we're all in this together. My struggle is the African American struggle, the Latino struggle, women's struggle, the queer struggle," he adds. "It's all one struggle. It's just different aspects of the same fight."
There's a piece towards the end of "My Queer Life" where Harty attended a protest rally against neo-Nazis in Milwaukee. Harty captured extremely visceral photos of minority people affected at the rally that were featured in The Madison Times and other publications. "It's all about fighting for good together," Harty says. "Hopefully, everybody will be able to find something in the book that they will feel connected to, or that they will learn from, or that will broaden their scope a little bit in some way."
The foreword in Harty's new book was written by his friend Arno Michaelis of Milwaukee, who founded Life After Hate on Dr. Martin Luther King Jr.'s birthday in January 2010. Michaelis is a former white supremest, who now, through Life After Hate, works tirelessly to promote peace and understanding via an online magazine, talks at schools, books and networking. "Arno mentions in there that he longs to see straight high school kids carrying this book around and getting a better understanding of what it means to be gay in this country in 2014 and what it has been like to be gay over the last 30 years, as well," Harty says.
Decades ago, homosexuality was deemed a mental disorder by the nation's psychiatric authorities. Since then, there have been gigantic strides made. Many of those strides were made by simply developing understanding from sharing stories like you will find in "My Queer Life."
"I'm hoping that the school library in my hometown of Shullsburg, Wisconsin, decides to carry the book," Harty says. "I would love to see both queer kids and straight kids read it and get a better understanding and have more acceptance. I remember the days when all we wanted was tolerance, which, now that I think about it, is a horrible word. That's not good enough any more. Ultimately, we want to be fully accepted citizens in this country just as any other minority groups are."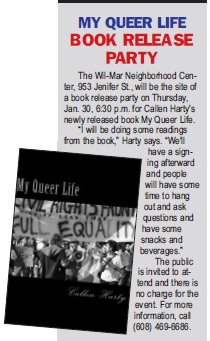 "My Queer Life "is currently available on Amazon.com and on Harty's website, www.callenharty.com/books.