February 27, 2015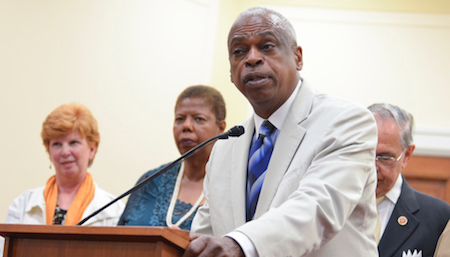 Wade Henderson, president and CEO of the Leadership Conference on Civil and Human Rights talks about the 2014 Voting Rights Amendment Act at a press conference on Capitol Hill. (Freddie Allen/NNPA)
WASHINGTON, D.C. (NNPA) — Many young African Americans will be shut out of the high paying jobs of the future, if they don't earn a degree in the science, technology, engineering and mathematics (STEM), according to a new report.
The new report by The Leadership Conference on Civil and Human Rights, a coalition of more than 200 advocacy and outreach groups, said that less than 3 percent of Blacks have earned a degree in the natural sciences or engineering fields by the age of 24 and that the STEM labor force is projected to grow by 2.6 million jobs over the next five years.
Researchers said that more than half of those jobs will go to people with bachelor's or master's degrees. In a press release about the report Wade Henderson, president and CEO of both the Leadership Conference on Civil and Human Rights and the Leadership Conference Education Fund, said that equal access to a STEM education is crucial to the future of our country and economy, and to the lives of millions of minority and women students.
"We must – all of us – examine what systemic changes are necessary to ensuring that STEM learning is inclusive, engaging, and equally accessible, so that all of our children have the same opportunities to adequately prepare for college and for careers that will allow them to support themselves and their families," said Henderson.
According the U.S. Bureau of Labor Statistics, STEM workers, specifically in computer and math careers, make more than $80,000 per year.
Even workers that graduate with associate's degrees earn about 10 percent more than those working in non-STEM jobs.
"Yet, right now, all across America, there are nearly 40 million adults – disproportionately people of color and those who grew up in poverty – who do not have a high school diploma or its equivalent," stated the report.
"And they are effectively locked into the lowest rungs of the occupational ladder."
The majority of poor children don't know enough words or have enough math skills when they start kindergarten and confronted with less experienced teachers and limited resources are ill-equipped for Algebra, a prerequisite for higher-level math courses, by the time they reach the 8th grade.
Some states failed to provide minority students access to those high-level math and English courses altogether.
"In 2013, there were 11 states where not one Black student took the Advanced Placement (AP) computer science exam, which allows high school students to earn college credit: Alaska, Idaho, Kansas, Maine, Mississippi, Montana, Nebraska, New Mexico, North Dakota, Utah, and Wyoming," stated the report.
"Nearly 20 percent of African-American high school students attend a high school that does not offer any AP courses."
The report included a number of policy proposals and necessary actions for federal, state, and local lawmakers as well the private sector and philanthropic groups designed to encourage diversity in STEM careers and to raise the awareness of opportunities in STEM in the Black community.
Those proposals included provided access to STEM courses as early as elementary school, investing more resources into training teachers, developing technical job programs for an evolving workforce, and asking business and industry leaders to collaborate with colleges to make sure that students are gaining skills to fill vacant STEM jobs. The report noted that,
"The President's Council of Advisors on Science and Technology (PCAST) warned that 300,000 or so college students graduating each year with bachelor's and associate's degrees in STEM fields is one million off the mark
The Department of Education launched The Equity and Excellence Commission, in an effort to eliminate the racial and socioeconomic disparities in education.
That group recommended ensuring high-quality early learning programs for low-income students, distributing highly effective teachers equitably, incentivizing the development of racially and socioeconomically diverse schools, and strengthening parent engagement programs.
The Leadership Conference report said that it's time for the United States to the examine the pressures that squeeze minority children out of the STEM pipeline and to accelerate the reforms that work to close the opportunity and achievement gaps.
"STEM education isn't merely a new feel-good fad," stated the report.
"It is now – and will continue to be – the backbone of our dynamic and constantly changing world. And it's critical that we make sure that it's equally available to every child."
---
Freddie Allen is the Washington Correspondent for the National Newspaper Publishers Association (NNPA). A graduate of Howard University, Allen was a staff writer, photo editor and general manager of the District Chronicles. He also served as editor-in-chief of Ledge, a magazine devoted to healthy lifestyles and HIV/AIDS awareness among young people of color.
---