March 6, 2015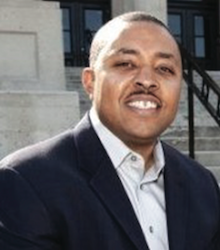 One City Early Learning Center Founder and CEO, Kaleem Caire.
Scheduled to open by the fall of 2015, the nonprofit preschool One City Early Learning Center hopes to serve as a model for all local early childhood education programs in its efforts to decrease minority reading and writing disparities on Madison's South side.
"We cannot help children move forward if the climate that they're living in is not supportive of positive childhood development,"
According to the Wisconsin Department of Public Instruction, 87% of Black and 94% of Latino children in South Madison were not reading at their grade level during the 2013-2014 school year and such educational disparities are shown to negatively impact students throughout their lives.
The Department of Public Instruction indicates that only 4 percent of Black seniors who started as 9th graders in the Madison Metropolitan School District and graduated in 2013, were proficient enough to read at the college level.
While education quality can play a significant role in proficiency, early education research indicates that factors such as poverty and inadequately resourced homes also significantly affect students and contribute to these disparities. Such factors can lead to a lack of early exposure to conversations that encourage literacy development and can result in lower reading scores.
The One City Early Learning Center hopes to take a unique approach towards curbing these disparities. The program will implement a unique Two-Generational educational initiative focused on improving the lives of both students and their parents through affordable education and community partnership.
Kaleem Caire is a Madison native and Founder and CEO of the project. Caire has worked for a wide range of educational reform projects including those with the University of Wisconsin-Madison's tutoring services, the Urban League, as well as three federal review panels, including President Obama's Race to the Top program.
According to Caire, the One City Early Learning Center will aim to use a collective impact approach to implement the Two-Generational approach. Rather than focusing solely on education or providing social service needs to families, the approach used by the program will improve family access to food, transportation, and jobs, bringing together support networks and resources for the benefit of students and their families to create a more nurturing environment for learning and success.
"We cannot help children move forward if the climate that they're living in is not supportive of positive childhood development," Caire said in an interview.
Caire is optimistic that educational disparities will decrease with the implementation of the three strategic objectives outlined in the program's recent press release: nurturing empowered and happy children, promoting strong and happy families, and developing healthy and resource-filled neighborhoods.
"Employ the parent, empower the generation," Caire said.
The first two of these objectives would start as soon as children walked into their new classrooms at the Learning Center. The third would be developed over the longer term.
This multidimensional approach would begin early.
Approximately 110 students between the ages of 6 weeks and 5 years would attend the One City Early Learning Center. The program would emphasize early literacy development as well as parenting education.
Caire is hopeful that this project will inspire other preschools in the area to follow similar paths towards improving early education.
To encourage community engagement and understanding about the project, the One City Early Learning Center will be hosting a "Build the Bridge" kickoff event on March 6, 2015 from 5:30 p.m. to 7:30 p.m. at the CUNA Mutual Conference Center. Those interested in attending the meeting can sign up by visiting the One City Early Learning Center Facebook page.
Prior to its opening, the preschool will be seeking up-to-date books and educational materials, playground equipment, desks, school supplies, and financial contributions. Regular volunteers will be needed to bolster the program and assist students.