May 1, 2015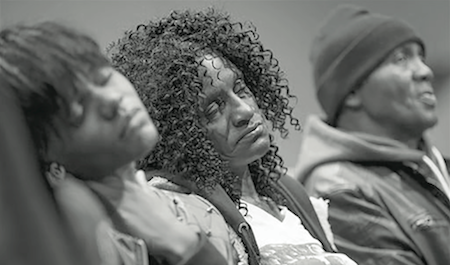 Family members of Freddie Gray, sister Fredricka Gray, left, mother Gloria Darden, center, and stepfather Richard Shipley listen during a news conference after a day of unrest following the funeral of Freddie Gray on Monday, April 27, 2015, in Baltimore. Rioters plunged part of Baltimore into chaos torching a pharmacy, setting police cars ablaze and throwing bricks at officers. (AP Photo/Evan Vucci)
E.R. Shipp is Special to the NNPA from the Afro-American Newspaper.
Between the bodacious demands of young people practically demanding that York Road motorists honk their horns to honor Freddie Gray and the curiosity of a young boy asking his buddies, "Did you see the body yet?", many of those gathered at the Vaughn Greene Funeral Home Sunday afternoon were in the mood to reflect.
Sitting near the rear of the chapel, Milton Stokes spoke of the boy he knew in Pop Warner football when Gray played for the Sandtown Wolverines and later at Carver High when Stokes played linebacker and Gray played wide receiver. They were members of Carver's Class of 2008.
"He was a great kid. He had a lot of jokes, a lot of friends. Never got in no trouble in high school."
The Freddie Carlos Gray being remembered was not the one depicted in cold court files as someone arrested more than a dozen times on drug charges.
Looking toward the small, almost unnatural looking figure in the open casket that scores of people walked past, Stokes, who now lives in Owings Mills and works in construction, could not figure out why so many police officers thought it necessary to take him down with such force – and how his encounter with them left him dead with a broken spine.
"It's not just Freddie Gray," Stokes said quietly. Because abuses "have been going on for years," he said, "the city should reconsider who they hire as policemen."
And then, like so many people inside the chapel and outside, he had a story to tell about unwarranted harassment by the police. In his case, it has happened when he was standing on a Sandtown corner visiting friends. He agrees with his pastor, the Rev, Jamal Bryant of Empowerment Temple that 95 percent of the police are probably doing the right thing. "The bad ones make it look bad for the good ones we have."
When 34-yeear-old Yvonne Smith last saw Gray, he had told her: "You need to get yourself together." That was more than seven-and-a-half months ago, when she was still abusing heroin, methadone and prescription drugs. "Before I had an opportunity to show him and tell him that I took his advice, he was gone."
Smith said she and Gray grew up together in Gilmor Homes. "He never thought I would go down that path of life that I did, but he never judged me," she said. Smith, who said she is now in school pursuing an associate's degree, describes a Freddie Gray who was "always willing to lend a helping hand."
Others who came to pay their respects did not know Freddie Gray or his family but felt compelled by those "there but for the grace of God" incidents in their own lives.
Shawnell Booker, 22-year-old nursing assistant who lives in Park Heights, said a cousin reached a settlement with the city after being beaten by the police and that she was pulled out of a car and roughed up by an undercover officer last June. But these experiences have convinced her to become politically active "in every election, big and small."
"My generation, people my age, I think we need to step up. We get enraged and it blows over and we don't get enraged until something else happens," she said. "We should step out of that mind frame that we'll stand in line for Jordans and, you know, stand up for our rights because they don't take us seriously."
Eric Brown Jr., 25, has reached a similar conclusion. As he held his 2-year-old niece, Dream Byrd, he waved a sign and yelled at drivers passing by, "Justice for Freddie!"
Brown, who lives a couple of blocks from the funeral home, explained that the "justice for Freddie" actions marked his first time taking such a public stand. "Something's got to change," he said. "We can't keep allowing this police brutality against our young Black brothers."
Andre Kennedy, who came to the wake to pray for his community and his city, agrees. But the 47-year-old life-long resident of West Baltimore, who describes himself as a former drug addict, dealer and thief who has been arrested and convicted "numerous times," does not view police solely as enemies. He points to where Black people have been killed by other Blacks, "slaughtered by street violence." Nearby, he recalled, 3-year-old McKenzie Elliott was gunned down in crossfire while sitting on a porch. That has convinced him that most people still rely on the police to protect them.
"If the majority of us go back to our homes this evening and things are violated and somebody has been wronged or hurt, we're going to call 9-1-1. We're going to call them," he insisted. "So should we really always shift the blame to one arena or should we begin to look at all arenas?"
While most of those who came out for Freddy Gray and for their city were Black, a noticeable group of White Baltimoreans stood vigilantly in front of the Govans post office building across from the funeral home, holding their own homemade signs with messages like, "Baltimore Is One City" and "We Remember Freddie" and "Black Lives Matter."
Shannon Curran was there with her husband Joseph Capista, and their children, Moira, 6 and Aoife, 2. Veterans of anti-capital punishment and anti-war campaigns, Curran explained their support for the Gray family.
"We're one human family and they're part of our family," she said. "This is a loss to everyone and hopefully a tipping point for there to be some real transformation."
---
E.R. Shipp is Special to the NNPA from the Afro-American Newspaper.
---