May 1, 2015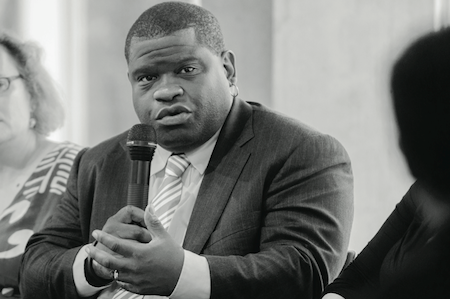 Known for reporting on America's hidden history of opposition and resistance, The Nation magazine will celebrate its 150th anniversary with multiple events around the state to discuss race, immigration, policing and what civil rights mean today in Wisconsin and America.
Gary Younge, a correspondent with The Guardian and The Nation, will speak at the main event, analyzing the political dynamics in Britain and America. Born and raised in Britain, he will address a question he receives often: where is the best place to be Black? His talk will take place at PechaKucha night on Thursday, April 30th at 7 p.m. at the Monona Terrace Convention Center. PechaKucha is a presentation style in which 20 slides are shown for 20 seconds each for 6:40 minutes total.
Younge would like to see more equality and opportunities in Wisconsin and in America, as well as real democracy where wealthy donors do not pick candidates and decide agendas — a responsibility that resides with the general public.
"People need to challenge inequalities where they find them — in their work, their homes and their communities," he said. "With the growth of social media and networking, I think there are more ways than ever now for them to achieve this."
Other speakers at PechaKucha night will include Nation publisher Katrina vanden Heuvel, Wisconsin State Rep. Mandela Barnes (D-Milwaukee), co-president of the UW-Madison Teaching Assistants' Union Eleni Schirmer and many others.
The speakers will focus on local issues that affect Wisconsinites, said Jessica Lind-Diamond, The Nation's Anniversary Events Producer. "It'll be like speed dating for ideas," Lind-Diamond said. "I hope that the big take-away from that night will be that there are lots of ways to engage in making change happen."
Anti-slavery abolitionists published the first issue of The Nation in 1865, just months after Abraham Lincoln's assassination. Since its inception, The Nation has gained a reputation for its opinion pieces, investigative reporting and provocative cultural criticism. Younge will address issues that are prominent in Nation articles.
In addition to speaking at PechaKucha night, Younge will also serve as a panelist earlier in the day discussing civil rights in the age of extremism. He plans to bring up the contradictions of having a Black president, but still needing movements that fight for the sanctity of Black life. For example, the
#BlackLivesMatter
movement clarifies the distinction between what is supposed to be a post-racial era and the reality of the post-civil rights era.
Younge believes civil rights battles of today should move toward equality for all in America.
"Not just the right to be equal but the resources to make those rights mean something," he said.
The panel discussion will additionally focus on modern day civil rights issues such as barriers to voting rights, educational access, immigrant citizenship plans and racial targeting of police forces and access to due process, said Lind-Diamond.
"I think some guests at this discussion will leave fired up to take to the streets and others will leave with ideas for how to incorporate social justice into the work they're already doing in their own communities," she said.
---
The panel discussion will take place at 4 p.m. on Thursday, April 30 at the Madison Museum of Contemporary Arts. Other events will include a reading from D.D. Guttenplan's new paperback, The Nation: A Biography on May 1 at 6 p.m. and a screening of Barbara Kopple's Oscar-winning documentary "Hot Type: 150 Years of The Nation", also on May 1 at 8 p.m. Both events will be held at 102 E. Jefferson St. in Spring Green, Wisconsin.
---