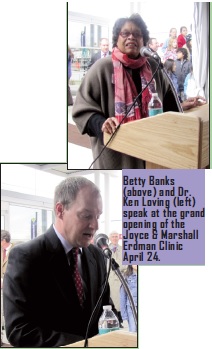 Gray clouds and spitting rain did not dampen the spirits of nearly 200 people who turned out on April 24 for the opening celebration of Access Community Health Centers' new Joyce & Marshall Erdman Clinic.
The event included a welcome from Access board of director's member Betty Banks, followed by remarks from Access CEO Dr. Ken Loving, in addition to the facility's capital campaign chair Gordon Derzon, and Dan Erdman, one of the four Erdman family siblings. This new facility is named for Erdman's parents, distinguished community leaders Joyce and Marshall Erdman, in recognition of the family's donation to the building project.
"Mostly, we're thankful for our parents, for really making this all possible," said Erdman. "They instilled in us values that really enrich our lives every day. Our mother once said, 'No one is truly rich unless they are rich in doing.' I think when I look at this clinic, that we can feel truly rich now."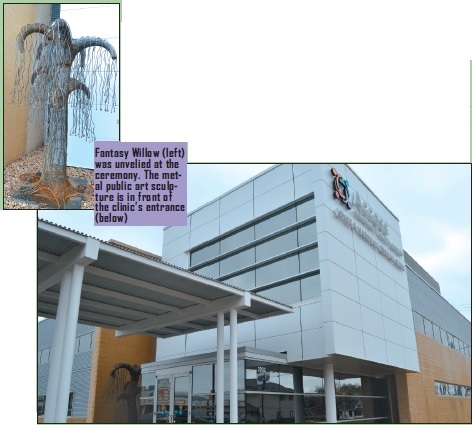 Two songs from the Lincoln Elementary School choir during the event, as well as the unveiling of Fantasy Willow, an 11-foot metal public art sculpture outside the clinic's entrance highlighted an ongoing partnership between Access and its community school. The sculpture was created by local artists Erika Koivunen and Aaron Howard with students from Midvale and Lincoln Elementary schools. Students from Lincoln also helped to paint a large tree mural in the clinic's main reception area. "Both fit perfectly with the idea that this building is more than a health care structure, but a real partnership with our community," said Loving of the artwork.
The new Access building is located next to the Urban League of Greater Madison at 2202 South Park St., and began serving patients on January 13. The facility is three times the size the former south side clinic and totals about 22,000 square feet.
"It's exciting to know that we can count on Access to serve our community in this brand-new clinic, and that through the generosity of our community we have made it possible for more people to be healthy and flourish," Banks said.