The Madison Hip-Hop scene came together around great music, celebration, and giving back to the community as the Urban Community Arts Network (UCAN), with support from Madison Media Institute, hosted the fourth annual Madison Hip-Hop Awards (MHHA) show on Saturday, Nov. 9 at the Barrymore Theater.
UCAN Vice President Mark 'Shah' Evans served as emcee for the event. Over the last few months, hundreds of fans casted votes in this year's Madison Hip-Hop Awards contests and the winners were:
Artist of the Year
RIP
Group of the Year
Higher Education Records
R&B Artist of the Year
Jesse Lester
Rookie of the Year
Sam Cooke
Producer of the Year
DJ Pain 1
Sound Engineer of the Year
Oliver Wright
DJ of the Year
DJ Pain 1
Song of the Year
Must Have Been – RIP
Video of the Year
Supernatural – RIP
Album of the Year
Feel Good Music – Tefman
Mixtape of the Year
The Takeover – Mad Town King, hosted by DJ Pain 1
Collab of the Year
Dreamgirl – RIP ft. ANT
Videographer of the Year
RIP
Promoter of the Year (it's a tie)
Chill/Come Clean Entertainment
Tefman/Top of the Map Entertainment
Hip-Hop Dancers of the Year
Goddistas
Radio Personality of the Year
Bo$$lady
Most Influential
Baldhead Kingpin
Spotlight Award – honoring notable accomplishments in the Hip-Hop community
Scott's Urban Wear – for supporting local Hip-Hop artists by placing flyers and CDs in the store, allowing use of the store as a venue for battles, cyphers, album release parties, and food drives.
"The Barrymore was filled with everyone from those instrumental in starting Madison's Hip-Hop scene 30 years ago to those just getting their start," said UCAN President Karen Reece. "The unity and excitement in the building was refreshing and inspiring. As a result of the support of the Hip-Hop community and local businesses, UCAN will be able to make a nice dod Girls Club CAPA programs."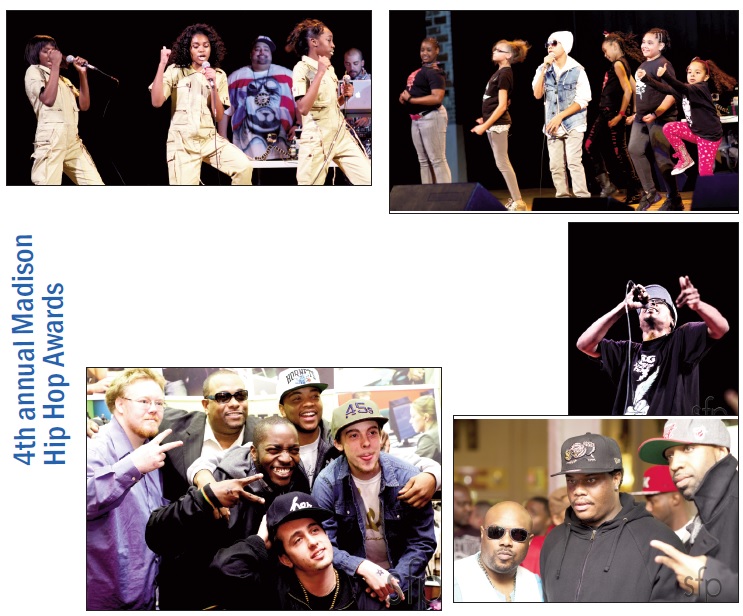 (Photos by sugarfreephotography.com)