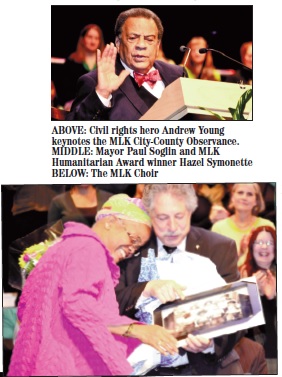 "I think we're not there yet. We're not even close," said Andrew Young, keynote speaker for the 29th annual City-County Observance honoring Dr. Martin Luther King Jr. The event was held in the Overture Center's Capitol Theater Jan. 20. "We didn't get here just in 1964."
Young, a key lieutenant of Dr. Martin Luther King during the civil rights movement, explained that he grew up in segregated New Orleans, 50 miles from the Nazi headquarters in Louisiana. "When I was four, I couldn't understand why these people were standing around in dark brown suits saluting a swastika," Young remembered. "And my daddy told me, 'Son, you shouldn't worry about those people. White supremacy is a sickness and you don't get mad at sick people. You kind of have to help them through their sickness.'"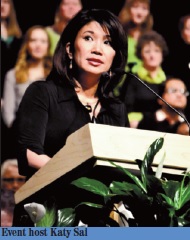 Young was the highlight of a night that featured the Martin Luther King Jr. Community Choir and the presentation of the MLK City and County Humanitarian Awards. The host of the evening was Katy Sai who introduced Young. "He helped draft the Civil Rights Act of 1964 and the Voting Rights Act of 1965. He has served as mayor of Atlanta and as Georgia's first African American congressman since Reconstruction. He was an ambassador to the U.N.[United Nations] during the [President Jimmy] Carter Administration. I am honored to welcome to Madison Ambassador Andrew Young."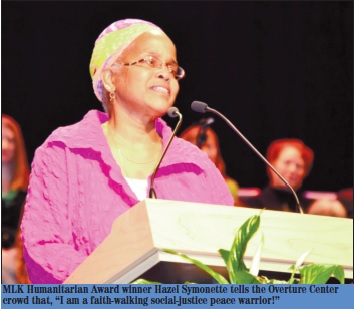 Young shared many different memories from his long and distinguished civil rights career. A teacher took Young to a federal court room when he was young. He was nine years old. "There was a tall, skinny young black man there by the name of Thurgood Marshall," Young said. "In 1941, he was arguing for the equalization of teacher's salaries. "I'm trying to say that none of this that we are celebrating now started with Martin Luther King and a few of us marching. Not that we didn't put the icing on the cake, but I want you to know that this was a constant struggle that went way, way back," Young continued. "And we still have a long, long way to go."
Young said that Martin Luther King gave his life to redeem the soul of America from the triple evils or racism, war, and poverty. "I think we're doing better with race, we're doing better with war, but with poverty, it's another game. And what has happened since Martin Luther King's death is that they have changed the rules of that game and we don't even realize the rules have been changed," Young said. "
Young said that there is still more slavery in the world today than there was at the time of the Emancipation Proclamation. "We don't pay any attention to it because it's mostly women," he said. "In a world of 6 billion people, perhaps 2 billion women are the victims of some sort of slavery —child marriage, prostitution, female mutilation, honor killings. There's a whole repertoire of discrimination and sadistic persecution of people just because they are women. Why is that important to us here? It's important to us because in order to have an efficient, workable global economy, it's going to have to include everybody."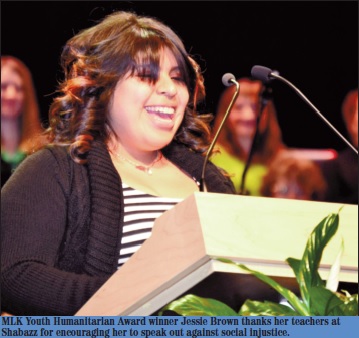 Mayor Paul Soglin announced that the city, working with 100 Black Men of Madison and Centro Hispano of Dane County, will soon begin a study on disparity in the awarding of city contracts, with the hope of re-establishing contract compliance measures. "When this is complete, it will hopefully allow us to return to a time when we could work with those who receive millions and millions of dollars of contracts building this community to ensure a diverse workforce," Soglin said.
Soglin introduced Humanitarian Award winner Hazel Symonette, who has worked on and promoted social justice issues for more than 30 years at UW-Madison and in the greater community. She has been a tireless advocate for greater minority participation in science, math, engineering, and technology. She worked as an intern for Soglin at the mayor's office from 1976-79.
"I am overflowing with gratitude. I am here in Madison, Wisconsin… a place I came to in 1968 and thought I was passing through," Symonette said. "I'm still here.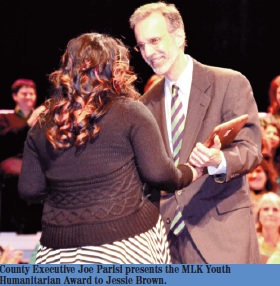 "I am a faith-walking social-justice peace warrior. I walk by insight and not by sight. It has not been an easy journey here, but it ain't supposed to be, is it? I have an unshakeable belief in the power of things not yet seen. We are standing in a space in honor of Dr. Martin Luther King and the many sacrifices he made. I am so grateful that I'm being honored for the small contribution I have made for the greater good. May the work that I do speak for me … if not now, at least in the long run…. and I'm so glad the long run is here right now."
Symonette works in UW-Madison's Division of Student Life as an assessment specialist and program developer and has also headed multiple projects including the Information Technology Academy, a program that helps prepare Madison public school students for higher education.
"We are standing on the shoulders of folks who had to struggle against much worse and who had much less to work with so let us rest when we must and then get up and get busy!" Symonette said.
Dane County Executive Joe Parisi told the crowd that MLK Humanitarian Youth Award winner Jessie Brown has done tremendous work for social justice as a student at Shabazz High School. "She's brought people together in an open and learning environment and she's helped start community conversations that benefit all," Parisi said. "It is young leaders like Ms. Brown who inspire us and who we count on to carry the torch of leadership as we move forward."
"I am honored to be receiving this award tonight," Brown said. "Many of my teachers at Shabazz High School have taught me that I have a voice and that I can actually speak and I don't have to stay quiet if some injustice is being done to me. All of us here have a voice. For all of our young people, that is what matters right now. We are the future and we have to stand up."

The MLK Community Choir, led by Leotha Stanley, music director of Mount Zion Baptist Church, sang several songs and got everybody on their feet with a rendition of "Love Train." Young closed his remarks by asking the audience to say words with him that he adapted from a gospel song:
"I don't feel no ways tired. We've come too far from where we started. Nobody told us that the way would be easy. I don't believe He brought us this far to leave us."
The program wrapped up — as it does every year — with audience members holding hands and singing, "We Shall Overcome."