March 27, 2015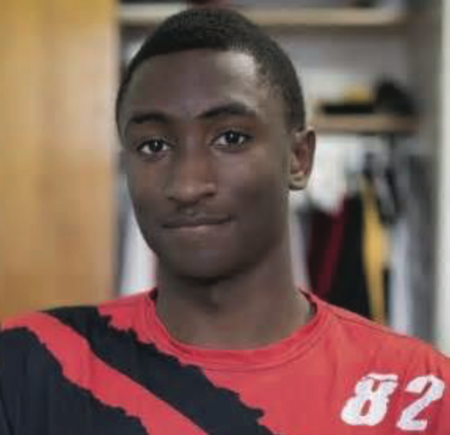 Marques Brownlee
Our YG& B feature this week is described by Robin Twomey of Lexi Pandell Magazine as a "YouTube" sensation!" Noting posted accounts, his YouTube Channel has over 700 videos, 2.25 million subscribers, 8 million video views and has earned him over $3 million in ad revenue.
He is young, gifted and Black. Marques K. Brownlee is a video tech-reviewer, producer, and host and has become a global Internet personality. His channel, MKBHD, is fashioned after his initials (MKB) and HD for "High Definition."
A Broad Band Social Justice Post on February 27, 2015 writes of Marques that he has "grown to become one of the most respected tech reviewers on YouTube today" by consumers and by the tech industry.
Broad Band adds that the Digital Age has allowed young African Americans to become entrepreneurs, make their voices heard, create their own content, and "change the negative perceptions of themselves and their communities."
Quoting Navarrow Wright commenting at a Social Justice Summit gathering, "The beauty of the Internet is that it's different from television and radio, that no one's stopping anyone from creating a million dollar business."
Marques is living proof, as further noted in the February writing, that "with the right combination of tools and drive, anyone with an Internet connection can succeed."
In his own words, he says in Reddit that, "I review things. I explain things. I talk about things. Anything with an On Button is game." And just this one posting, to include expanded remarks on Reddit around this December past, attracted 6,241 comments.
This summer, our tech wiz got his hands on as sapphire crystal display rumored at the time designed for the iPhone 6. In his video review of the product as described in Twomey, Marques took keys, his foot, and even a blade to the display with no result of damage. This video review of the sapphire crystal product attracted 8 million views according to the Lexi Pandell account.
"He's really good," says Mark Watson in a March 3, 2015 Eileen Blass USA Today posting. "He has a really good rhythm in his videos. He satisfies both geeks and people who don't follow every little piece of technology and he's bringing a spotlight on all of us YouTube tech reviewers."
Watson has his own tech reviewer YouTube channel, SolderKnowsBest, and adds at the time of the USA writing that Marques is, "all about work" and that he is, "a little shy. He's 20-years-old and I couldn't imagine the type of exposure he has."
Blass further records that as of late February 2015, Marques was ranked among the top three in the most influential "Science & Tech" channel rankings by YouTube" and by former Google vice president Vic Gundotra as, "the best technology reviewer on the planet right now" noting Dave Smith's quote in the August 5, 2014 Business Insider.
The Hoboken, New Jersey's Stevens Institute of Technology senior has earned the ability to move the needle. On his video tech reviews says Blass, his influence to boost or deflate sales of a product, "is no less feared than what may be published in 'The Wall Street Journal."
His advertising revenue covers his expensive equipment, the devices he reviews, travel, and other living expenses."
"I don't get a lot of sleep," Marques tells Blass in the USA interview. "When I sit down and make a video, my number one thought is that I want to make a video that I want to watch that is technical, watchable, and easily viewable."
He adds that there is the challenge of meeting experts and people who are just getting into the technology. "I definitely think about the intersection of these two groups."
Adrienne Hayes, Motorola Mobility's senior vice president of marketing and communications, says of Marques in Blass that he, "is in this sweet spot of being a consumer expert. He's looked at by followers as one of us, and that's very powerful. His fans are following him and listening to him with a specific purpose. This is very hyper targeted."
And in speaking of Motorola, Blass writes that Marques was "merciless" in his review of the Moto X phone. Motorola, writes USA, e-mailed him and a few others to seek direct feedback on changes that it should make.
Hayes discloses that although Motorola has no financial relationship with Marques, but that they may be open to a broader level of discussion in the future.
"We really like his style. It reflects the brand personality we want to be – open access, down-to-earth and genuine," she says in Blass. "I don't think we'd hesitate to have a transparent and open working relationship with him."
Smith's report additionally reveals that when he entered high school, Marques wanted to buy a laptop for school. He researched a variety of computers and reviewed tutorials on, "how to do cool tricks and customizations."
By watching tutorials made by other people, Marques felt encouraged to make his own using simple screen casting software. Still, it would take a while to build an audience,
"It was super slow," he says in Smith. "The first few videos, there were no comments and no views. But eventually, once someone would comment on the video, they asked about other things I could share with them."
He started to gain a small following by answering user's questions with his own handmade and homemade videos. He had only 78 subscribers by the time he reached his 100th video.
"Back them, it was all on take," he further explains in Smith. "So when I'd make a video, I would open the software, press record, talk two or three minutes to explain whatever I needed to explain, and I'd just stop and upload it on to YouTube. That was it. I could make multiple videos in a day, but now, the videos are much more elaborate."
An honor student throughout his high school career, Marques has a sister, Simone, who with their parents lives in Maplewood, New Jersey. He plays the trombone as well as golf. He has a 9 handicap as noted in Blass.
"We would bring him around to golf tournaments and I would see him talking about loft and the degree of elevation. He's always had a sense of efficacy," says his father, Marlon Brownlee.
He is on the Dean's List at Stevens Institute and is majoring in business and technology. Marques also plays ultimate Frisbee for several clubs to include the pro team, the New York Rumble of Major League Ultimate.
"He's made me proud by thinking really long and hard about how he spends his time. He's not wasting any of it, though I'm not seeing him as much as I'd like," says his mother, Jeaniene who, according to Blass, began watching his videos only after he son left for college.
"I'm not a tech person, but I miss him. I'd look at the videos and say, 'Oh, he sounds nasal. He must have a cold.'"
Marques in the meantime is keeping his eye on various commercial opportunities as for example, Motorola that may be right around the corner.
Google does all the work of placing advertising on his YouTube videos. After their cut, his revenue cites Blass could range anywhere from $117,000 to $934,000 a year depending on the amount paid per thousand clicks.
Media companies have already reached out in hopes of recruiting him, to be affiliated with his brand or groom him to be a TV broadcaster. He's done several videos for "The Verge," owned by Vox Media.
"I've gotten offers like that left and right, but I love being independent. Broadcasting is more scripted, so it's different. There's a lot of other skills that wouldn't be used if I were to hop directly into a broadcasting position."
Mother Jeaniene, who assists in the business management of his brand, often hints at the expanded career options open to Marques. But for now, "We'll just wait 'till he graduates," she says.