April 3, 2015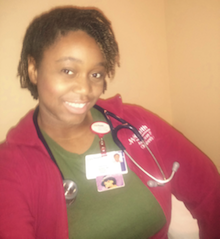 Jasmine Zapata, MD
WHY do you want to be financially free?
WHY do you keep going to work everyday?
WHY do you want to accumulate wealth?
WHY do you need to start that new business?
WHY don't you want to live paycheck to paycheck?
WHY do you want to achieve your financial goals?
Hi everyone. My name is Jasmine and I'm so excited to be a part of this amazing new group: Brown Girl Green Money (
www.browngirlgreenmoney.com
).
As Angie pointed out last week, we are a collective of Brown women who are working hard to reach our own personal finance goals and who share a passion for encouraging other women to do the same! Check out her article from last week for more about our purpose and how we got started! (
Welcome to Brown Girl, Green Money: Part 1
)
This week, I want to tell you a little about myself and then discuss an ESSENTIAL first step to achieving financial freedom that I would like to challenge all of us to take together.
First some random stuff about me: I grew up in Milwaukee, WI, went to Riverside HS then went to Marquette for college. I moved to Madison for medical school ~7 years ago and stayed after graduation to train and work as a Pediatrician here in Madison (and I don't plan on leaving any time soon). I almost gave up on my dream of becoming a doctor once my little brother suddenly passed away at age 16 when I was in college, but with much support I was able to still press on toward my dream (a story I hope to share in future). I'm married with an amazing husband (who was my high school sweet heart), and have two adorable kids. I love sports, singing, songwriting, playing monopoly, figuring out how I can make my real life into monopoly, and hanging out with friends. I like volunteering and am really active in my church. I'm scared of shots and getting my blood drawn (even though I'm a doctor – don't judge me). A passion of mine is mentoring young girls to reach for the stars and helping them realize their inner beauty and potential.
I also love inspiring others to never give up despite adversity. Finally, I'm on a personal mission to destroy the face of poverty and change the financial trajectory of my generation line. (I'm currently in the process of figuring out how to do that). That's like 2% of everything about me, but I really need to move on to the exciting part… 🙂 I'll share more about me later.
The challenge I have for us today, to support our achieving financial freedom, is to determine our WHY.
What do I mean by that? I'll explain. Before we embark on the exciting yet uphill journey of achieving financial freedom, amassing wealth, reaching our personal financial goals, and breaking free from debt and poverty we must first fill up our gas tank. This journey will not be easy and at times we are going to want to give up. So before we get started we must commit for the long run and take time to focus on our motivations for wanting to achieve our financial goals in the first place. That way, when things get tough, we have something to hold on to, something to keep us going, something to drive us and keep that fire burning!
WHY do you want to be financially free? WHY do you keep going to work everyday? WHY do you want to accumulate wealth? WHY do you need to start that new business? WHY don't you want to live paycheck to paycheck? WHY do you want to achieve your financial goals?
Today I challenge you to get a piece of paper and write down 5 of your WHYs. Believe me, this will come in handy later on in our journey. Keep the paper somewhere you can easily access it at times of distress, discouragement, or pure laziness. 🙂 Look at the list everyday to give you that extra boost of motivation you need to face the day.
The WHYS can range from serious, emotional, and intellectual reasons to purely personal and pleasurable reasons. Whatever they are for you, write them down, hold them tight, and buckle up for our exciting journey ahead!
Here's a sneak peak of a couple of mine:
Life is too short, tomorrow is not promised. I want to live life, travel, have the freedom and flexibility to spend time, share and make memories with loved ones. How can I make these memories and cherish those I love if I'm working all the time? I want to be free!
Poverty is linked to stress and stress has been proven to increase the risk of heart disease and other adverse health conditions. Heart disease is the leading cause of death among African American women. I want to add years to my life!
I've opened up my house as a temporary shelter to family members and friends who have personally faced homelessness. No one should have to deal with this, especially kids. In 2013, 79% of families served by shelters in Dane County were non-white. 10% of families with children seeking shelter in Dane county in 2013 slept in street or in a vehicle prior to being accepted. In 2013, a total of 1041 individuals in families (including kids) were turned away without shelter. I want to grow my real estate business so I can help provide affordable housing, give second changes and find other ways I can help change these statistics.
Research cited by the American Academy of Pediatrics points out that children living in poverty are at high risk for poor academic achievement, high school dropout, teen pregnancy, drug and alcohol abuse, criminal behavior and exposure to "toxic stress" with subsequent negative effects on health, development and emotions. They also have decreased access to quality health care and worse health outcomes. Families that live in poverty have higher infant mortality rates and these kids are at higher risk for developmental delay, asthma, obesity, abuse and neglect. As a pediatrician it is my DUTY to fight this and tackle the issue of poverty head on. These kids are our future.
I want to take the kids I mentor on an over seas mission trip and show them the world. I want money to create an empowerment institute for teen girls letting them know they are beautiful. I want to drive a car that was made <10 years ago. I want to go to Ruth Chris steak house one day and order anything I want. I want to build an in home recording studio! I want to take my kids on a Toys R Us shopping spree. I want to buy a boat for my mom and a mansion for my grandma for all that they've done for me. My furnace is currently broke and I need to get it fixed. 🙂
Those are just a few of my WHYs, What are yours?
Share your "WHY" with us via emailing browngirlgreenmoney@gmail.com or by going to
www.browngirlgreenmoney.com
and leaving a comment. Let's break the cycle of poverty, eliminate racial economic disparities, change the trajectory of our destinies and inspire each other along the way! Talk you all later! Thanks for reading! Have a great day! 🙂
Love,
Jasmine
---
Jasmine Zapata, MD is a pediatrician, motivational speaker, mentor, singer/songwriter, mother, wife, and entrepreneur from the Madison area, whose mission is to heal, uplift, empower and inspire. She can be reached at browngirlgreenmoney@gmail.com
---